IGNITE SEARCH WEEKLY WRAP –
26th JUNE 2019
100% CURATED SEO/ONLINE MARKETING GOODNESS
HELPFUL STRATEGIES, TIPS & TRICKS:
SEO: The Easiest PR-Focused Link Building Tip in the Book – Whiteboard Friday
Here is a PR-focused link building tip that makes it much easier to find people and publications that'll cover and amplify you. 

SEO: How to Use Video for Link Building
In this article, you'll learn the best practices when using videos for link building and get inspired by some real-world examples of video marketing done right.

SEO: How You Can Find the Most Responsive Link Building Targets
In this article, you'll learn a more efficient link prospecting method to enhance your link building strategies.

SEO: Images In Featured Snippets & Google Search Console Rankings Can Confuse You
This post explains why you rank in position one for specific keywords in Google Search Console.

SEO: 5 Strategies to Target Your B2B Audience Online
Here are five B2B audience targeting strategies to help find your target users.

Paid: 4 Tips for PPC Specialists in the Automation Age
Here are 4 tips for PPC specialists to compete and excel in the age of automation!

Paid: Nine Google Ads hacks to improve your CTR and conversion rate
This article will discuss the top hacks which every advertiser should use to improve their Google Ads performance. 

Paid: Investing in Brand Campaigns? Post-Click Experience is Key
In this post, we share a webinar session that will teach you how to bring branded campaigns into your paid strategy and the details to pay attention to.

Paid: Facebook Relevance Score: One Metric Becomes 3
In this post, we explain Facebook's new relevance score metric update and how it helps you.

Content: What's Missing From Your Content Marketing Tech?
In this article, we share 13 content marketing tech tools that you can use to enhances your content marketing strategies.

Content: Must-Have Checklist to Creating Valuable Content
Here is a checklist to help you structure valuable content that will enhance user engagement.

Content: Five tips to create an SEO-friendly FAQ page
Here are five ways to make your FAQ page both focused and comprehensive to rank higher in the search results.

Content: How to Assess Your Content Performance: 5 Tools You Haven't Tried
Here's how to assess your content and find new opportunities to increase organic visits and conversions. Includes 5 tools for search and content success.

Content:Why The Time is Now for Voice-Activated Content
In this article, we explain why voice-activated content presents a huge opportunity for brands to engage with consumers.

Social: YouTube Lead Form Ads for PPC: What You Need to Know Before Getting Started
In this post, you'll learn how to turn prospects into customers with TrueView for Action Lead Form Ads on Youtube.

Social: 8 Social Media Tips for Small Businesses
Here are eight tips to put together a social media strategy that makes sense for the resources you have and ultimately can engage your audience and positively impact your business.

Social: How to Set Up Facebook Analytics and Facebook Attribution
In this article, you'll learn how to set up Facebook Analytics and Facebook attribution.

Social: Creating Instagram Ads That Convert
In this post, you'll learn how to create and customise ads for each type of Instagram placement. Find recommendations for Instagram ad creation tools, and more.

Social: How to Solve 4 Common Facebook Marketing Problems
In this article, you'll find causes and solutions for common social media marketing problems.

Local: Location-Based Marketing: What Works and What Doesn't
Here is what makes for successful location-based marketing—and a few things you need to avoid.
KEY INDUSTRY UPDATES:
SEO: Google No Longer Uses Social Profile Markup for Knowledge Panels
Google is deprecating the use of social profile markup, which was once necessary for social media buttons to display in knowledge panels.

SEO: Yoast SEO 11.5 updates the mobile snippet preview
The Yoast SEO WordPress plugin has revamped its mobile snippet preview. It now generates a preview of what your content will look like as a listing in Google's mobile search results.

SEO: Google: Influx In Google Alert Spam Shouldn't Impact Your Google Rankings
Google's John Mueller and Danny Sullivan said that influx of spam in Google Alerts should not have any impact on your Google search rankings.

SEO: Google Search Console Adds Copy & Search Code
Google added two new features to Google Search Console's tools. You can now copy the code in the testing tools and you can also search for words within the code in those tools as well. 

SEO: Google Search Console Data Delay Resolved But Google Is Investigating
Google Search Console has fixed the Cover Report issue, however had said this issue will require further investigating. 

Related Articles:



SEO: Google: We Do Not Show Favicons On Some Browsers
Google's Danny Sullivan said the lack of favicons is not a bug here as some browsers Google would display a simpler results format.

SEO: Google: Featured Snippet With Zero Attribution Was A Bug, Not A Test
Google has said that the featured snippet without an attribution was a bug and 100% not something Google is testing.

SEO: Google Search Console's Testing Tools Gain Two New Features
Google is rolling out two new features for the rich results, AMP, and URL testing tools in Search Console.

SEO: Google Won't Display Multiple Featured Snippets For One Page
Google's John Mueller stated only one set of structured data will be used in search results when a page contains multiple types.

SEO: Google: Disallowed URLs Do Not Affect Crawl Budget
Google's Gary Illyes said web pages will not get crawled more frequently as a result of other pages on the site being disallowed from crawling.

SEO: Google Allows Emojis, Links & Unicode In FAQ Rich Results – For Now…
Google has been spotted displaying emojis, links and unicode in their FAQ rich results

SEO: Google Ads Carousel "People Also Considered"
Google has been spotted testing a Google Ads carousel format on mobile devices where you can swipe left to right between ads and this carousel is named "people also considered."

SEO: Google: Disallowed URLs Through Robots.txt Does Not Affect Crawl Budget
Google's Gary Illyes said that if you disallow a useless directory, you will gain back crawl budget.

SEO: Google Asks: Want A Nofollow Filter On The Internal Link Report In Search Console
Google's Gary Illyes posted a Twitter poll yesterday asking if you would like the Google Search Console team to add a toggle or filter to the internal link report to show which links are nofollowed and not nofollowed.

SEO: Google Adds Link To Lyrics Provider & Former Googler Blames Ranking Team For Confused Lyric Result
Google added a link to the footer of the lyrics box to show who they licensed the lyrics from.

SEO: Google Mobile Friendly Testing Tool Tests New Evergreen GoogleBot
Google's Martin Splitt said that they are now at the phase of internally testing the tools to make sure the new Evergreen GoogleBot addition works properly.

Paid: Parallel tracking, more custom parameters coming to Microsoft Advertising for improved tracking
Microsoft Advertising (formerly Bing Ads) is going to be making several updates in the coming months to improve page load for users and provide better tracking for advertisers.

Paid: Google Ads Begins Reporting on Shopping Campaign Landing Pages
Google Ads will now report on landing page performance from shopping campaigns. Data will be included in the "Landing pages" page.

Paid: Google Ads is Removing Features from Portfolio Bid Strategies
Google Ads is making adjustments to two portfolio bid strategies in an effort to simplify the experience for users.

Paid: Google testing carousel of text ads on mobile
Google is testing text ads in the carousel with two headlines a truncated description line and no ad extensions.

Social: Yelp offering more paid profile upgrades for business owners
Yelp is introducing a range of new paid-promotional tools for business owners to give them more control over how they appear to users. 

Social: Twitter Removes the Ability to Add Precise Location Tags to Tweets
Twitter users can no longer tag their precise location in tweets, a feature that has been available for roughly 10 years.

Local: Google My Business Team Backlog & Experiencing Delays Of 2-3 Weeks
Google My Business is experiencing delays and request not to submit duplicate items as this will further delaying things.

Local: Millions of fake Google Maps listings hurt real business and consumers
Google says it is working on it, but is still positioned to profit as local businesses claw back visibility with paid ads.

Local: Google My Business Launches Short Names, Cover Photo, Logo & More
Google My Business is helping small businesses do more with their Google Maps and local listing on Google.

Local: Google My Business Listings Can Offer Discounts to New Followers
Google is rolling out new ways for businesses to market their Google My Business listings, including giving discounts to new followers.

Local: The New Moz Local Is Here! Can't-Miss Highlights & How to Get Started
The new Moz Local is full of new features that'll help you maximise your online local presence.

Mobile: Google Ads App Now Has Ability to Create & Edit Responsive Search Ads
An update to the Google Ads mobile app introduces support for creating and editing responsive search ads.
Read Our Blog Posts: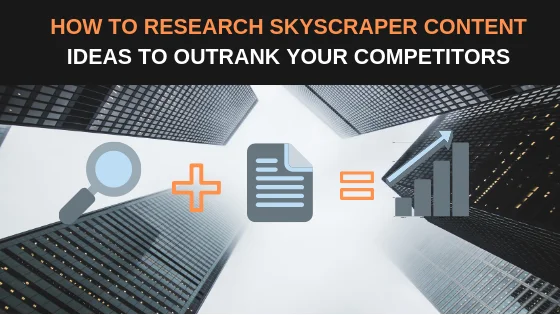 How To Research Skyscraper Content Ideas To Outrank Your Competitors