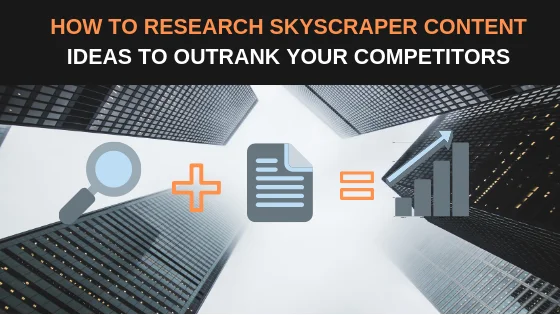 Building your organic search traffic is no easy task, and requires a significant amount of upfront work, especially if you're small business based. Generating high quality links is an important aspect to increasing your organic traffic and this requires a very systematic approach for when you create and promote your content. An interesting technique that has shown solid results over the years for building high quality links is what's known as the skyscraper technique.
This technique is common among SEO experts and can be broken down into 2 primary parts:
Find link-worthy and top performing content
Create better content than these rankings pages
To put this simply, the skyscraper technique is a strategy that involves building upon high ranking content to develop content that's even better, hence the term "skyscraper". The following sections will teach you how to research skyscraper content within any topic and how to build upon this content. Check out this case study which displays the effectiveness of this technique and how it managed to double search traffic within 2 weeks.
Find Link-Worthy & Top Performing Content
Take it that we're are a fashion retailer and our focus is going to be on the topic of 'shoes'. The first thing to do when it comes to any Skyscraper campaign is to source the appropriate pages that contain a high quantity of backlinks. It's always good to start off with a simple manual google search with your top chosen key phrases that are relevant to the content you want to produce, let's say our content is going to include a listing style post such as 'The Top 10 Shoe Fashion Trends 2019'.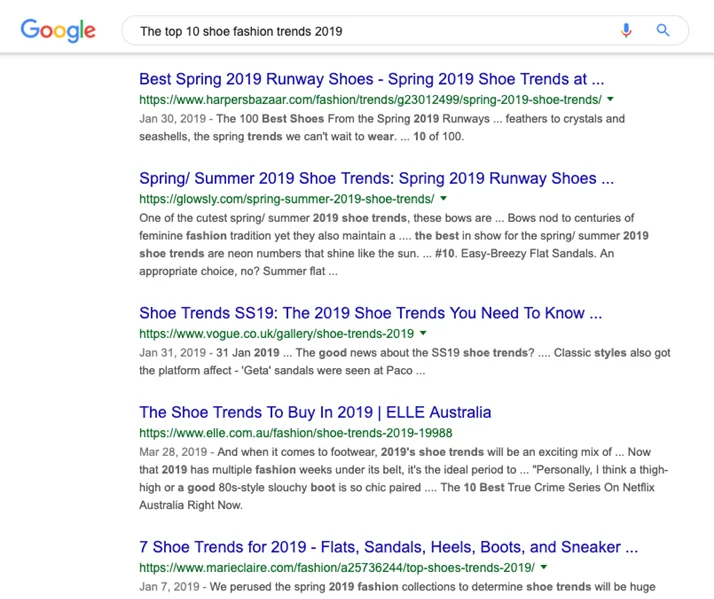 Apart from the manual SERPS another way to research top performing content is to use a tool such as the Ahrefs Site Explorer, which offers an in-depth analysis at the organic search traffic and backlink profile of any website or URL. To use this, go ahead and enter a chosen top-ranking site from your industry into the explorer, preferably one that is commonly known for publishing quality content. Click on the 'Best By Links' report, which will show a list of pages on the entered site with the highest link authority. If you sort the list by referring domains and add a '200 ok' filter, this should provide you with the best results. Any page with more than 50 referring domains should be considered a potential target.
Using tools such as these, you should be able to gather a highly relevant list of pages that have large amount of backlinks, social media shares and overall traffic.  These pages are generally known as "linkable assets.
Create better content than these ranking pages
We all know that in order to attract valuable links, you have to create awesome content, and the best thing about the skyscraper technique is that you don't have to start from scratch. Once you've found the pages you want to outrank, your next step is to audit the content on these pages and create more content on top of this. It may sound like a straightforward suggestion, but it can prove to be extremely effective.
Go ahead and select the top-ranking links from your initial analysis, here are some notable aspects that you should be looking for:
The targeted keywords/key-phrases used (are these keywords still relevant?)
The design and number of visuals used (include updated images/videos in your own content)
The depth of the content (expand on the primary points made and fill in the details to make it more actionable)
Overall quality of content (score the quality on a scale of 1-10 and aim to beat this)
A useful tactic is to copy those top-ranking links over to a new sheet and chart your findings for each individual link.

Once you have researched the top-ranking content within your particular topic, the next step is to create more content on top of this. For example, if you've researched listing type content such as 'The Top 10 Shoe Fashion Trends For 2019', put together a list of the top 10 trends from the top 5 ranking competitors. Once you have you're top 10, go beyond this and add an additional 5 or 10 more points to create a longer listing and more content.  E.g. The Top 15 Biggest Shoe Fashion Trends For 2019.
It's important to note that the skyscraper technique can be used to build upon any kind of content, whether it be landing pages, FAQ's, top lists or even video-based pages, as long as you create more and better content, the technique is being applied.
At the end of the day, your content still has to be unique and creative. But this method lets you narrow down what exactly your content needs and how you can overcome these competitors. Strive to be more precise than the previous authors, correct their mistakes and amplify trending statistics throughout your content.
Conclusion
With this technique in play, you can easily keep up to date on what content is ranking the best and has the highest share rates. This should support your own content marketing efforts and provide a source for a constant supply of fresh ideas to keep creating more and better content than your competitors.