By Airon Rodrigues
Incorporating videos into an SEO strategy can be beneficial for many reasons. Videos can interactively engage a user, communicate information in a creative way, and be shared across various platforms.
This post will primarily focus on YouTube optimisation, as it's the number one video network with over 30 million visits per day, however, these tips can also be followed similarly on other video networks.
Let's begin with a very important question…
How Important Is Video Marketing?
According to an article by Insivia on 27 Video Stats for 2017, 59% of executives agree that if both text and video are available on the same topic, they are more likely to choose video. Simply put, videos are easier and quicker.
In addition, the average internet user spends 88% more time on a website with a video than without.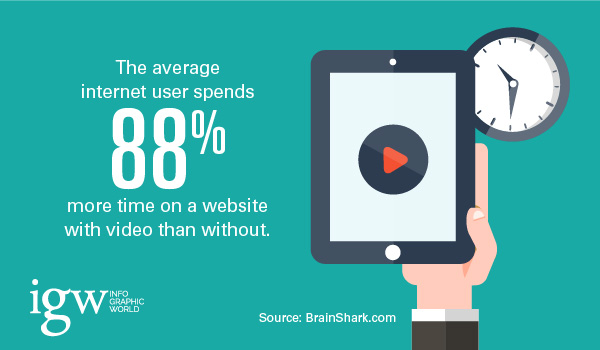 What about eCommerce websites? Do videos increase conversion?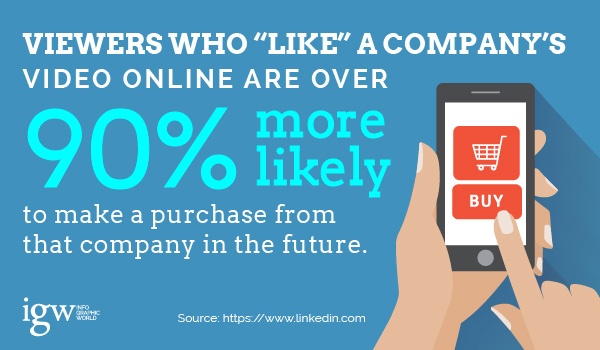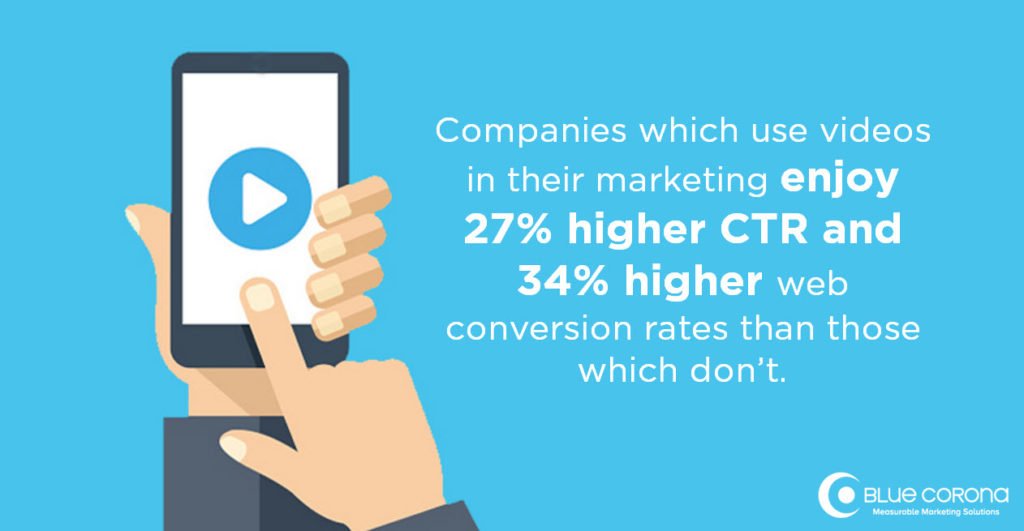 As important as these statistics are, if a video is not properly optimised, the full benefits will not be seen. To achieve a higher visibility for video search results and drive more organic traffic, the video must be SEO friendly.
Optimising a Video For SEO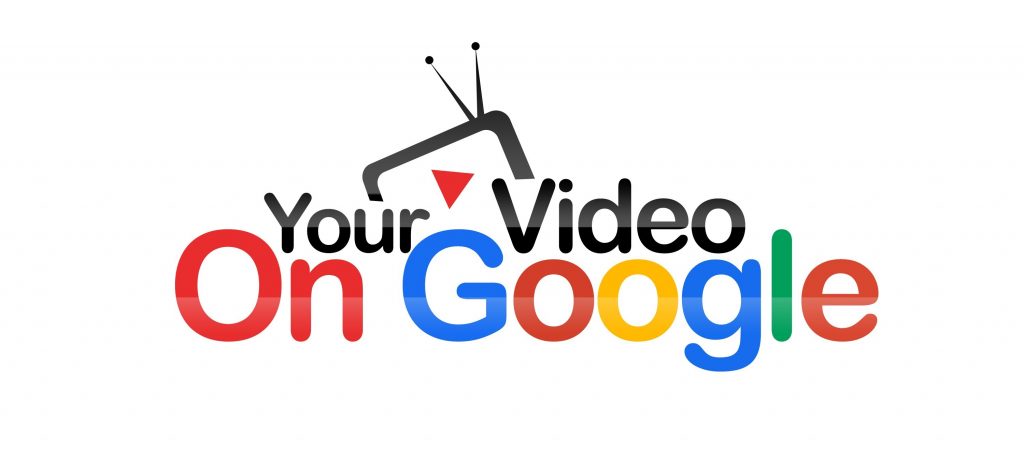 Hosting the Video For The Websites Domain
When optimising a video for onsite SEO, an important to consider would be hosting the video for the website's domain. This prevents search engines from directing traffic to another site.
For example, uploading a video to YouTube and then adding a link back to a website in the description will expand the reach. However, search engines will crawl the YouTube video first rather than the actual website.
A tip here could be uploading a short, teaser video to YouTube, while keeping the full-length version exclusively on the website.
Include a Video Sitemap
Essentially, video sitemaps provide Google with information about a video, such as the metadata, category, title, description, running time, and intended audience.
This helps Google know about all the rich video content on the site, which should improve the listing of the site on video search results. When a video sitemap has been submitted, Google makes the included video URLs searchable on Google Video.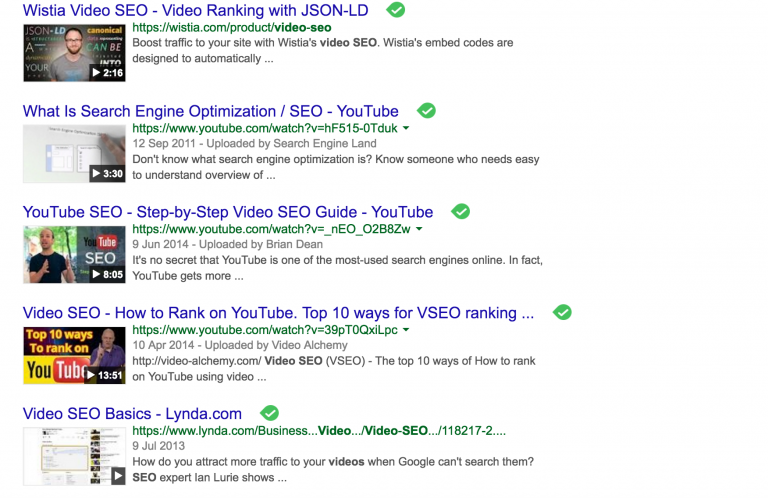 Optimise the Videos Load Time
Page performance is a key ranking factor. Page load time affects user and experience and Google knows this. A poor load speed can negatively affect SEO, as 57% of mobile users abandon a site after three seconds of waiting, according to Radware.
The answer? Embed videos on a website.
Digital Inspiration provides an insightful tutorial on how to use an embedded video thumbnail that does not load the video player until the play button is hit.
Transcriptions
One of the most important factors when optimising a video is transcriptions. Transcriptions are the textual representation of the audio within videos and audio files.  Search engines can't watch videos, but they can index text.
Consider the following:
A typical SEO structure for a news article or blog post includes a title, maybe a sub-heading, and a body of text, which can all be indexed by Google. A video has a title and maybe a description, but the "body content" within the video remains invisible to search bots.

How effective are transcriptions?
According to a study by Liveclicker, 37 web pages were compared before and after adding transcriptions to videos. Pages with transcriptions earned on average 16% more revenue than they did before transcriptions were included. Why? The uplift in revenue was likely related to the inclusion of long-tail-keywords found within the transcripts.
Transcriptions services such as WayWithWords or Rev can provide transcripts for video and audio files.
Benefits of transcriptions:
Accessibility for deaf or hard of hearing viewers
Viewability in sound-sensitive environments
Enables search engines to understand the subject matter of videos
Integration of keyword phrases throughout a page
Video transcripts match long form search queries
Video transcripts elicit more time on page
Close The Captions
Adding closed captions to videos can greatly increase the visibility of videos. Closed captions come from a text file that a video references as it plays, this text file is readable to search bots and can be crawled.
An important thing to note is that while closed captions are indexable, there is no SEO benefit to adding open captions to video. Open captions are encoded into the video file and therefore are not accessible to search bots.
An experiment performed by Discovery Digital Networks compared videos with and without closed captions added. They found that closed captioned videos enjoyed 7.32% more views on average.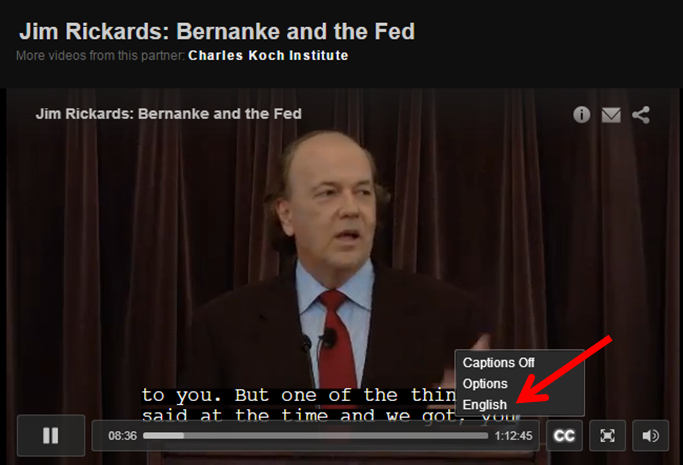 Keyword Placement and Optimization
Similarly, to written content, a webmaster needs to inform search bots of what the video content is about. How can this be done? Using keywords.
Selecting the right keywords always begins with research, when unsure on which keywords to use, Google's Keyword Planner can provide both keyword ideas and monthly search volume for specific words and phrases.
For example, a tutorial video on how to make pancakes is a common search query, but exactly what keywords should a tutorial video on this topic be targeting?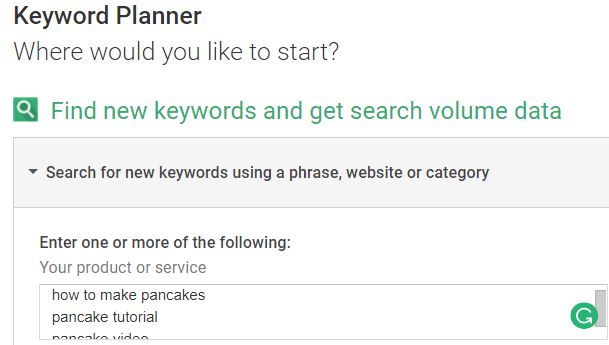 Keyword planner has provided some insightful suggestions; pancake recipe is considerably higher in search volume at 9,900 estimated monthly searches. Working this keyword into the title, description and tags of the video can have a positive impact.
YouTube Auto suggest can also provide keyword ideas in this area; simply begin typing in YouTube and see what suggestions appear. This gives an idea of popular topics users are searching for.
Google's Display Planner can also provide insights into keyword suggestions for videos. Simply select the 'videos' tab to see suggestions. Users must have an AdWords account to access the Display Planner.
Simply enter a keyword and click Get Ad Group Ideas. This next screen is where you'll be able to set the filter to only look at keywords for video and to see keywords under the "Individual targeting ideas" tab.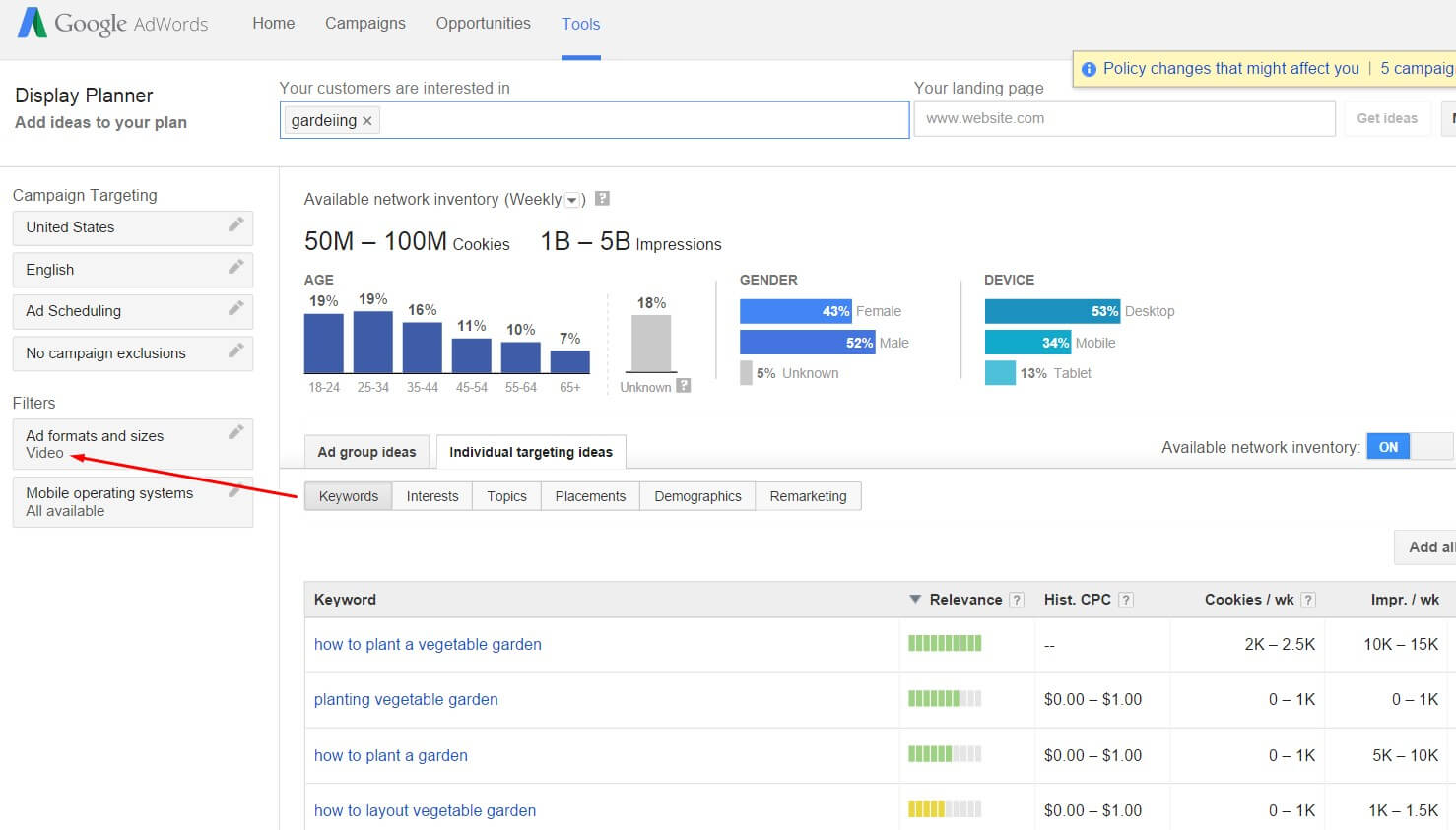 Keyword Placement
Filename
Before even uploading the video, consider the file name. Is it myyoutubevideo.mov or finalvideo1.mov? If so, this is an opportunity to include keywords, for example, honey-pancake-recipe.mov.
Keeping file names organised and easy to find will increase the relevancy and make the process easier.
Title, Description, and Tags
These three elements are very important, especially for search optimisation. This information will be displayed within the search results, giving users a snippet of what the video is about.
This section is also known as metadata, the only difference being YouTube has 'Tags' where as a video found on a website will have a 'Keywords' section.
As an example, let's look at a Demo Duck Explainer Video on animation. The keywords being 'Demo Duck' and 'Explainer Video':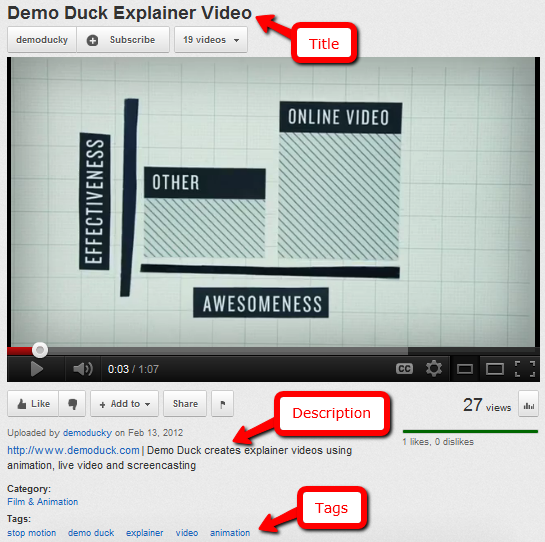 As seen in the search results:

A breakdown on these three elements is as follows:
Title – The title of the video should not exceed 70 characters. When under this limit, the entire title will be shown within the search results. In addition, the title should always include the targeted keywords.
Description – The description should not exceed 165 characters. Like the title, a description under 165 characters will be displayed within the search results and won't be cut off. The description is a chance to answer a search query, enticing the visitor to click-through to the video. The targeted keyword should also be included in the description.
Tags – Tags for YouTube are like hashtags for Instagram. The tags for a video should include the targeted keywords and additional phrases people might search to for relating to the video.
When crafting the title and description for a video, SEO Mofo can provide insights into too long snippets.
Note: For a video to be found in search, it must be public. Ensure the video's privacy settings are public so anyone can search for and view the video.
There are numerous ways to optimise a video. Whether that be on YouTube, Vines or on a website. The important thing to consider is quality, is the video content itself attention grabbing and engaging?
Engaging, helpful content goes hand in hand with optimisation. Applying the tips mentioned to quality content can have a great impact on a video marketing strategy.