Ignite Search Weekly Wrap – 27th September 2017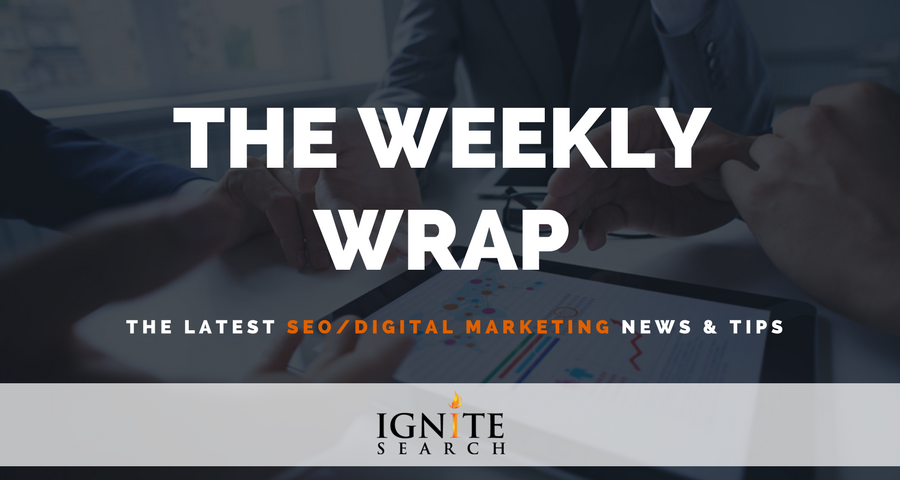 100% Curated SEO/Online Marketing Goodness
Key Industry Updates: 
SEO: Moz's Brand-New SEO Learning Center Has Landed!
A long time ago in a galaxy far, far away, marketers who wanted to learn about SEO were forced to mine deep into the caverns of Google search engine result pages to find the answers to even the most simple SEO questions. The SEO and Search Marketing hub housed resources like the Beginner's Guide to SEO and articles about popular SEO topics like meta descriptions, title tags, and robots.txt. Its purpose was to serve as a one-stop-shop for visitors looking to learn what SEO was all about and how to use it on their own sites.
SEO: Bing Ads will automatically clean up legacy Content Network ad groups after Nov. 30
Back in May, Bing Ads announced that it was closing up its Content Network due to low-quality traffic. On July 31, Bing stopped running Content Network ads and took away the ability to create new content ads. This has, however, left many accounts with legacy "content" ads that were made before July 31. These ads aren't showing on the Content Network, and Bing Ads will now be cleaning these up on your behalf. After November 30, Bing Ads will begin to label these ad groups properly.
SEO: Google News Digest: AMP-based Featured Snippets, Customizable AdWords Dashboard, and New Beta for AdSense Publishers
From enhancing travelers' experiences to enabling businesses to manage their listings right from the search results, Google has been working to improve its products and services for both users and site owners. AMP adopters and the advertising crowd have received some serious attention from Google over the last two weeks. If the logic behind AMP improvements is that "users love AMP pages for their speed and great user experience, so Google is doing its best to encourage more people to join the AMP club", then the narrative for advertisers and publishers goes in the other direction.
Paid Search: AdWords Editor update supports Shopping Showcase Ads
AdWords Editor version 12.1 is now available, with support added for several features, including Shopping showcase ads and expanded dynamic search ads. Showcase ads feature three product images from a retailer that are related to the search query and link to a Google-hosted landing page of products the advertiser groups together. Google first introduced showcase ads in July 2016, but they continue to gain visibility. To set up Showcase ads in Shopping campaign ad group, select "Showcase" from the "Ad group type" drop-down.
Paid Search: Bing Ads & LinkedIn graphs integration underway, more in-market audiences available
Micorosoft has been pretty quiet about any concrete efforts to integrate LinkedIn and Bing data for advertisers, other than to essentially say, "be patient, it'll come." On Monday, Corporate VP of Microsoft Search Advertising Rik van der Kooi gave a little more color to those plans during a speech at Advertising Week in New York City. Additionally, the company outlined ways in which Microsoft (and Bing Ads) continues to integrate artificial intelligence into its search offerings, including support for conversational search.
Paid Search: Alphabet to create separate business unit in Europe to run Google Shopping
According to Bloomberg, Google is going to create a separate business unit to manage shopping content in search results to comply with the European Commission's recent antitrust decision. This unit will reportedly be required to compete in the auction against shopping competitors. The unit will apparently use its own budget and revenues to bid in the auction and will only exist in the EU. Shopping search will continue as is in other markets, including the US.
Mobile: Google Becomes Apple's Search Provider on iOS and Mac
Google is now Apple's default search provider for Siri, iOS search, and Spotlight search on macOS. When you ask Siri a question it will now pull answers from Google instead of Bing. Bing has been almost fully replaced on iOS, though it will continue to power Siri's image search results. In a statement, Apple says it decided to make this change in order to create a consistent web search experience.
Social: Facebook Ads Dynamic Creative, Instagram Visual Backdrops, and YouTube Fan Sponsors
Welcome to this week's edition of the Social Media Marketing Talk Show, a news show for marketers who want to stay on the leading edge of social media. On this week's Social Media Marketing Talk Show with Michael Stelzner, we explore Facebook ad updates with Amanda Bond, Instagram updates with Jeff Sieh, YouTube fan sponsors with Steve Dotto, and other breaking social media marketing news of the week!
Helpful Strategies, Tips & Tricks:
SEO: SEO 101: Which URL versions to add to Google Search Console
Can you really afford to miss out on free technical data about your website's performance in Google search results? Of course not! Contributor Fili Wiese explains how to set up your website in Google Search Console to make it work to your advantage. Google Search Console serves as an excellent (not to mention free) source of technical data about your website's organic visibility and performance. To maximize its usefulness, it's important to properly set up your website in Search Console by adding all versions of your domain as properties that you manage.
SEO: 5 Ways to Get Your Local Business Ranking on Page One of Google Fast
Are people finding your local business? If you're not seeing a lot of traffic from Google, you're not alone. This is a super common problem. Whenever I consult for a local business, I almost always get asked about how to rank better on Google. It's an important question to ask because most people find local businesses through online searches.
SEO: 10 Things that DO NOT (Directly) Affect Your Google Rankings – Whiteboard Friday
What do the age of your site, your headline H1/H2 preference, bounce rate, and shared hosting all have in common? You might've gotten a hint from the title: not a single one of them directly affects your Google rankings. In this rather comforting Whiteboard Friday, Rand lists out ten factors commonly thought to influence your rankings that Google simply doesn't care about.
SEO: How to Prioritize SEO Tasks [+Worksheet]
"Where should a company start [with SEO]?" asked an attendee after my AMA Conference talk. As my mind spun into a million different directions and I struggled to form complete sentences, I asked for a more specific website example. A healthy discussion ensued after more direction was provided, but these "Where do I start?" questions occur all the time in digital marketing.
Paid Search: Top 8 Ideas to Optimize Your PPC Performance
PPC optimizations are essential to sustain or improve your paid search advertising campaigns' performance and reach organizational goals. Sometimes it can be overwhelming – where should you start? There are several components of a PPC account that can help move the needle in your desired direction. This post provides some ideas to optimize your PPC performance, but certainly isn't an all-encompassing list.
Mobile: How and Why to Do a Mobile/Desktop Parity Audit
Google still ranks webpages based on the content, code, and links they find with a desktop crawler. They're working to update this old-school approach in favor of what their mobile crawlers find instead. Although the rollout will probably happen in phases over time, I'm calling the day this change goes live worldwide "D-day" in the post below. Mobilegeddon was already taken.
Content: Visual Content Marketing: 10 Brilliant Examples
Did you know 93 percent of human communication isn't verbal, according to psychology. In fact, text is a man-made artifact. The more reliant you are on text, the greater the chances of readers misunderstanding your message. Text can have different interpretations, but visuals are universal. The human mind also processes visuals quickly and retains messages within them for a long period. Need to be convinced about why you should use visuals in marketing?
Social: Social Media Marketing for Link Building: Top Tactics & Strategies
The role of social media marketing in SEO isn't that obvious. Some people feel skeptical about social signals affecting Google's rankings in any way. Some separate social media marketing and SEO as fields with different goals and methods. Yet these people constitute a minority among SEO experts, as it has recently turned out.
Read Our Weekly Blog Post On  Blogging For SEO

Video: English Google Webmaster Central office-hours hangout –22th September 2017
Enjoy reading the Weekly Wrap?
Let us bring it to your inbox, every week.
Subscribe here!