By Airon Rodrigues
Writing content for a landing page is a fundamental piece in growing a website and achieving a high conversion rate.
For a website to generate visitors, leads or sales, it needs optimised content that is going to convert users into customers.
Whether the landing page is centered around selling a product or promoting a service, there are specific SEO objectives that need to be met, which we will discuss in this post. This post is not about how to increase conversions through design elements, but rather how a landing page should be structured and important factors to consider.
What Is The Purpose Of The Page?
Before beginning to start writing content for a landing page, it's important to understand what a landing page is. Is it any regular page on a website? Do all websites have them? Are they only used to convert leads?
The purpose of a landing page is to get a user to perform a specific action.
Ideally, a landing page is a page on a website that is used to achieve many different actions by users. Whether that's to collect information through a form or get a user to download a pdf, the purpose of a landing page is to achieve a specific action.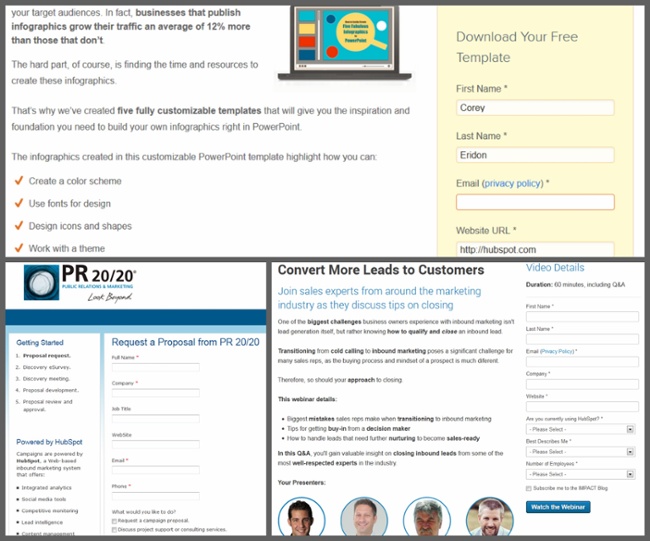 Examples of different landing pages.
How Much Content Should The Page Include?
Because content is one of the most important Google ranking factors, it's important to note that one of the main functions of a landing page is to provide information.
Landing pages are used to convert leads, and what produces more conversions? Content. The last thing a landing page needs is little or no original content.
Ideally, a landing page should contain a minimum of 500 words. 500 words can provide enough information to create intrigue around a product or service, explain and outline key benefits, and persuade users to follow through with a purchase.
The "required" word count can differ for different search queries. There may be search queries that are more competitive, thus require more information. Identifying the average word count for specific search queries can be found by analyzing a competitor's landing page and drawing a conclusion of the average word count between competitors.
A great tactic here is to see how competitors are performing, and of course, how much content they have on their landing page and then surpass that amount with more content.
How is this achieved? Simple. Word Counter Plus is a useful tool that lets you views stats on selected text. Simply highlight text on a web page, right-click, and select the 'Word Counter Plus' menu item.  It will tell you the number of words and characters selected.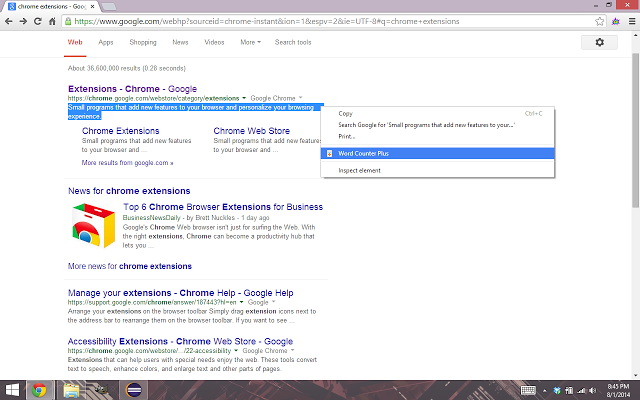 What is The Topic Of The Page?
From the beginning, the landing page needs a direction. By direction, we mean a keyword. What is the page about? What can users expect to see when they "land" on the page? Identifying the keyword will help set the topic and theme for the page.
To achieve this, a degree of keyword research needs to be undertaken to identify which word or phrase to use. Selecting the right keywords always begins with research, when unsure on which keywords to use, Google's Keyword Planner can provide both keyword ideas and monthly search volume for specific words and phrases.
For example, a tutorial video on how to make pancakes is a common search query, but exactly what keywords should a tutorial video on this topic be targeting?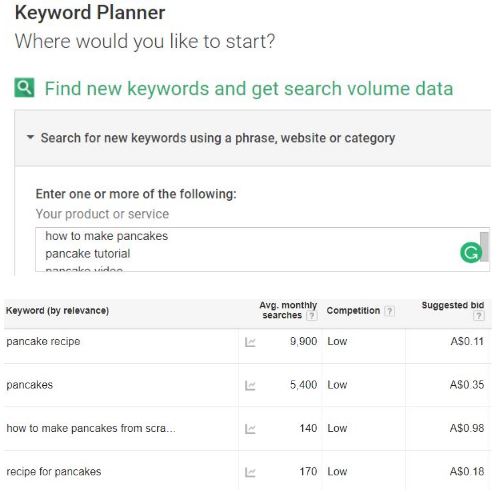 As a rule of thumb, each landing page on a website should target one, unique keyword.
Once the keyword has been identified, knowing how to optimise the page is important.
Title Tags
It's important to place keywords in the title tag because this is the first thing users see when surfing the web. Therefore, Google places a high importance on keywords within a page title.
In addition, it's important to make sure the keyword is included in the beginning of the title as position matters. Google places a higher importance on the first few words as opposed to the last.
The title tag is what appears within the search results:

Meta Description Tags
Though not a ranking factor, meta descriptions are visible within the search results and help users better understand a listing before clicking through to the website.
The reason why keywords need to be placed within meta descriptions is so that Google can connect the description with the search query, once users see their search words within the description they are likely to click through to the website.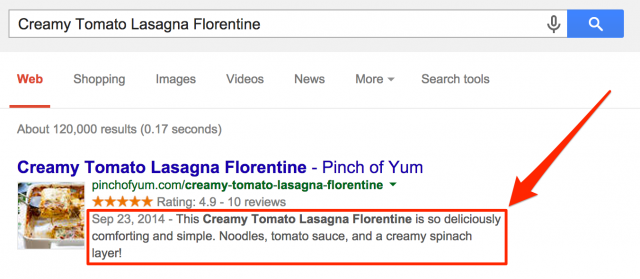 URL's
Like the page title, inserting a keyword within a URL helps Google understand the topic of a page. Ensuring the keyword of the landing page is within the URL can benefit the SEO process because it helps a user understand what the page is about, and it also gives search engines an idea of the information on the page. URL's should still be tailored towards the content of the page.
As a general rule of thumb, keywords should only be included within URL's if they accurately describe the content of a page. As always, keep user-friendliness in mind when optimising URL's.
Heading & Subheadings
In SEO, it's important to have one (and only one) H1 for each page. And of course, within the H1 heading, a keyword phrase should be placed. In addition, H2 headings should also contain the focus keyword.
See our post on how to write effective headlines for SEO to achieve persuasive copy. 

Body Content
The body content makes up for most of the text of a page and tells Google exactly what the topic is about. Web crawlers not only search for keywords, but they also consider the surrounding text and everything on the page to determine what the topic is about.
Synonyms and variations of keywords can have a positive effect within the body copy. For example, if the target keyword is "counselor", words such as "counseling', "therapist" or "therapy" can help describe the content of the page by using similar variations. Keyword Toaster does a great job in extending a keyword list with new variations which help accelerate the process of keyword research.
The key here is to not overload the content repeatedly with keywords, known as keyword stuffing, and to ensure the text is readable and helpful for users.  It's important to mention the target keyword within the first paragraph of copy, particularly within the first 100 words. This makes the topic of the page clear from the beginning which is something Google values highly.

Landing pages are set out to complete a specific goal.
What that goal is depends on the objective of the page. It's important to understand the purpose of the page and then structure the layout accordingly.
A/B testing can identify whether a landing page has the correct or incorrect elements, as there are always improvements that can be made.