Ignite Search Weekly Wrap – 4th October 2017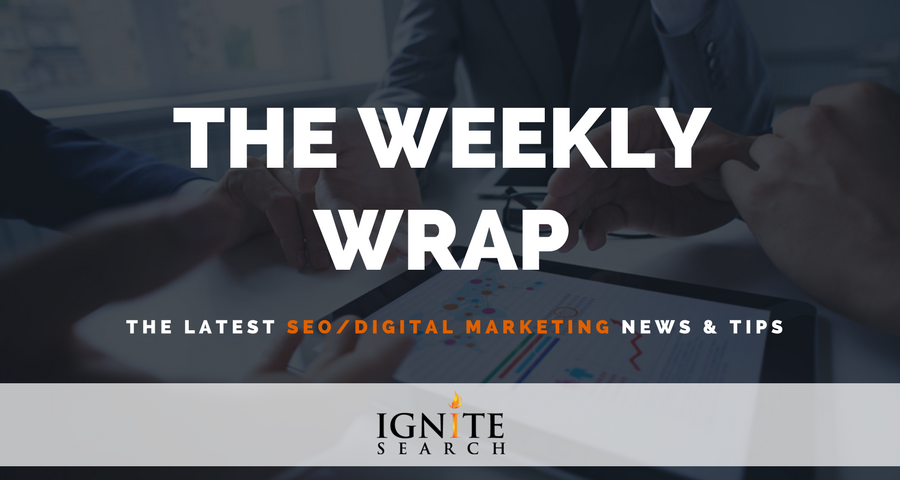 100% Curated SEO/Online Marketing Goodness
Key Industry Updates: 
SEO: Google On Algorithm & Ranking Updates This Week: We're Always Improving Our Search Results
Starting around Tuesday of this week, we noticed Google algorithm and ranking shifts throughout the SEO industry and search results. There were significant chatter and the algorithm watching tools all, all of them, were responding heavily to the changes. The truth is, the chatter and ranking shuffles have continued on through today and SEOs and webmasters are still pretty concerned and on their toes around watching these changes.
SEO: Google adds structured data for subscription & paywalled content for new flexible sampling program
We reported earlier this morning that Google is doing away with the old "first click free" program and replacing it with flexible sampling. In short, Google is giving publishers more options for allowing search users to access their content without hurting ranking visibility in Google search results. With that, Google has introduced a new paywall structured data element for subscription and paywalled content. Google recommends publishers use this new markup when they are deploying flexible sampling techniques on their web sites.
SEO: Google to Start Competing on Equal Terms in Shopping Search
Following a $2.7 billion fine by the European Commission back in June, Google has agreed to change how it displays shopping search results in Europe. In response to claims that Google ranks its own shopping service ahead of others, the search giant says it will start competing on equal terms. As these changes are being made, Google is still appealing the ruling by the European Commission that Google Shopping has an unfair advantage in search results.
SEO: Google: First Click Free is over, being replaced by Flexible Sampling
Most online news publications are not able to support themselves with advertising these days. For this reason, among others, Google is yielding to publisher requests and replacing its much-debated "First Click Free" program with what it calls "Flexible Sampling." Content and news publishers will now control whether and how many articles they want to let searchers access before showing a paywall or subscription prompt. The company is also working on an array of other tools to help boost publisher subscriptions.
Paid Search: Google AdWords' Call-Only Ads Upgraded with Ad Extensions
With hundreds of thousands of advertisers now using call-only ads, Google is finally upgrading them with a feature that is available with other ad types. Ad extensions, additional lines of text that appear at the bottom of an ad, can now be used with call-only ads. In Google's testing, adding extensions to call-only ads can improve click-through rate by an average of 10%.
Paid Search: Bing Ads announces new Editor features for ad extensions
Bing Ads announced on Thursday some new features in Editor related to ad extension management. These new features are now available for the Windows version of Bing Ads Editor, and they will soon be available for the Mac version. Advertisers can control when their ad extensions are shown in Editor, including by date, day of the week and time of day. There's also support for times to be based on either the advertiser's time zone or the searcher's time zone.
Local: Google local finder rolls out website mentions matching your query
Sergey Alakov first noticed that Google has begun rolling out the local finder website mentions that Google began testing earlier this month. Website mentions in the local finder show the searcher if their query, the search they used to bring up the local results in Google, matches any of the content found on the local business website. Now it seems to be live for all, and I am able to replicate the "Their website mentions" notations myself.
Mobile: Google releases a variety of Accelerated Mobile Pages Project (AMP) updates: scrolling animations, video analytics, fluid ad support
Yesterday, Google announced several Accelerated Mobile Pages Project (AMP), technical updates. These included scrolling animations, an improved responsive-navigation sidebar, support for video analytics, fluid ad support and other features to improve ad targeting. The post that goes into more technical detail about each of these updates is here. The open-source AMP project was announced by Google in 2015 to speed up the mobile web. Specifically, AMP was aimed at improving the rendering of content pages on mobile devices.
Mobile: Google's iOS App Can Now Filter Search Results by Date
According Google's latest update to its iOS app allows users to filter search results by date range. I tested it out and it works exactly as advertised. You'll find the "Tools" option toward the end of the option bar after you search for something. After tapping on "Tools" you will see another bar appear underneath with filtering options. Now casual and power searchers alike can do more without having to leave the Google app.
Social: Twitter Expanding Character Count and Vimeo Acquires Livestream
Welcome to this week's edition of the Social Media Marketing Talk Show, a news show for marketers who want to stay on the leading edge of social media. On this week's Social Media Marketing Talk Show with Michael Stelzner, we explore Twitter expanding to 280 characters with Madalyn Sklar, Vimeo acquiring Livestream with Luria Petrucci, and other breaking social media marketing news of the week!
Helpful Strategies, Tips & Tricks:
SEO: Moving to HTTPS? Don't miss this unique opportunity!
Most SEOs have heard by now that moving web pages with forms to HTTPS is necessary to avoid being shown as "not secure" in Chrome 62. Moving to HTTPS is a good step to take for a number of reasons, but there is also an unique SEO opportunity which is often overlooked — an opportunity that can significantly help your website with its SEO rankings, if done properly. So, what is the opportunity? Moving to HTTPS will encourage Googlebot to recrawl most of your URLs.
SEO: The SEO Competitive Analysis Checklist
"We need more links!" "I read that user experience (UX) matters more than everything else in SEO, so we should focus solely on UX split tests." "We just need more keywords on these pages." If you dropped a quarter on the sidewalk, but had no light to look for it, would you walk to the next block with a street light to retrieve it? The obvious answer is no, yet many marketers get tunnel vision when it comes to where their efforts should be focused.
SEO: 6 Ways to Hype Your Backlink Profile With Crawl Data
Links aren't dead. Yet. Google has been giving mixed messages about the importance of backlinks, but we all know links are still a key signal search engines use to determine the importance of webpages. While it is up for debate whether you should pro-actively engage in link building activities (as opposed to more general brand building activities that lead to links, social shares, etc.), monitoring and optimizing the existing backlinks pointing to your site is a must.
Paid Search: 12 Important SEO Tips for Shopify Ecommerce Platform
Shopify is one of the most recommended e-commerce platforms used by online sellers to set up their online retail businesses. If you are running a Shopify e-commerce Platform and looking for some SEO tips for your Shopify store, then look no further! I have compiled a list of SEO tips that are fundamental for running a successful Shopify e-commerce store to increase online visibility. Follow these easy-to-follow tips below to discover all the essentials for improving the SEO of your Shopify store.
Paid Search: How to Hack Your Way to the Top of Competitive SERPs
Most SEOs face a Catch-22. Your job is tough. Results take months or even years to bear fruit. The end goal – traffic, leads, customers – are lagging indicators. Which means clients and bosses will need to be patient. You need time to identify opportunity gaps and execute. The problem? Clients and bosses aren't patient. You need six to 12 months. They're only giving you three. Tops. Your mission: impossible gets harder when the company is relatively new, unestablished, underfunded, and going after competitive niches. (Read: most realistic clients 90 percent of us work with.)
Local: How to Track Your Local SEO & SEM
If you asked me, I'd tell you that proper tracking is the single most important element in your local business digital marketing stack. I'd also tell you that even if you didn't ask, apparently. A decent tracking setup allows you to answer the most important questions about your marketing efforts. What's working and what isn't? Many digital marketing strategies today still focus on traffic. Lots of agencies/developers/marketers will slap an Analytics tracking code on your site and call it a day.
Content: How to Perform a Content Audit to Guide Your Content Marketing Strategy
When it comes to achieving your Content Marketing goals, the first reflex is to create and distribute new content. And very often, after we post it, we don't think about updating or reusing it further. According to a recent study, 37% of content marketers never complete a content audit. Which is unfortunate, because a well-conducted content audit done on a regular basis can help you improve your Content Marketing strategy.
Content: 14 ways to get smarter with your content and SEO
Despite the many ways Google has changed the search game over the last five years, one truth remains: content is the vehicle that drives your consumer interactions, engagements, experiences and, ultimately, conversions. However, only 41 percent of marketers think their organization is clear on what an effective or successful content marketing program looks like, according to the Content Marketing Institute (CMI).
Social: Everything You Need to Know About Twitter Advanced Search
Although the reports of Twitter's death have been greatly exaggerated, the social media platform has dipped in popularity, as shiny new toys like Instagram and Snapchat have captured the imagination of the public, especially Millennials. But Twitter still has 328 million monthly active users, 100 million daily active users, and 500 million tweets are sent every day on the platform.
Read Our Weekly Blog Post On Landing Page Content & The Important Factors To Consider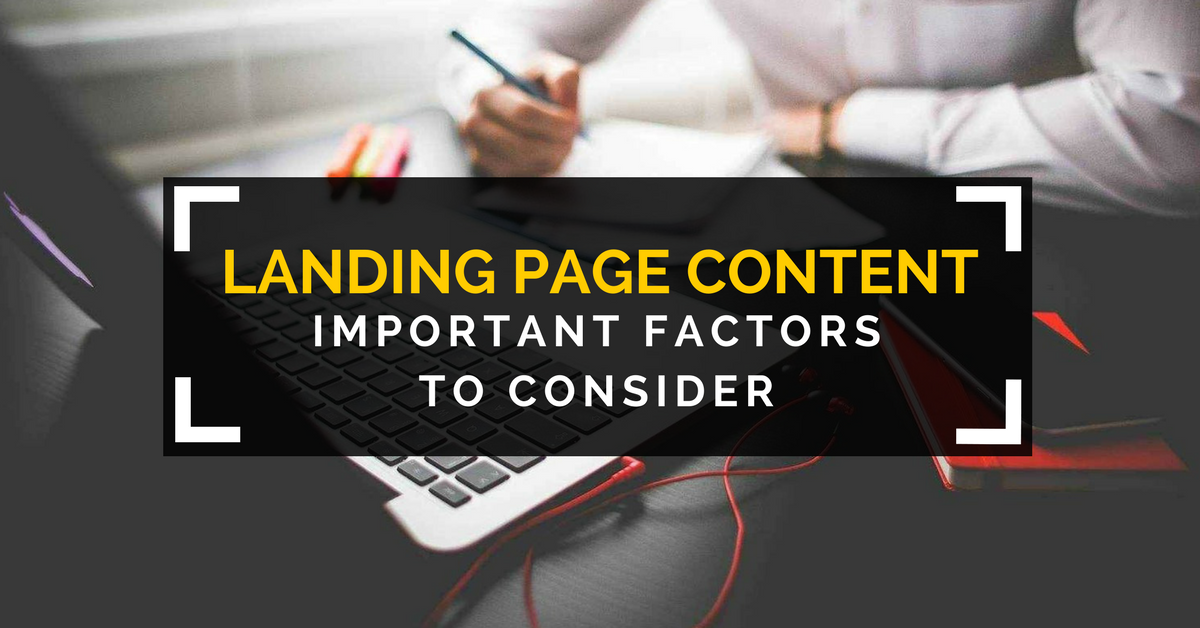 Video: English Google Webmaster Central office-hours hangout –3rd October 2017
Enjoy reading the Weekly Wrap?
Let us bring it to your inbox, every week.
Subscribe here!