By Airon Rodrigues
Formerly known as Google+ and Google Places, Google My Business (GMB) is a free way of listing a company on Google, and it's essential for Local SEO.
For businesses looking to increase their visibility within local search, Google My Business is one of the key platforms that must be optimized in order to include a company listing in searches, maps, and more.
A website for a local business doesn't need to be found by everyone, but only those who live in the community that are looking for the services a business might offer.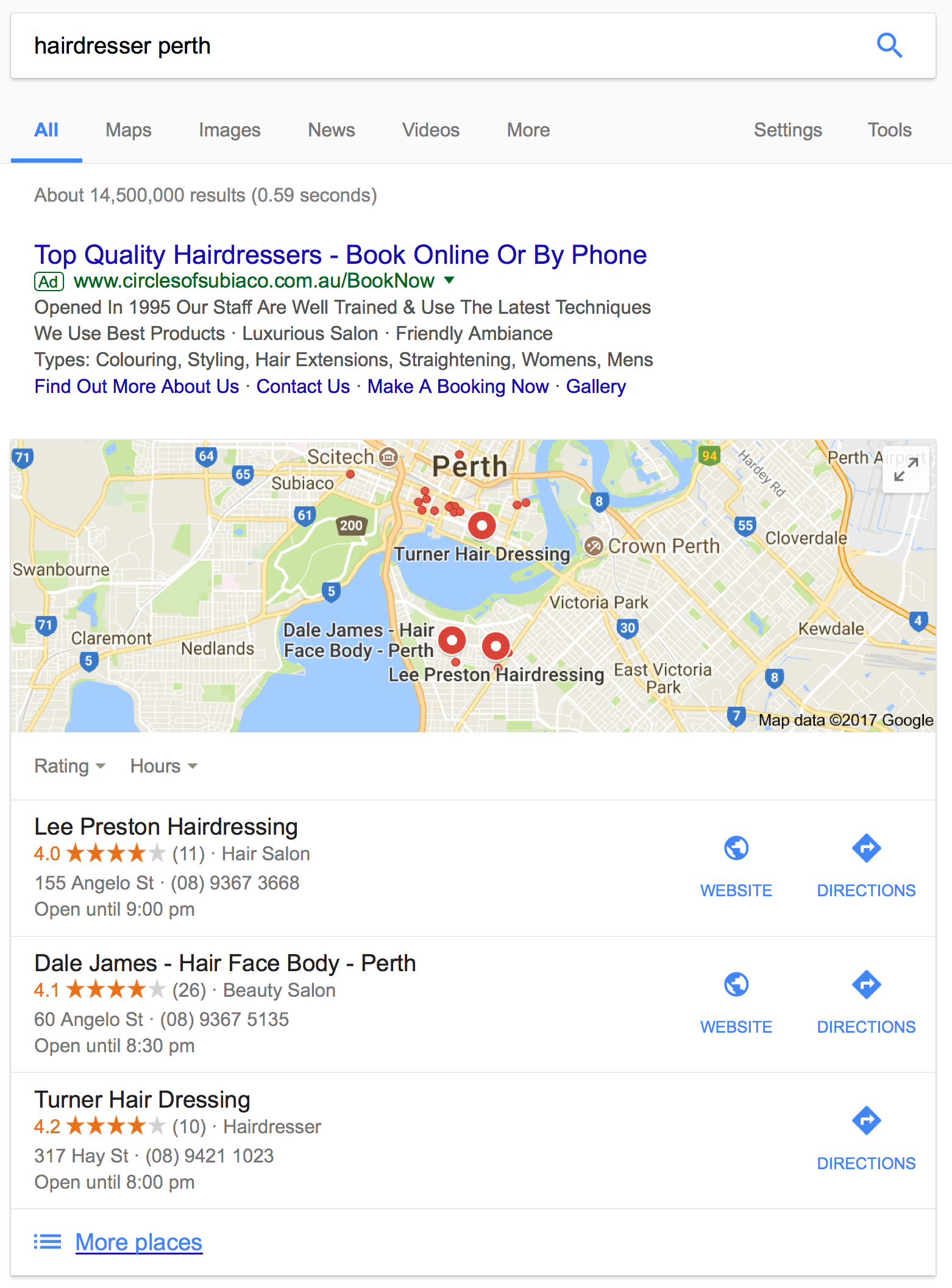 Local search results for 'hairdresser perth'
Successfully setting up and optimizing a GMB listing can result in a high ranking within local search, so how do you do it?
Set up a Google Business Listing
Setting up a listing is free, and can be done by clicking "Start Now". Then, fill in the required information and ensure every field is complete and accurate.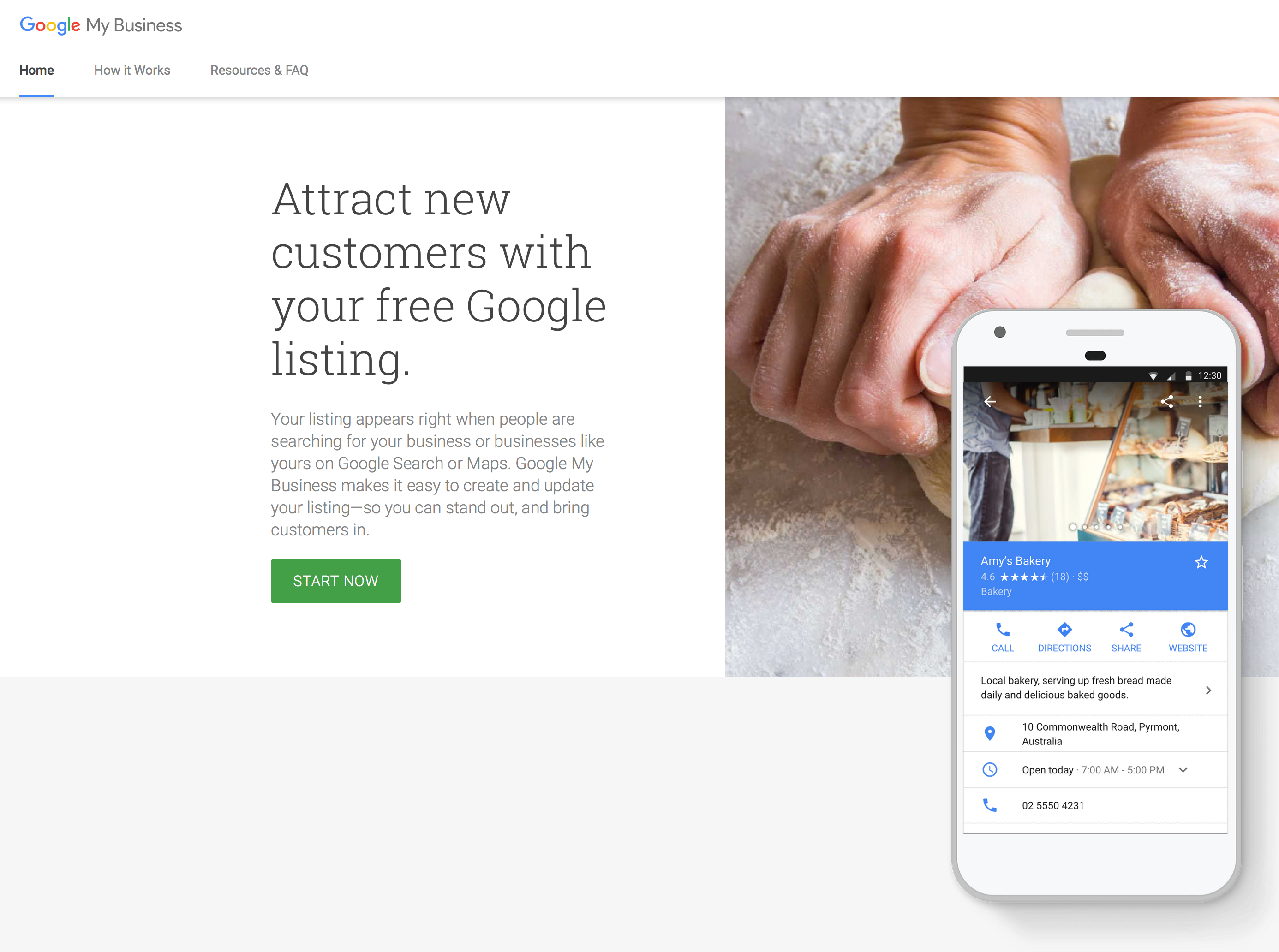 Select a Category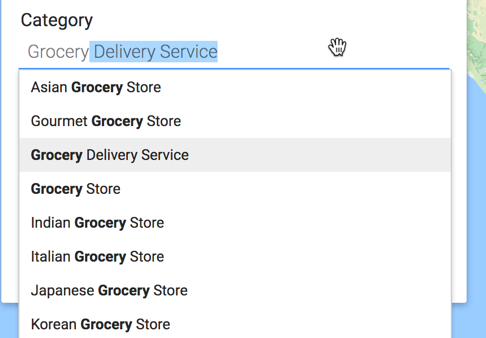 Selecting a category will help Google decide where to list the business. Google recently expanded the category selection, allowing a business to pick multiple categories. When selecting a category, relevancy is important as the business website should reflect the services of the chosen category.
Add High-Quality Images
Adding photos to a GMB listing helps put a name to a face. Photos help a listing stand out and better describe what the listing provides as a business. Ensure that the photos are at a high resolution and can easily be viewed, especially if the photos are products.
According to Google, creating a 360-view virtual tour of a business can generate twice as much interest as listing without this view.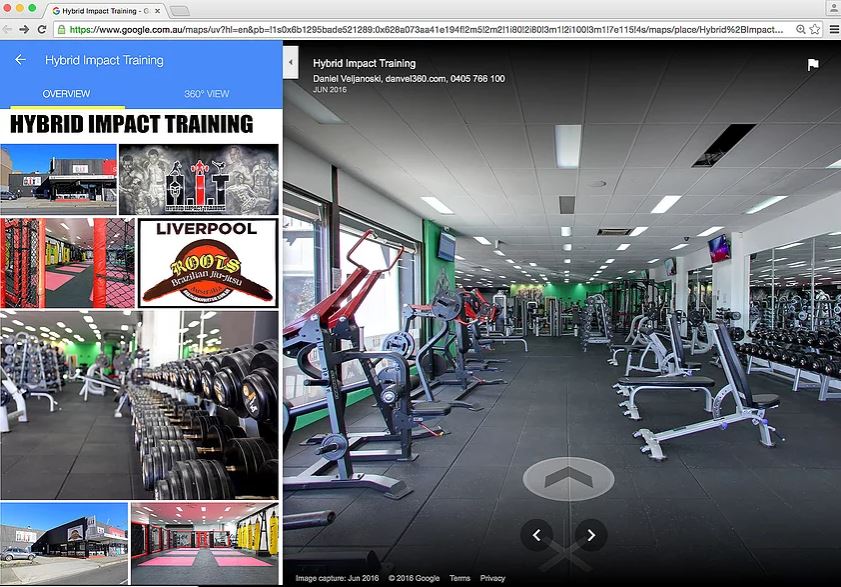 360-view tour of Hybrid Impact Training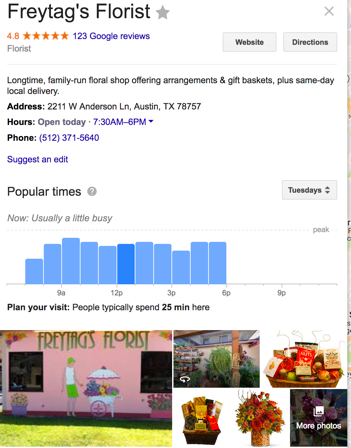 High-quality photos in Freytag's Florist's GMB listing
Keep Information Consistent
When setting up a listing, ensure the submitted information remains consistent. The most important attribute for local search is the name, address and phone number (NAP). This is mandatory information that is required to create and verify a GMB listing.
This information is important because the NAP enables customers to recognize and familiarize themselves with a business. For this reason, the information should always be kept consistent.
In addition, Google uses citations to cross-reference the accuracy and consistency of the information listed. Inaccurate information can reduce the trust of a listing because this can confuse customers with two different sets of information.
Also, remember to use a phone number with a local area code. This helps Google understand that the listing is, in fact, a local business.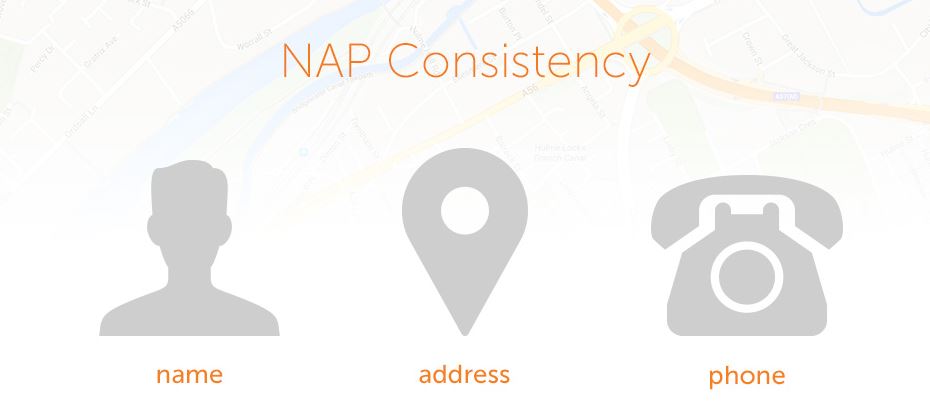 Add Business Hours
Customers are always searching for products online, which is why including (the correct) business hours is crucial for a local listing.
Customers expect the information listed to be correct, failing to deliver in this aspect can potentially lose the patience of a customer, as the internet is full of online stores selling the same products. Poor listing management can have a significant business impact, as this can affect a consumer's brand experience, which could be the difference between winning and losing a customer and might even result in a negative review.
Through the "Special Store Hours" function in GMB, businesses can set separate opening hours for holidays or events.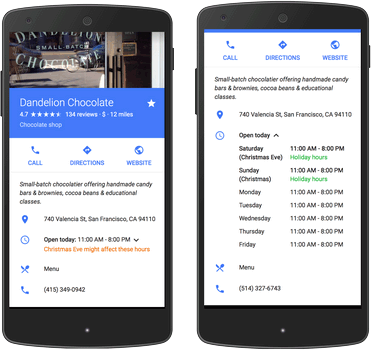 Special Store Hours for Dandelion Chocolate.
Optimize The Profile
Just like any social media account, the GMB profile needs to be complete with a profile photo, a logo, cover photo, and additional photos for customers.
Through the "Preferred Photo" feature, businesses can recommend which photo they would prefer to display within local search. Optimizing the part of the profile allows the GMB profile owner to control what customers will see, which helps brand experience.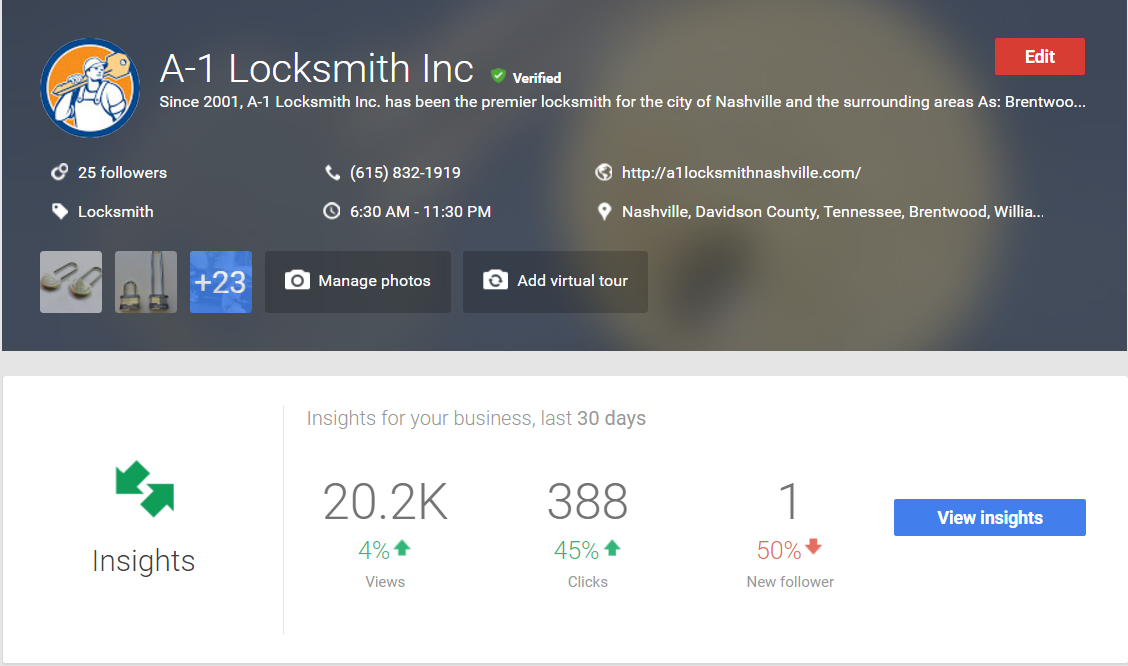 A-1 Locksmith Inc GMB profile.
Online Reviews
Regardless of the context, online reviews can make or break a sale. But with local SEO becoming more important, exactly how important are consumer reviews?
According to a survey conducted by BrightLocal, 91% of people said they acknowledge reviews either "occasionally" or "regularly".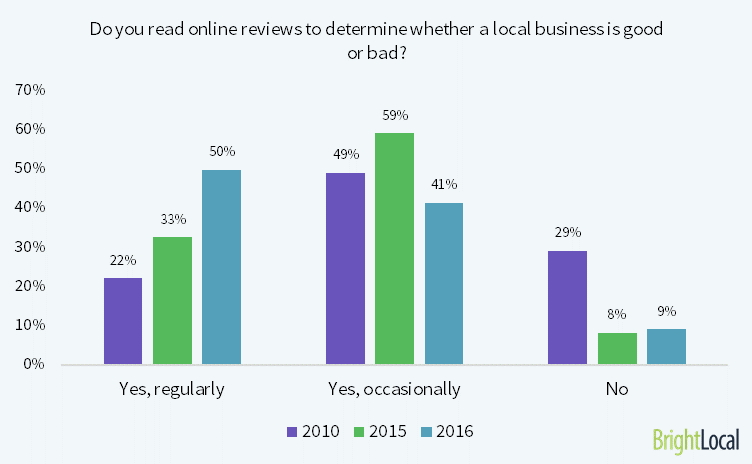 Because Google always wants to provide the most useful information to its users, local businesses with star ratings next to their name have a positive impact on a listing because Google, as well as potential customers, can see that the business has been rated by previous experiences that signal as a trust factor.
Effectively setting up and optimizing a GMB listing can only lead to a positive online growth for a business. It's important that local businesses are easy to find and provide clear and accurate information right away.
Remember, a local business doesn't need to be seen by everyone on Google, but only those who are a part of the community and are interested in the products or services a business might offer.
Ready to get started? Head over to Google My Business to start improving your local search today.