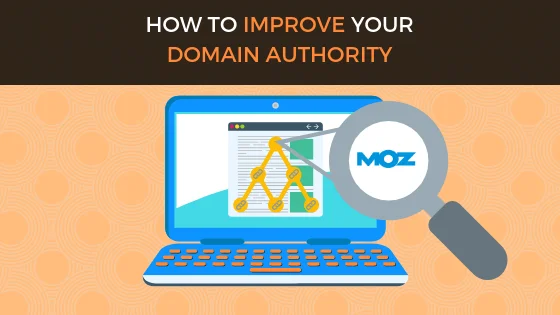 By Kelvin Sim
What is domain authority?
Domain Authority (DA) is a metric, developed by Moz, to predict the ability of a website/domain to rank in search engine. Moz is a software as a services (SaaS) company that aims to simplify search engine optimisation (SEO) process software, education, and community support.
DA uses a 0 to 100 logarithmic scale. A high DA score means your complete website – all pages on your domain have the potential to rank well in the search engine results page (SERPs).
DA is calculated by evaluating multiple factors, including linking root domains and number of total links, into a single DA score. This score can then be used when comparing websites or tracking the ranking strength of a website over time. Please not that DA is a third party metric and is not used by Google in determining search visibility.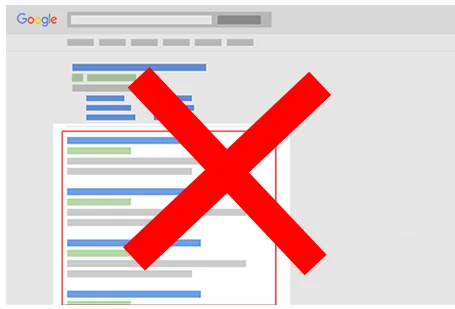 Why is DA important?
As previously mentioned a DA score does not directly affect a website ranking in SERPs, however a DA is calculated by evaluation multiple factors that correlate to Google Pagerank algorithm.
These factors include: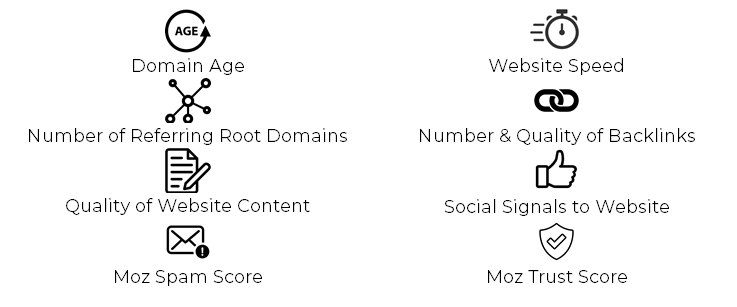 PageRank is a search engine algorithm by Google that ranks sites based the number of links pointing to a specific web page. In simple terms, PageRank is a popularity contest. The more links that pointing to a web page the more useful it will seem. This process is done by using the link equity model, by which a link between websites will pass a PageRank point or colloquially know as link juice. Link juice refers to the value passed from one page to another in forms of hyperlinks. Google classify this as a vote by other websites and it adds to the various ranking signals that contribute to the search visibility of your website.
Moz have invested heavily and built these calculations on the backs of crawlers that index pages, count links, evaluate topicality and use machine learning to provide insights into how well your website might rank against a competitor.
Therefore, even though DA is not part of the algorithm, it should give you a valuable metric for assess quality. Furthermore, The DA score provides an indication of how strong a website's link profile is and predicts the likelihood of a website's ability to outrank competitive website.
To find your DA you can download the MozBar from the Google Chrome Web Store as seen below:

How to improve your DA
DA as previously mentioned is made up of an aggregate of metrics and link data that formulates the DA score of a website. This has been orchestrated to replicate the competitive nature in Google SERPs. Google takes into account a multitude of factors and therefor a metric that tries to calculate it must incorporate a lot of factors as well.
Here are the top 3 ways to improve your DA score
1. Build Quality Backlinks to Direct Users to Your Site
Backlinks can either decrease or increase your rankings, therefore by incorporating high-quality backlinks from sites with a better DA can improve your website's search visibility in SERPs. We recommend revising your current backlink strategies to incorporate high-quality backlinks.
This includes conducting both internal links and external links. Internal linking typically involves linking to your own content, while external links requires external sources/website linking back to your website's content and pages. For more information about link building read our blog: The Importance of Link Building in SEO
Another factor to consider when link building is the difference between dofollow and nofollow links. Search engines take into account links that have the HTML code rel=dofllow. This element helps search engines to crawl and discover new content and web pages which ultimately contributes to a websites ability to rank, while nofollow links will not.
2. Create Engaging Content to Encourage Natural Link Building
The best way to develop a strong backlink profile for your website is through natural link building. This occurs when an external website links to your website organically, without any effort on your behalf.
With the provision of high-quality content on your website, users may want to make references and link your website to share with other users. The notion of high-quality content is a broad concept and subjective from users to users. However, there are a few features that tend to produce likeable content.
This includes creating long-form content such as blogs with relevant topics, optimising images, creating enticing Call To Actions (CTA) that draws visitors to your website and encourages engagements such as performing likes, share and comments.
3. Make Sure Your Pages are Accessible to Avoid Missing Out on New Users
Broken links can significantly affect user engagement by redirecting users to a 404 error page. For every broken link you missed an opportunity to direct traffic to your website. The key is to identify a broken links and replacing them with active link. The result of this can improve your backlink profile and DA.
To learn more about broken links read our blog: Why You Should Audit Your Internal Links For SEO
Alternatively, you can redirect the broken links. This will send anyone who clicks on a broken link to the correct page.
Conclusion
Domain Authority is a metric developed by Moz to help webmasters and digital marketers determine the importance of a website in the eyes of Google. Although Domain Authority is a great comparative metric, it should never be used an absolute measurement of how well your website is doing in organic search.