By Airon Rodrigues
Keep your friends close and your enemies closer is quite a common saying, and there's a reason for that.
For the purpose of this blog post, I'd like to reword that to keep your friend's keywords close, and your competitor's keywords closer. Whether or not there are 'friends' in the world of SEO, I am not sure. Let's leave that up for discussion.
Now you may ask yourself, why do I have to do to keep track of which keywords my competitors are using? How is that going to help potential customers find my brand online?
It's probably going to help you more than you know. Why? Because by analysing a competitor and which keywords they are optimising for, you will be able to reverse engineer their success and identify their weaknesses, so you can gain an advantage.
The goal of analysing your competitor's keywords is to get insights into the strategies that are working for them so you can adopt them, improve them, and gain an edge.
With that being said, let's look at 5 tools that can help you along the way.
Google Keyword Planner
Google's keyword planner is arguably the number one place to go when conducting keyword research. But did you know it can also report on which keywords your competitors are using?
Typically, when using keyword planner, you would insert keywords into the 'Your product or service' box to discover search volume, cost per click, difficulty and more.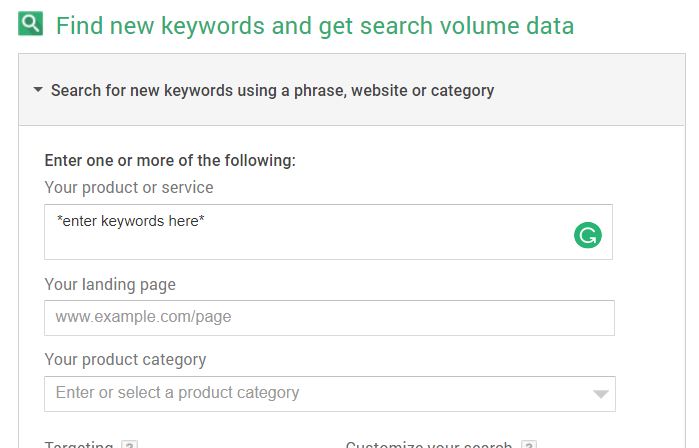 However, for analysing a competitor's keywords, you want to insert the website URL in the 'Your landing page' box. As seen below: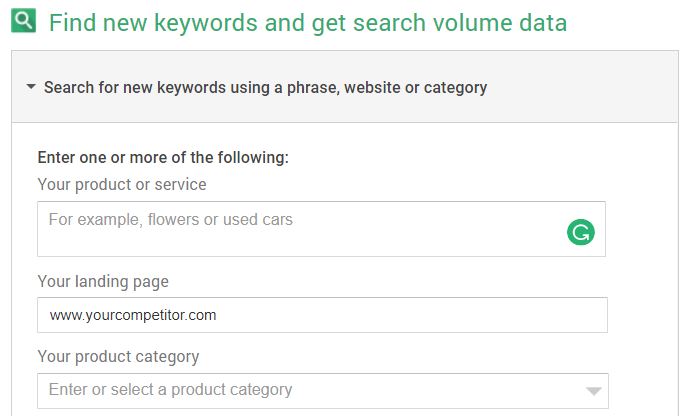 After this, click ideas and await the list of keywords.
Competitor: Search Engine Journal
We now have a full list of competitor keywords to work with. This can be exported and analysed further by filtering out keywords that won't be relevant for your brand. More importantly, you can see exactly which keywords your competitors are using as well as the difficulty for them.
SEMrush
Like Keyword Planner, SEMrush allows you to enter a domain name and preview the top 10 keywords of which that website is currently ranking for.
To do this, the first thing you want to do is select the 'Domain Analytics' dashboard located on the left.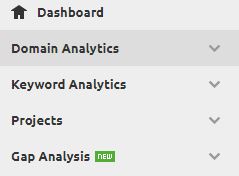 Next, select the 'Organic Research' menu.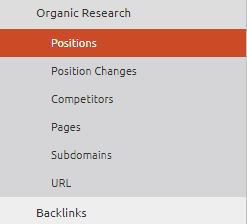 As you can see below, we are continuing to monitor Search Engine Journal and which keywords they are using. Next, click the 'Keywords' tab to see the list of keywords.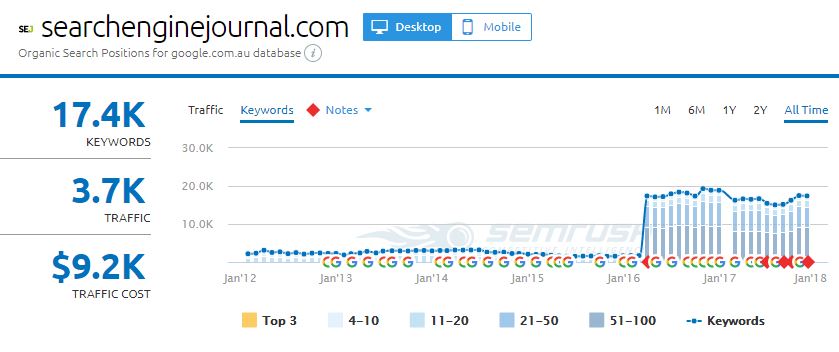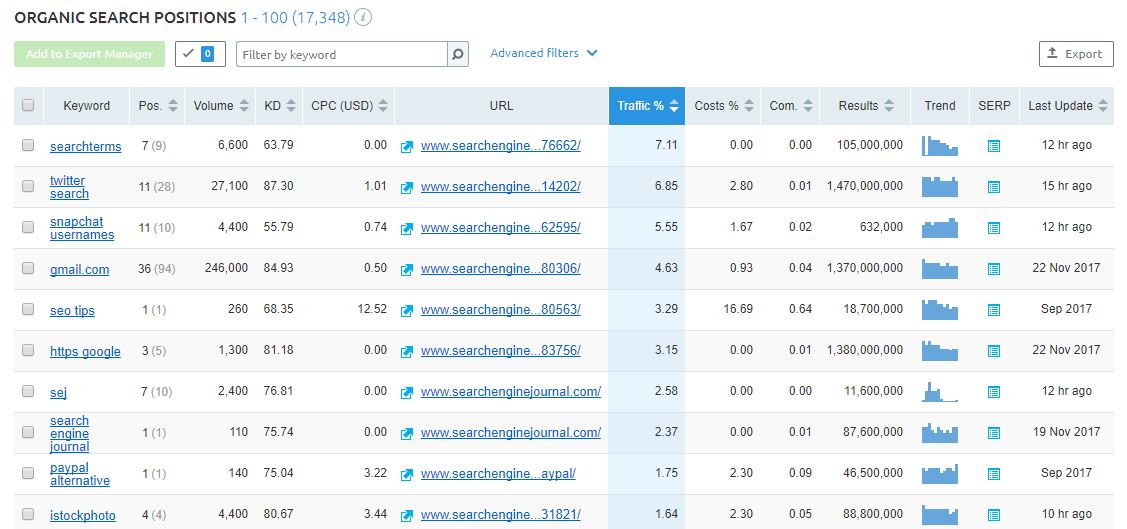 We now have a list of keywords to work. Like keyword planner, this can be exported and further analysed.
The Organic Search Positions table, as seen above, reports back on which keywords are being used, the position for each keyword, search volume, keyword difficulty, the URL for each keyword and more.
Open Site Explorer
Generally, you know any product from Moz is going to be effective and help you improve your SEO.
Open Site Explorer is fairly easy to use and is quite similar to operating the tools mentioned above. To use this tool for keyword ideas, enter the competitor's URL and go to the Anchor Text Distribution tab.

This will show you up to 20 keywords that your competitor uses for anchor text when link building, hence letting you know what they are targeting and how strong their link building campaign is with the number of root domains and links using that anchor text.
Alexa
Alexa is a great SEO tool that offers different features such as traffic stats, search analytics, audience type, related links, clickstream and more.
It's great for identifying a traffic a score and how a site is performing for organic and paid search, however, it also gives you the chance to see keyword queries that bring a high percentage of traffic to a particular URL.
To do this, navigate your way toward the 'Site info' tab and enter your competitor's URL. Once you Get Details, go to the Search Analytics tab to see top queries driving traffic to the site and keywords that are on the rise/decline.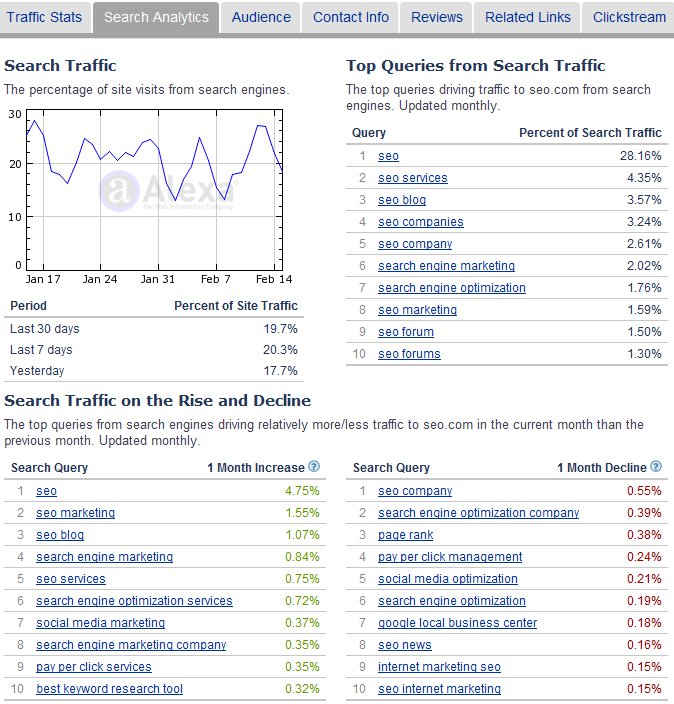 From these tables, we can see a few things. Our competitors' top queries from search traffic, as well as the rise and decline of those search queries meaning, are they improving or not for those terms. Again, this tool allows you to export this information to your own case study. It comes down to identifying what is, and what's not working for your competitors and figuring out why. From you analyses, you must configure a system that allows you to take advantage of these pitfalls.
iSpionage
As their website states, iSpionage really allows you to steal your competitors' traffic and uncover their conversion strategy. Why is iSpionage so effective? Because you gain access to seven years' worth of PPC and SEO keyword data that covers Google, Bing, and Yahoo.
This stool is one of the 'spying tools' that makes it easy to see what your competitors are doing with their keywords.
Below we can see a keyword competitive analysis on Amazon.com.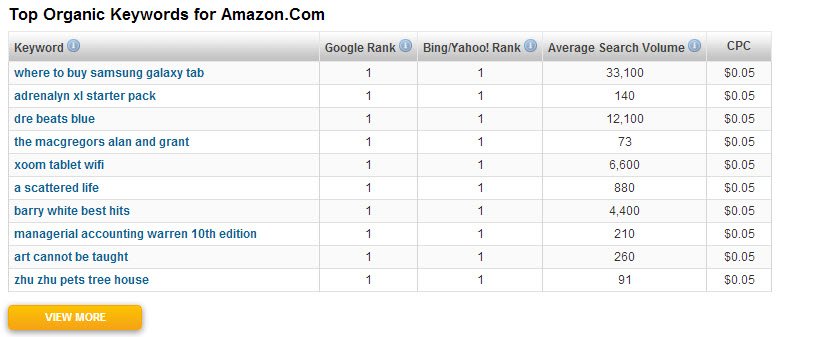 When using iSpionage, enter your competitor's URL and identify the best keywords for organic and PPC and how much they spend on both. Export the data and target keywords that would work for your brand, taking all the information supplied into account.
Other Tools That Can Help
In addition to the tools mentioned above, there are many online tools that can provide a list of your competitor's keywords with just a quick search. Here are a few others:
Start using the tools mentioned to begin tracking your competitors. Competition is inevitable, and you have no choice but to compete smarter, so you can have a fighting chance. By using these tools, you will be able to tap into what makes your competitors great and make your way to the top.