Ignite Search Weekly Wrap – 20th December 2017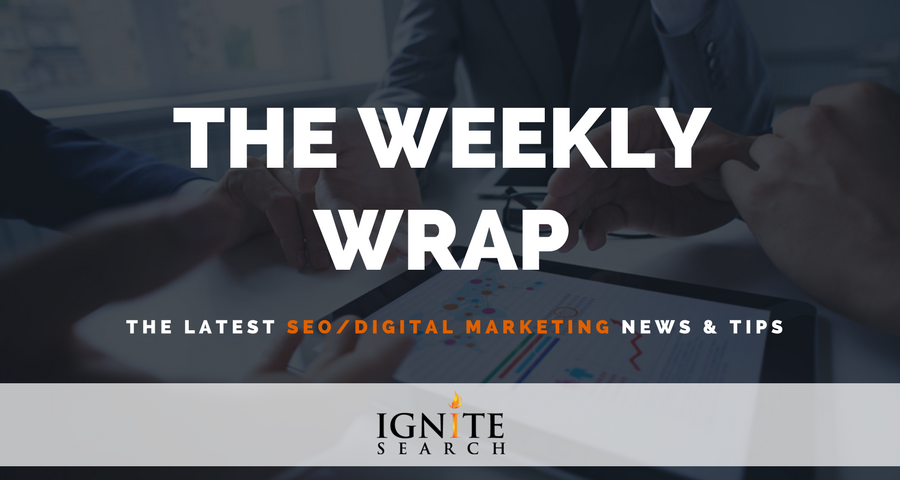 100% Curated SEO/Online Marketing Goodness
Key Industry Updates: 
SEO: Google Search Ranking Algorithm Update: The Maccabees Update
There is currently both a lot of chatter in the SEO forums and many of the tools are lighting up around major changes in the Google search results. It is rare for there to be this must chatter this late in December in any of the forums, so when the WebmasterWorld thread started to get busy late December 13th through December 14th, it was something that caught my attention.
SEO: Google launches new Rich Results testing tool with some rebranding
Google has announced it has launched a new version of a structured data testing tool for rich results at https://search.google.com/test/rich-results. The company also said it will be calling rich snippets, rich cards or enriched results "Rich results" from now on and group them all together. Google said the new testing tool "focuses on the structured data types that are eligible to be shown as rich results." This new version enables you to test all data sources on your pages, including the recommended JSON-LD, Microdata or RDFa.
SEO: Bing announces AI-powered new 'intelligent search' features
At Microsoft's AI event yesterday in San Francisco, the company showcased its vision for AI-enabled computing, as well as its AI differentiation strategy. The latter essentially boils down to three big ideas: making AI-supported software broadly accessible to people to improve "everyday" experiences, the seamless combining of work and personal functionality in the same tools and the intention to be an ethical AI company.
SEO: Google Search Console beta adds 12+ months of data to performance reports
The new beta version of Google Search Console has now added over 12 months of historical data to the performance reports. Here is a screen shot showing the options of date filters for the report, including last seven days, last 28 days, last three months, last six months, last 12 months and full duration. Glenn Gabe of G-Squared Interactive also is able to see it in his beta Google Search Console reports.
SEO: Google bringing the Assistant to tablets and Lollipop Android phones
Google is rolling out the Assistant to more devices. It will soon be available on Android tablets running Nougat and Marshmallow, and smartphones running Lollipop. Tablets in the US running English will be the first to get access. However, a wide array of Android 5.0 smartphones (Lollipop) will get the Assistant: Those operating in English in major markets and in Spanish in the US, Mexico and Spain; and Lollipop smartphones in Italy, Japan, Germany, Brazil and Korea.
Local: Google adds price tracking features to flight search, hotel search and Google Trips
Google announced it has added features to help you plan your trips, flights and hotel stays for your vacations or business trips. Many of the features are around how you can save money or track prices for a travel destination. Google has been testing many of these features over the past month, so they may not appear new to some of our readers.
Paid Search: Google is testing images in search text ads
Google is running a new image test in search ads. An image from the landing page appears to the right of the description area of the text ad. Sergey Alakov tweeted a screen shot of the ad test over the weekend. A Google spokesperson told Search Engine Land, "We're always testing new ways to improve our experience for our advertisers and users, but don't have anything specific to announce right now." Alakov is based in Toronto, Canada. I have not been able to replicate it, and it's not clear how widespread the test is or what verticals are included besides automotive.
Paid Search: [UPDATED] Google Ad Grants policy changes include 5% CTR minimum
Google is making changes to Ad Grants, the AdWords program that provides search advertising grants of up to $10,000 per month to non-profits. As reported by Robert Brady on the Clix Marketing blog, advertisers and agencies began receiving email notification this week that stated more than 35,000 non-profits participate in the Google Grants program and news that it is lifting the $2 bid cap when campaigns use Maximize Conversions bid strategy. That news was then followed by a set of links to updated policy pages. On those pages are several other significant changes.
Social: Facebook Expanding AR Studio, Instagram Hashtag Following and Recommended Posts, WhatsApp Updates
Welcome to this week's edition of the Social Media Marketing Talk Show, a news show for marketers who want to stay on the leading edge of social media. On this week's Social Media Marketing Talk Show with Erik Fisher and Kim Reynolds, we explore Facebook expanding AR Studio with Joel Comm, Instagram hashtag following and recommended posts with Jeff Sieh, WhatsApp updates, and more breaking social media marketing news of the week!
Helpful Strategies, Tips & Tricks:
SEO: Image Link Building – Whiteboard Friday
Image link building is a delicate art. There are some distinct considerations from traditional link building, and doing it successfully requires a balance of creativity, curiosity, and having the right tools on hand. In today's Whiteboard Friday, Moz's own SEO and link building aficionado Britney Muller offers up concrete advice for successfully building links via images.
SEO: How to Get Ready for the Mobile-First Index, According to Google
Google has published its official advice on getting ready for the mobile-first search index, a transition which is expected to roll out more broadly in early 2018. The mobile-first index has already begun to roll out slowly to individual sites that are ready for it, as Google has previously confirmed. What does it mean to be "ready," exactly?
SEO: Title Tag Optimization: A Complete How-to Guide
The <title> tag is crucial for any SEO strategy to succeed. Missing, duplicate, and poorly written title tags can all negatively impact your SEO results. Don't let this happen to you. This post will help you understand what goes into writing and optimizing a great title tag.
SEO: Which tools should I buy to advance my SEO strategy?
The complexity of an organic search campaign necessitates some technological assistance. There are plenty of tools on the market, but they vary in price, functionality, and effectiveness. Once you have all the basics in place, which SEO tools should you invest in to take your strategy to the next level? The SEO landscape is highly competitive, with every company battling for precious real estate at the top of page one. The points of differentiation between competitors fall into the following, intertwined categories: people and technology.
SEO: Why Building a Brand Is the Most Viable SEO Strategy
Google has always given brands preferential treatment. They get better rankings with fewer links. They get "penalized" for improper conduct, only to resurface a few weeks later. Small brands, on the other hand? Never get the benefit of the doubt. Need to earn twice as many links. And never resurface. Ever. And this is only accelerating. It's only getting more pronounced. So much so, that there's virtually nothing else you should focus on in 2018, besides building a brand. Big brands will get showcased in the SERPs. And small companies will be left in the dust.
Paid Search: How To Jump Start Your PPC Account For Next Year
As we are closing down the year, this is a great time to go through and audit your account to prepare for the next year. In the last few months, everyone is trying to achieve year-end goals, take advantage of seasonal traffic, and to plan out their paid search strategy for January.  While pushing towards the end of the year finish line, sometimes the everyday maintenance takes a backseat in order to tackle some hefty goals.
Content: Content KPIs: Are You Measuring Your Content Correctly?
Too often we find ourselves producing content piece after content piece without ever once defining what the goal of the content is. If you're about to create a new piece of content and haven't yet asked yourself why you're creating this content, do so and do it now.
Mobile: How to carry out a mobile SEO audit on your site
You don't need us to tell you about the importance of mobile. You already know about the mobile-first index and that mobile constitutes more than 50% of all website traffic. So instead, we're going to tell you what to do about it. Mobile optimization should be an integral part of your SEO strategy, and it goes beyond just checking whether your site passes Google's Mobile Friendly test.
Social: An Instagram Content Plan for Service-Based Businesses
Does your business offer services? Looking for ways to make Instagram work for you? In this article, you'll discover how to plan and construct Instagram posts to help your service-based businesses establish a strong visual presence.
Read Our Blog Post on Competitive Research Tools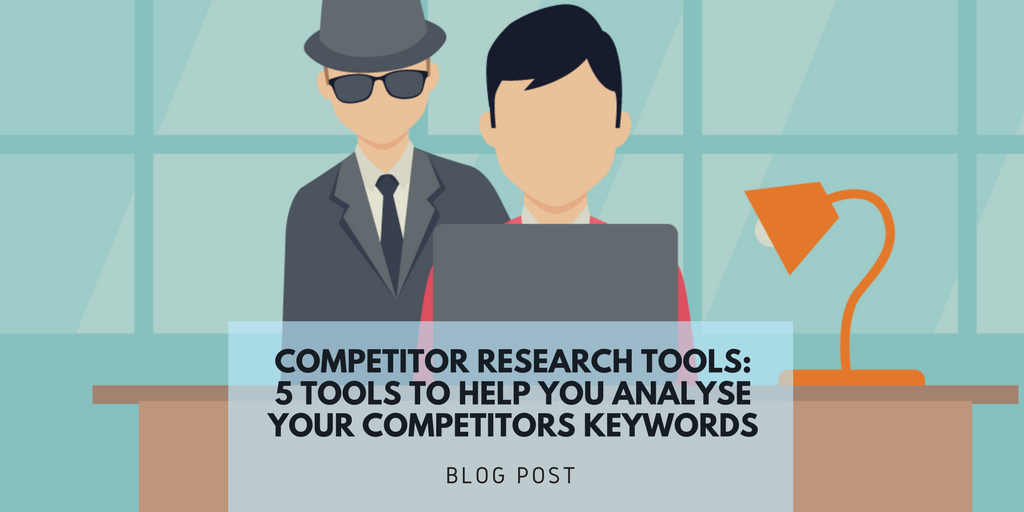 Video: English Google Webmaster Central office-hours hangout – 20 December 2017
Enjoy reading the Weekly Wrap?
Let us bring it to your inbox, every week.
Subscribe here!