Ignite Search Weekly Wrap – 3rd January 2018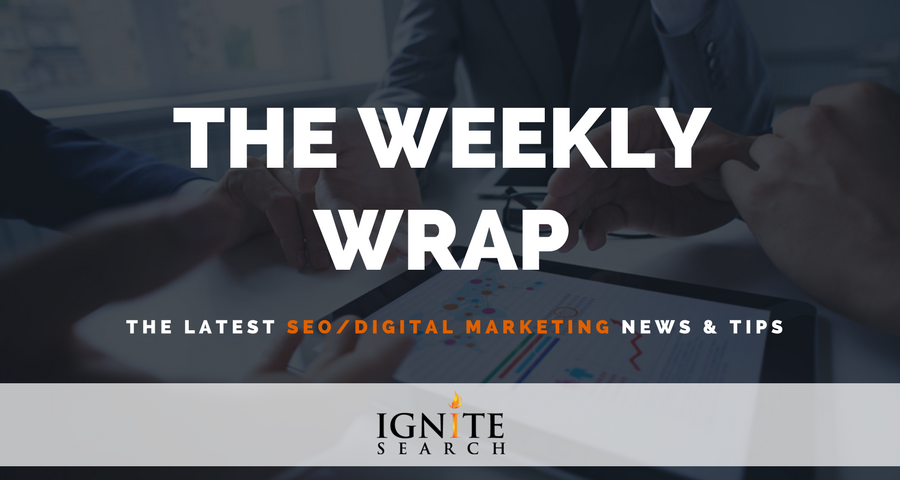 100% Curated SEO/Online Marketing Goodness
Key Industry Updates: 
SEO: Maccabees Update: Google Confirms New Core Algorithm Changes
Today we received confirmation from a Google spokesperson that "several minor changes" were made to the core algorithm this month. "We released several minor improvements during this timeframe, part of our regular and routine efforts to improve relevancy," a Google spokesperson told Search Engine Journal. The timeframe with the most volatility for some websites was between December 12 and 14.
SEO: Google's snippets and the length of your meta description • Yoast
You might have noticed: Google has made search results snippets longer. In the past it showed up to ~160 characters, now it can be much, much longer. We're currently researching what this means for site owners. We've also changed the Yoast SEO recommendations for meta description length in expectation of the results of that research. In this article, I'll go over what this change means for you and for us.
SEO: Google Introduces Rich Results Tool for Testing Structured Data
Google has introduced a catch-all tool for testing rich snippets, rich cards, and other "rich" additions to a website's content. Keeping things simple, Google has coined the phrase "rich results" to refer to all of these, which means its new tool is called the rich results testing tool. Google's new testing tool will test for all types of structured data that can be shown as rich results. It tests data sources such as JSON-LD, Microdata, and RDFa.
SEO: Eric Schmidt stepping down as Executive Chairman of Google parent company, Alphabet
Alphabet announced today that Eric Schmidt, the top executive at the company since 2001, is moving out of his role as the Executive Chairman of the Board and will instead remain on the board as a technical advisor. No indication of who will replace Schmidt, but the release notes that the Board will appoint a non-executive chairman.
SEO: Google image search results tests new related searches box
Google is testing a new "related searches" box in the mobile version of the Google Image search results page. Robin Rozhon spotted the change and posted a screen shot on Twitter of this new box. I cannot replicate the new user interface, but it does look like others are also seeing this test. Google frequently tests new user interfaces, so we are not sure if this new one will stick or fade away over the next couple of weeks.
SEO: New search quality raters guidelines for Google Assistant and voice search evaluations
Google has published on the Google Research blog the search quality raters guidelines, contractors guidelines to evaluate Google's search results, specifically for the Google Assistant and voice search results. It is similar to the web search quality guidelines, but it changes in that there is no screen to look at when evaluating such results; instead you are evaluating the voice responses from the Google Assistant.
Paid Search: Google confirms ad-blocking in Chrome will start February 15
Chrome will cease showing ads on websites that display non-compliant ad experiences beginning February 15. The initial warning was issued in June but did not specify a time frame aside from "early 2018." With over half the market share in the browser market, this has a potentially sizable impact for non-compliant websites whose ads do not meet the standards of the Coalition for Better Ads. Experiences such as full-page interstitials, automatic sound and flashing ads are all on the list of banned ad types.
SEO: SEO Snippets: Google Starts Up The Short Webmaster Videos Again
I am so happy to see the announcement that Google is now starting up these short SEO/webmaster videos to answer one question at a time within a few minutes. Yes, they are similar to the style from ages ago when Matt Cutts and Michael Wyszomierski produced together. But these do seem a bit more polished, I guess time helps improve this stuff. Google is calling these "SEO Snippets" and they are produced in the Zurich office. So far, only John Mueller has been doing the videos and they released several to date.
Local: Google Maps Doesn't Allow Negative Reviews From Current Or Former Employees
Google now has updated their review guidelines to prohibit and disallow negative reviews from current or former employees. The new section under "conflict of interest" reads:
Maps user contributed content is most valuable when it is honest and unbiased. The following practices are not allowed "posting negative content about a current or former employment experience."
Local: Google again showing third-party reviews in local results
Google is integrating third-party reviews into the Knowledge Graph for hotels. It apparently has been happening since 2016 and is entirely opt-in for the provider. Google works directly with the third-party review source (e.g., TripAdvisor) to integrate the content. In the example below, TripAdvisor reviews for Southern California hotel Terranea are available under the "view Google reviews" link in the Knowledge Panel.
Social: Facebook Engagement Bait News Feed Updates, New Fonts for Instagram Stories
Welcome to this week's edition of the Social Media Marketing Talk Show, a news show for marketers who want to stay on the leading edge of social media. On this week's Social Media Marketing Talk Show with Erik Fisher and Kim Reynolds, we explore the Facebook "engagement bait" news feed updates, new fonts for Instagram Stories, and more breaking social media marketing news of the week!
Helpful Strategies, Tips & Tricks:
SEO: How to Rank in 2018: The SEO Checklist – Whiteboard Friday
It's hard enough as it is to explain to non-SEOs how to rank a webpage. In an increasingly complicated field, to do well you've got to have a good handle on a wide variety of detailed subjects. This edition of Whiteboard Friday covers a nine-point checklist of the major items you've got to cross off to rank in the new year — and maybe get some hints on how to explain it to others, too.
SEO: How Does Mobile-First Indexing Work, and How Does It Impact SEO?
We've been hearing a lot about mobile-first indexing lately, as the latest development in Google's ever-continuing efforts to make the web more mobile-friendly and reflect user behavior trends. But there's also a lot of confusion around what this means for the average business owner. Do you have to change anything? Everything? If your site is mobile-friendly, will that be good enough?
SEO: How to Find New Customers Using These 9 Google Analytics Reports
The top challenge that marketers face is generating traffic and leads to their website. And the second greatest challenge they face is proving the ROI of the marketing activities. Since you're a marketer, you're familiar with these challenges. The goal of marketing is to generate traffic, leads, and conversion. And when that isn't happening, you might feel like a bit of a failure. I get it. But here's what's even worse than not generating the attention you want: Not knowing whether you're generating that attention or not.
SEO: How to Get the Most SERP Clicks Without Ranking at the Top of the Page
The What makes a search result click-worthy? Or let me phrase it this way: What would make someone want to click on your content? One answer that I tend to hear a lot relates to page rank. "If I were higher up on Google's SERPs I'd get more clicks!" While this is partly true, it's not the full picture. Making sure that you rank number one isn't the only factor that goes into your CTRs. It's only part of the equation.
SEO: 6 Steps to a Perfect 100/100 Google PageSpeed Insights Score
Finding that perfect balance between user experience and a fast Google PageSpeed Insights score can be quite tricky. It took us weeks of work to achieve our perfect score of 100/100. The formula for every website will be different – there isn't a one-size-fits-all approach. Be prepared to break your site. If you don't, you probably aren't trying hard enough. Here are six things we did to accomplish this.
SEO: Google Featuring Longer Snippets: What to Do Now
Google recently announced that longer snippets in search results, or meta descriptions, were going to be displayed. What does this change mean? And might this impact your SEO strategy? The meta description describes the content that is featured on a webpage. Best practice is to include relevant keywords in it so that it will entice users to click. (Google doesn't use the meta description for ranking purposes.)
SEO: Best practices for anchor text optimization in 2018
Doing SEO for any client is intimately associated with getting the most out of every link. Anchor text is an important element that "unlocks" every link's potential — to the extent that Google had to roll out its first Penguin update in 2012, cutting tried-and-true anchor text over-optimization methods out of the picture. Over the past five years, the best practices of anchor text optimization have considerably evolved. It is time to learn how anchor text best practices can allow you to get the most out of links in 2018.
Content: 10 Content Types That Will Boost Your Traffic
Need to attract new visitors and boost your organic and social media traffic? Below are 10 types of content that helped me do just that. Consider these content types next time you're prioritizing what content to create.
Content: 7 ways to use dynamic content and multiply your conversions
Ask marketers what their goals are, and one of the first things they will say is to deliver a more personalized experience to their customers. This isn't a goal aimed solely at increasing conversions; it's also about meeting customers' growing expectations. So, how can marketers meet the high demand for super-personalized communications? The answer lies in dynamic content. In this free guide, see seven simple ways marketers can use dynamic content to connect with audiences in a more organic and personalized way.
Content: How to Develop a Video Marketing Strategy That Drives Business
Content marketing has been the most prominent marketing outfit in recent years, and video marketing has attained noteworthy importance. However, many of the brands today struggle to achieve shrewd success in regards to creating effective video content. Videos are exceptionally narrative, capable of telling pages and pages of stories in just a matter of seconds. When developed and broadcasted logically, they can drive businesses to new heights. But, how will you do that? The answer is -> with the right strategy. Below, I will discuss the methodology for developing a conducive video marketing strategy.
Social: Here's Why Your Facebook Custom Audiences are Failing (And How to Fix Them ASAP)
If you are looking for a diverse online platform that is sure to put your marketing campaigns in front of tons of people, Facebook Ads are the way to go. With countless detailed targeting options and features, you can reach virtually anyone with an ad. The powerful, hyper-specific targeting details are one-of-a-kind. AdWords are great, but they just simply can't provide some of the benefits that Facebook has.
Video: English Google Webmaster Central office-hours hangout – 22 December 2017
Enjoy reading the Weekly Wrap?
Let us bring it to your inbox, every week.
Subscribe here!