WordPress is now among the most popular and powerful CMS platforms in the world, due to its simple yet flexible nature. It's also a great tool for anyone who is starting out with their first website or has minimal website development experience, as it is easily managed, SEO friendly and doesn't require any knowledge of code. However, there will always be features that may go unnoticed for beginners, especially when it comes to marketing and SEO within WordPress. In this article we discuss the top 5 beginner tips on how to use WordPress for marketing and SEO.
Using Child Themes
Prior to customising and making any changes to your new website for marketing and SEO needs, it's important to choose the correct theme and understand the value of child themes. WordPress allocates you a theme by default upon creation, which is unlikely to provide you with the right look and function. Whilst it's sufficient enough to create an appealing website, there are over 31,000 available themes to choose from with many offering what you might be looking for. Once you've installed your chosen theme, it's likely that you're going to want to change a few things around. Before doing this, ensure that you make the most of the child theme feature. This lets you change small aspects of your websites appearance whilst preserving the parent themes functionality and overall look. To put it simply, the child theme inherits the appearance and functions of the parent theme, but can be used to modify any part of that theme without affecting any of its customisations.

Optimising your Metadata
Before you publish your new pages, you're going to want to make sure they're completely optimized for the search engine results pages (SERPs). Yoast SEO proves to be an essential plugin that makes SEO simple for any user, providing guidance and easy-to-use tools to help you create an SEO friendly website. The snippet preview and editor tool allows you to customise your own metadata, which can be found below the page editor within the backend of WordPress. This snippet is a short summary of your page and is exactly what users will see within the Google SERPs.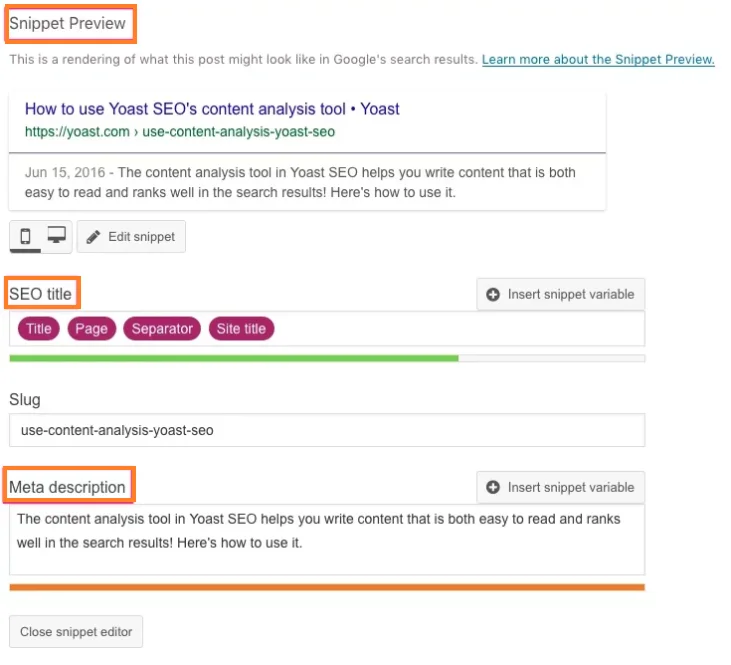 On top of this, there is also a focus keyphrase checking tool. Your focus keyphrase is the phrase that you would like your page or post to rank for. Once this has been set, Yoast will analyse whether or not you've used the correct terms within your metadata and show you how to improve the description if necessary.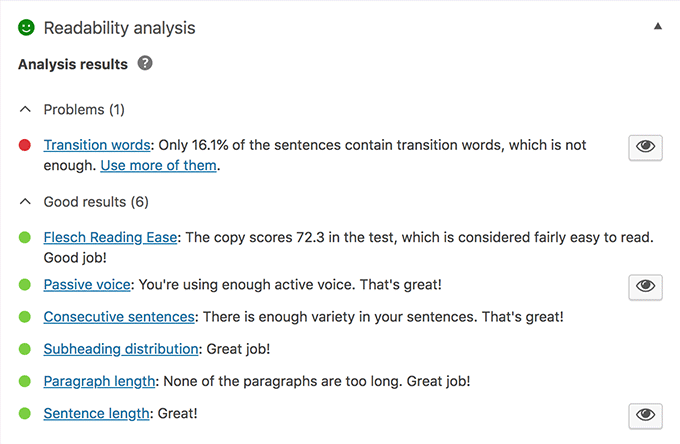 Adding Nofollow Links
Whenever you decide to provide links to external websites within your own content, search engines transfer a small part of link authority from your website to the other website. As these external websites are outside of your control, it's generally considered good SEO practice to ensure these links contain a nofollow attribute. You can do this by adding the attribute: rel="nofollow" into the HTML of the link, which will tell search engines to not pass any link authority from your page to the linked website.
Here's an example of what a nofollow link looks like:
<a href="https://example.com" rel="nofollow">Google</a>
In order to add the nofollow attribute within WordPress, click on 'text' within the page editor and then search for all external links using the control+f search function.  Go ahead and input the rel="nofollow" attribute after the link.

Customising Permalinks
The permalink is the complete URL for any given post or page on your site. These are extremely important to get right and maintain properly, as both users and search engines use these URLs to navigate and index your site.  A permalink generally contains a domain name (www.ignitesearch.com.au) and a slug, which is the piece of URL that comes after the domain name. A basic permalink is considered the most effective as its easier to understand and share. If the URL is too complex or long, its less enticing to share and can sometimes appear to be 'spammy'.
A good example of a simple URL is:
https://www.ignitesearch/category/post-name
WordPress uses a default permalink structure thats not necessarily SEO friendly and looks something like this:
https://www.ignitesearch/?p=101
So it's important to ensure you customise your own URLs.
Don't forget that once your page has been published, it's never a good idea to change your permalinks. This means that search engines will no longer be able to find your page, as the old URL is the one that has been indexed and any visitor that clicks on the URL will be shown a 404 error. This can heavily affect your rankings, so you'll want to look into carrying out a 301 redirect for the altered URL.
Setting up Contact Forms
The majority of websites, especially business-based, require a function for contact between the users and the website owners. As WordPress requires a contact form plugin, it can be easy for any beginner to miss this step which will result in a loss of significant opportunities. We currently use the plugin Contact Form 7, which allows the management of multiple forms and provides in-depth customisation. The form comes with a default setup without the need for customisation, which is similar to the example below:
Make sure that you have entered the correct details into the mail section:
Once the backend of the form is ready, create your 'Contact' page and insert the form:

Conclusion
WordPress has proven to be the most powerful CMS platform available, and for good reason. It's ideal for anyone just starting out with their own website and learning how to navigate the platform for marketing and SEO purposes. If you're looking to dive deeper into learning more about WordPress, visit the WPBeginner website for a comprehensive guide on working with WordPress.