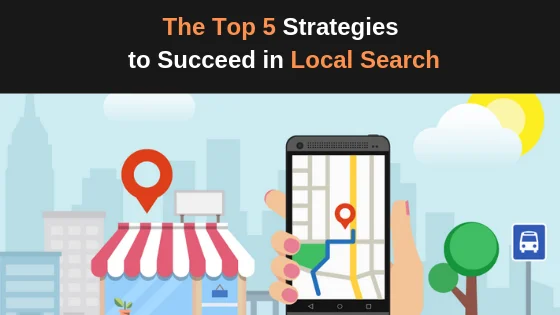 Physical businesses rely heavily on local customers and generic foot traffic. So in an extremely competitive retail word, it's essential for those who are brick-and-mortar to have that competitive advantage when it comes to local search. Advertising through local search offers a great solution to increasing your revenue and gaining that extra edge over competitors. However, being able to implement your ads successfully to ensure online customers end up walking through your doors is never an easy task.
Local search strategies should be a priority when it comes to taking advantage of local populaces, especially when the business doesn't offer any form of e-commerce. So with no need for broad-reach targeting, having a strong local presence must be the sole focus. Here are 5 strategies to lead local paid search in your market:
Google Local Campaigns
A great place to start is with Google Local Campaigns, which are designed to help you bring business to your physical store using the features associated with Google advertising. These campaigns essentially streamline the process for you, making it simple to promote your brick-and-mortar business across Google's properties, such as the Google Search/Display Network and Google Maps. Unlike location and call extensions which are additional features to your text ad, local campaign ads serve as the entire ad unit itself.
Once you provide your business location, campaign budget and ad assets, Local campaign ads will help you automatically optimise bids, ad placements and asset combinations. For example, when it comes to determining the relevancy of your ad placement on Google Maps, google will match your business location with customers who are exploring the local area within Google Maps or perform a search for business locations similar to yours.

Location Extensions
When it comes to implementing your Google Ads campaign for local search, it's vital to setup your Google My Business listing if you haven't already. Once your GMB is listed, go ahead and link this with your Google Ads account, which will give you access to location extensions and many other features. Check out Ignite's GMB listing below: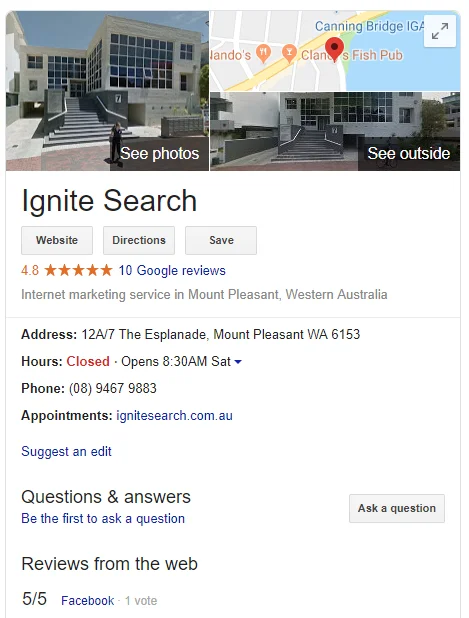 The location extensions display your businesses location on Google Maps through the SERP's, which are pulled from your Google My Business listing. These extensions will be displayed when your text based ads produce an impression and can help you increase local foot traffic.

Extensions can also be disapproved just like ads and keywords. Those that are disapproved need to be further edited and then submitted for review. However, even if it is approved its never guaranteed that it will be displayed along with your ad every time. Google will ensure these extensions are visible when:
Your Ad Rank and Ad's position is high enough for extensions to show
The extensions have been predicted to improve your performance
Call Extensions
Call extensions allow you to add your business phone numbers to your text ads, which can greatly improve your overall click-through rates. So when a user searches for your business, they will be instantly able to call you by clicking the visible 'Call' button, dismissing the need to click through to your website for the same intent. This ultimately means more customer engagement for your text ads and more opportunities to track your conversions.
Google Ads also gives you the option to use a dynamically generated forwarding number, allowing you to track the amount of phone calls that have come solely through your ads. These can be tracked within the Google Ads user interface and can be used within conversion metrics. Furthermore, you can set certain calls to be tracked and counted towards a conversion (calls that last longer than 1 minute for example). So by having the call extension implemented, you're not only increasing the chances of a conversion, you're also collecting additional data about what campaigns and ads are performing well.
Hyperlocal Marketing
Hyperlocal geographic targeting is the process of targeting potential customers within a specific geographic area, which can be narrowed as far down to a few suburbs or streets. This has proven to be essential for any business that relies heavily on local foot traffic for revenue and is often targeted towards people who are conducting local 'near me' business searches through their mobile devices.
Fortunately, Google Ads offers a geographic targeting feature for those looking to implement campaigns for Local PPC, allowing you to restrict particular display ads to users in your chosen locations. Google applies the targeting of these ads to specific locations through options such as your city, suburb and zip code; it even gives you the ability to create a custom-sized radius with your businesses address at the center point of this radius. On top of this, adding negative geographic targets will prevent your ads from displaying in unwanted locations.

Local Service Ads
Service based businesses depend upon bookings and appointments as a source of revenue, unlike product retailers who can advertise through their products. Google provides Local Service Ads  where you can advertise service based businesses on Google's SERP and receive direct leads from potential customers. Despite this feature being limited to a particular set of service industries, it proves to be an amazing local search strategy for those with access to it.
These advertisements through Local Service Ads appear at the very top of the SERP's and those who search for your service have the ability to contact you directly. When contacted, you can manage these leads from your online account or through the Local Services Ads app where you can track appointments and instantly reply to messages. However, make sure you reply as soon as possible to all leads as Google has stated that this may affect your rankings " If you regularly fail to answer calls or respond to messages, your ad ranking may be affected."
The process to qualify for Local Services Ads requires a submission of business entity verification and a background check. On top of this, Google will also ask for evidence of insurance for each location that is to be listed on your ads.
Conclusion
Standard text ad campaigns that don't display your physical location and broad location targeting should be a thing of the past if you're a brick-and-mortar based business. Take advantage of local search by starting with the above 5 strategies to grow your business and gain new customers around your area.