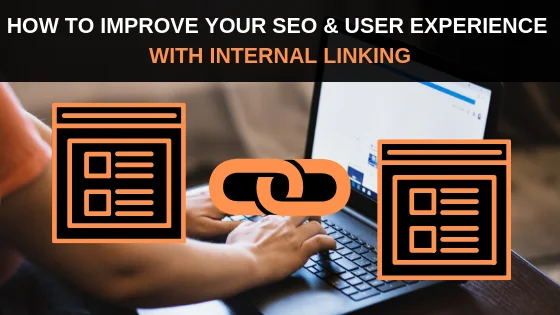 When it comes to SEO, the term 'Link Building' is generally associated with backlinks or external linking, primarily because a domains' backlink count is a strong ranking indicator to search engines. However, you also have internal linking. These are links that are built internally within your website that direct you towards other pages on your site. Even though these aren't necessarily on par with external linking, they still play an important role in SEO.
Passing Link Equity with Internal Links
While external links are responsible for bringing link equity and trust to your website and the page they direct to, internal links can provide a source for directing this equity to other pages throughout your website. Of course, the page that is the first landing point from the external link will receive the most benefit, but you can still pass some of this equity towards other pages, which will allow growth of authority for some of your 'lower-funnel' pages. Keep in mind that the value will also decline the further away you link from the original page.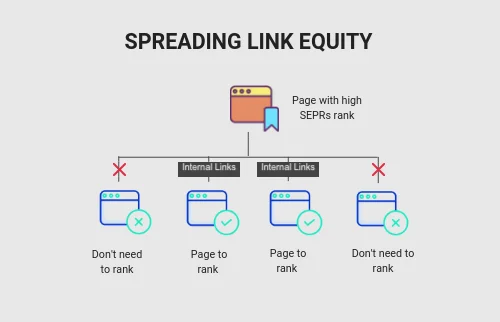 The most efficient aspect to this strategy is that once an internal link has been built, your converting page will continue to benefit and grow from every backlink that is gained for the original page. However, Internal links still need to maintain a level of relevance and make contextual sense within the content it's been placed.
Internal linking is extremely useful for supporting any new pages. So prior to any launch of a backlink acquisition campaign, it's recommended to search your website for the best places to build internal links within content and find any new pages to provide a link to that are of relevance and might need an initial equity boost.
Signaling The Most Important Pages
The structure of a website and how your pages are ordered plays a major role in how search engines crawl and navigate your site, to which internal links are used to measure what pages are of high importance and tie closely to your brand. Essentially, the more internal links that are directed to a page, the more importance search engines are going to place on that linked page. For example, our homepage provides multiple internal links that direct users to our SEO page, as this is one of our primary services.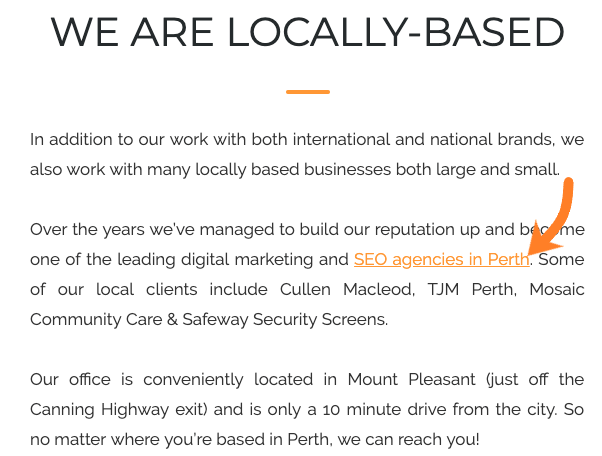 If there are multiple pages on a website that include similar content or cover the same topic, search engines will rely heavily on internal links to determine what page is of most importance to display in the SERPs. This can heavily affect what keywords and phrases will be associated with your pages. The objective of any site structure strategy is to make it easier for search engines to understand your website in order to rank pages by your ideal hierarchy.
User Experience
On top of search engine crawlers, internal linking can also be used to provide an efficient user experience for anyone visiting your website. So not only will internal linking support visibility within organic search results for converting pages, it will also help to guide actual visitors to the right pages.
When building these links, take into consideration the multiple entry points users have to your website and implement internal links to map out the customer journey that navigates them through the site in an order that makes sense. This process may get complicated, but keep in mind how the link structure should flow; the next page should always be considered 'the next step' in the customer journey up until a conversion or purchase.
Common Strategies for Internal Linking
As discussed above, there are many SEO advantages of having a solid internal linking campaign. But what does this look like in practice? Here are some popular strategies and practices that are used in internal linking:
Link Tools
It's always a good idea to support your campaign with tools that analyse your websites internal link structure and provide data that will help you improve on your structure.
One of our personal favourites is Screaming Frog, which allows you to apply filters to your data such as "sort by InLinks" once its crawled your website, which ranks URLs by internal link count. Screaming Frog can also be used to filter by pages based on a chosen term, which can be used to identify the best opportunities to place a highly relevant internal link within a piece of content. For example, if you have a page dedicated to a specific service such as "Car Rentals", you can use Screaming Frog to identify all pages that mention the terms "Car Rentals" or "Rent a Car". In order to do this, select 'Configuration' → 'Custom' → 'Search', a 'Custom Search' menu will then appear where you can input your term. Once you have done this, make sure Screaming Frog re-crawls your website. Head over to the sidebar and scroll down to find 'Custom', which will show you what pages contain this term.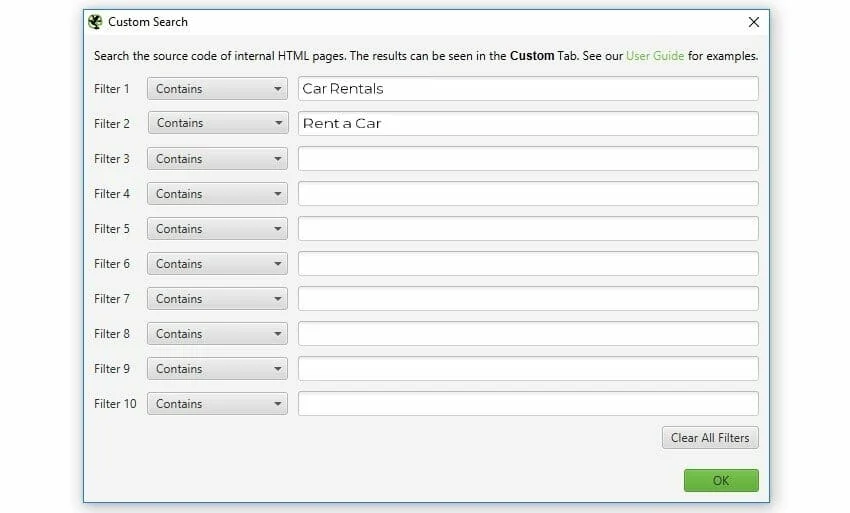 Another great aspect about Screaming Frog is that it allows you to identify any broken links. These are extremely important to stay on top of as it can heavily affect how search engines crawl your site and therefore your overall rankings. Once identified, you're going to want to perform a 301 redirect on these links. Check out this comprehensive guide here on everything to do with 301 redirects.

Some other tools include the Moz Link Explorer and the Ahrefs Site Explorer. These tools will show you what pages have the highest authority and contain the best backlinks, which could prove useful in determining where you should place your internal links to spread equity across several pages.
Anchor Text Optimisation
The last factor when it comes to building internal links that should be considered is the anchor text. Like external links, anchor texts also play a big part in internal linking. The idea is to be as relevant and specific as possible about the linked page. This will help both visitors and crawlers to better understand where the link is directing prior to opening it.
Conclusion
Internal linking is a fundamental aspect to SEO success. So going ahead and optimising your internal link structure will support your website in many areas, including better authority for any linked page, easier navigation for visitors and a clear page hierarchy for determining the most important pages. However, whilst there's no set limit to the number of internal links you can provide, its recommended to only place links where it makes sense within the content. Keep to a logical order for the customer journey and whether the reader would benefit from learning more information on another page from the link.