Ignite Search Weekly Wrap – 18th February 2015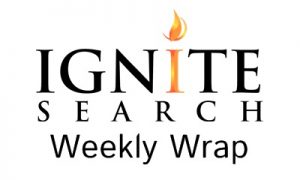 100% Curated SEO/Digital Marketing Goodness.

Helpful Strategies, Tips & Tricks:
SEO: Local SEO For Franchises Means Teamwork
Localization no doubt comes to mind immediately as the solution to this problem. While this is the ultimate route to success, some very specific considerations must be factored in for a local SEO campaign for franchises to be properly executed.
Here are the following upcoming Google Hangouts that focus on challenges facing webmasters around SEO. We find the Hangouts selectively insightful and we encourage to pick and choose topic that are of interest to you:
Office Hours Hangout with John – 24th February 2015
Mobile: Everything You Need to Know About Mobile App Search
Justin Briggs explores the growth of mobile app search and its current opportunities to gain visibility and drive engagement.
Paid Search: AdWords Scripts Bulks Up With Bulk File Uploads
Managers of large AdWords accounts, rejoice! Google recently added the ability to perform bulk uploads using AdWords scripts. This means you can apply massive changes to your MCC without having to write the logic yourself or log into each account you manage. To learn more, check out the AdWords help section on bulk uploads.
Social: How Hashtags Work on Twitter, Instagram, Google Plus, Pinterest, Facebook, Tumblr, and Flickr
This article shows how different social media sites make use of hashtags. Most importantly, it shares some insight into how you can make the most effective use of hashtags for your brand.
Key Industry Updates: 
SEO: Google Says There's No Whitelist To Save You From Panda Or Penguin
John Mueller, a Google Webmaster Trends Analyst based on the Google Zurich office, said yesterday in a Google+ hangout that Google doesn't have whitelists for the Penguin or Panda algorithms.
SEO: Google's Search Impact Report Goes Live For Select Few Webmasters
A few weeks ago, Google opened up a form to seek testers for a new report within Google Webmaster Tools. That new report is now available to a sub-group of those testers and is named the Search Impact report.
SEO: Google Webmaster Tools Data Stopped Updating Almost A Week Ago
If you try to see how well you did with your SEO efforts over the past week by using Google Webmaster Tools, you will be out of luck. The data and tools have not updated since almost a week ago, Saturday, February 7th.
Mobile: Google Mobile Testing New Loading User Interface
Ruben Gomez reports seeing Google testing yet another user interface for the mobile search results.
SEO: Google Introduces Rich Medical Content Into Knowledge Graph
To improve the quality of health-related search content, Google is introducing structured and curated health information into the PC knowledge panel and info cards that appear in mobile search results. Google has tapped doctors, medical illustrators and the Mayo Clinic to develop in-depth information for more than 400 health and medical conditions.
Social: Facebook Relevance Score: This Week in Social Media
Among the top trending social media news, as reported by Social Media Examiner: Facebook Shows Relevance Score for Ads: Facebook will "start showing relevance scores as a visible metric" in their ads reporting tools.
Enjoy reading the Weekly Wrap?
Let us bring it to your inbox, every week.
Subscribe at http://www.ignitesearch.com.au/blog/subscribe-weekly-wrap/