Have you experimented with Facebook advertising (like many of our clients used to do) and not received satisfying results? Perhaps you are wondering if you should add Facebook advertising into your digital marketing strategy. In either case, you may be wondering, "Does Facebook advertising actually work?"
Great question! With our extensive experience in Facebook advertising, our answer is: Yes! 🙌 That's if you use the right techniques 😉.
Let me unpack it for you in this blog post:
How does Facebook advertising work?
Do people still use Facebook and is it still relevant?
Why does Facebook advertising work?
How does Facebook advertising work?
First, paid digital advertising is divided into two categories: paid search and paid social. While they have the same purpose (promotion) they work differently.
Paid search. Also known as Pay-Per-Click (PPC), this helps prospects find your business by displaying your website at the top of search engine result pages (SERPs).
Paid social. This refers to paid ads on social media like Facebook, LinkedIn, and Instagram. It helps your business find new prospects by displaying ads on social media platforms to highlight a need and present your business as the solution (instead of waiting for prospects to search for you then see your Paid Search ad).

Facebook advertising connects you with prospects by leveraging the enormous amount of data Facebook has collected on its users, to target specific audiences likely to buy your products and services.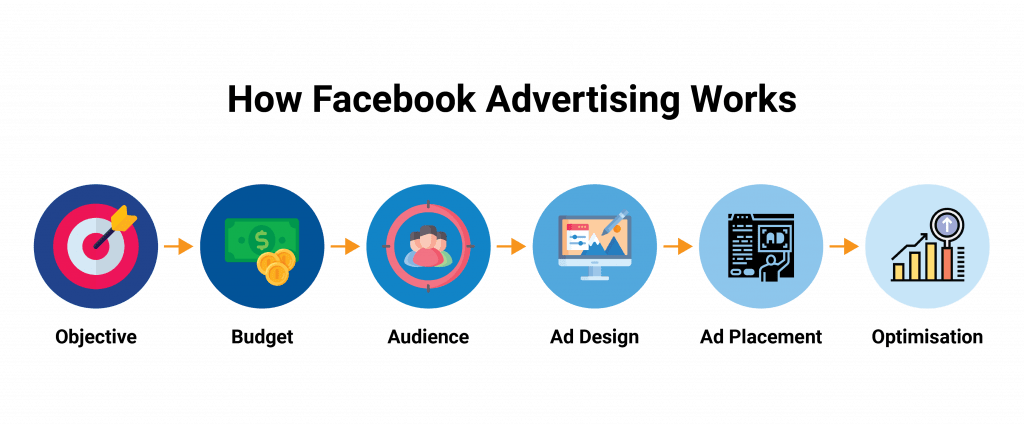 These are the steps for creating Facebook ad campaigns:
Objective
Budget
Audience
Ad Design
Ad Placement
Optimisation
#1 Objective. Determine what you want to accomplish with the ads. This might be driving traffic to your website, generating leads, building page followers, encouraging people to attend your events, or increasing potential sales.
#2 Budget. There are two types of budgets: Daily or Lifetime. Each has its pros and cons. Which one works best depends on what you want to accomplish:
Daily budget – Choose this if your campaign is ongoing with a fluctuating budget, and you want to maximise performance.
Lifetime budget – Choose this if your campaign has a fixed budget and end date.
#3 Audience. Tell Facebook who to display your ads to through audience segmentation. Provide Facebook with a profile of your ideal audience so that your ads will only be shown to those who fit your target personas and exhibit the behaviors you want. To base this on reality, you can create a custom audience: upload your existing customer data (segmented for remarketing) and create a lookalike audience off from the database.
#4 Ad Design. Now you can create specific ads that appeal to each audience group. Facebook is a highly visual platform, so your ad design should be eye-catching, combined with compelling and relevant copy.
#5 Ad Placement. Next, decide where you want the ads to go. Options are news feed (desktop, mobile, or both), stories (Facebook, Instagram, both), Messenger, Facebook right column, and more.
#6 Optimisation. Releasing the ads is just the beginning. Evaluate their results so you can make changes to improve success metrics like CPM (Cost Per Impression), CTR (Click-Through-Rate), and CPR (Cost Per Results).
Congrats! Now you know the basics of how Facebook Advertising works.
Do people still use Facebook and is it still relevant?
With Instagram, TikTok, and SnapChat's rise in popularity, you may be wondering if it is still worth your effort to advertise on Facebook.
Well, Facebook still commands the largest social media user base of 2.9 billion monthly active users (MAUs). It's definitely not irrelevant, stale, or ageing!
You might think millennials are leaving Facebook in droves to go to Tik Tok, Instagram, and Snapchat, but the numbers disagree. Statista reports that the largest Facebook age group comprises 25 to 34-year-olds (31%), and the next largest is the 18 to 24-year-olds (23%). Facebook is definitely not a just 'mum and dad' network.  
Why does Facebook advertising work?
The top three reasons why you should include Facebook Advertising in your marketing mix are:
2-in-1 advertising leverage: Facebook and Instagram platforms
Remarketing options, and
Paid reach is x10 higher than organic reach
1. Facebook ads run on Instagram, too.
Facebook, the world's most widely used social media platform, gives advertisers unparalleled potential reach. If you spot someone looking at their mobile, tablet, or desktop, chances are, they are on Facebook. If not, they are likely to be on Instagram, also owned by Meta (recently renamed parent company of the Facebook app).
Despite a meteoric rise in the number of TikTok and Snapchat users, both user bases are still lower than Instagram's 2 billion MAUs. TikTok has only 1 billion users and Snapchat 538 million.
Since Meta owns both Facebook and Instagram, they can offer advertisers a 2-in-1 platform experience to reach new audiences. Combining the number of Facebook and Instagram users provides a potential reach of 4.9 billion users, more than half the world's population.
2. Facebook allows you to remarket people who have recently interacted with your business.
What is remarketing? Not giving up! Remarketing happens when website visitors are tagged with a tracking code (called a Facebook pixel), which then triggers your ads to follow that 'tagged' visitor around Facebook. When users scroll through their Facebook news feed, your Facebook ad pops up to remind them what they're missing.
Most website users don't buy or do anything when they first visit your website, even if you have piqued their interest! This is usually because they have not developed any trust towards your brand yet (much like a relationship). However, if they see your ad again in the future, you have a better chance of converting them.
3. You can reach a larger audience than with organic social media.
Facebook's organic traffic has massively declined over the past few years and is close to zero. This may sound extreme, but it's true. In the past few years, the visibility of Facebook business pages on news feeds has dramatically decreased after Mark Zuckerberg increased the frequency of posts from family and friends. This algorithm update has definitely frustrated many business owners.
Facebook advertising is worthwhile because it allows businesses to reach more people than just their organic social media content and existing followers. However, that does not mean that you should stop marketing through organic posts, because paid and organic marketing content work hand-in-hand. With paid advertising, you can acquire new followers, higher reach, and more conversions, to get your organic content more views.
To sum things up
In this competitive digital marketing era, businesses cannot promote their products and services effectively without paid social media advertising. If you want to reach a wider audience, generate leads, and convert more customers, Facebook advertising is 100% worth it 🙌.
To get expert help to make it all happen, contact us for a free 30-minute Marketing Insights session with our Director, Cheech Foo.