Ignite Search Weekly Wrap – 6th December 2017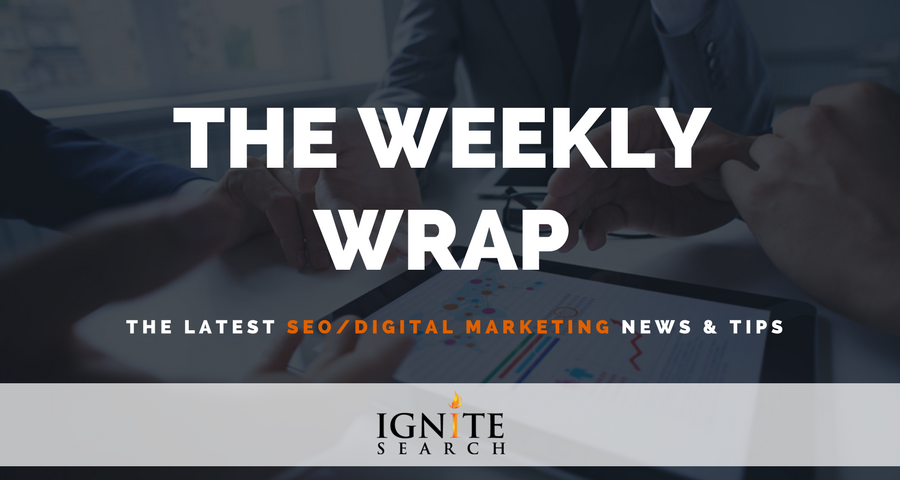 100% Curated SEO/Online Marketing Goodness
Key Industry Updates: 
SEO: Google officially increases length of snippets in search results
Google has confirmed with Search Engine Land that it has made a change to the way it displays snippets in search results. A snippet is the description of a page shown below the URL in an organic search result that helps show how it relates to the search query.
SEO: Google will stop using the old AJAX crawling scheme in Q2 2018
Google announced it will no longer be supporting its original AJAX crawling scheme from back in 2009. Starting in the second quarter of 2018, Google said it will "no longer be using the AJAX crawling scheme." This should come as no surprise, because Google said years ago that it no longer officially and fully supported this method of AJAX crawling. Now, Google is saying it will crawl and render your AJAX-based sites as is. John Mueller of Google wrote in the new blog post that "Googlebot will render the #! URL directly, making it unnecessary for the website owner to provide a rendered version of the page."
SEO: Google's latest search updates brings more content to Featured Snippets & Knowledge Panel info
Google has announced three new search updates around featured snippets, knowledge panel information and suggestions for related topics. According to a post on Google's The Keyword blog, a selection of featured snippets will now include more images and related search suggestions within the box displaying the featured snippet content. It is also expanding the information displayed in the Knowledge Panel to include related content.
SEO: Google book search now includes audiobook results
Google has added an audiobook option to its book search feature. Now, if you search for a specific book title, the Google book search feature includes an "Audiobook" button under the "Get Book" tab that will display different audiobook platforms offering the title. To actually listen to the audiobook, users must select their preferred audiobook app.
Mobile: Apple launches 'set it and forget it' Search Ads Basic for the App Store
Apple says it will bring more installs with less effort "at a predictable cost." That's how the company is pitching its new Search Ads Basic offering. Apple rolled out Search Ads for the App Store in September 2016. Since that time, Apple has seen significant adoption by developers seeking to drive app downloads. Search Ads Basic is a simplified version of Search Ads that eliminates keywords and bidding
Local: Google Local Questions & Answers now rolling out to desktop search
Google shared that the local Question & Answer feature that rolled out back in August is now available on desktop search. Google said they are "expanding Questions & Answers on Google My Business." This enables both searchers and business owners to ask and answer questions from their desktop, on mobile search or on Android Google Maps.
Local: Google brings local lead generation to Google Assistant and Google Home
Google is bringing new forms of local search to the Google Assistant and Google Home. The company announced it's working with local home service providers "like HomeAdvisor and Porch." On any platform where Google Assistant is available, users will be able to ask for contractors (e.g., "Ok Google find me a plumber"). That initiates a structured interaction which generates a lead or contact with a local service provider.
Social: Facebook Creator App, Instagram Changes, YouTube Stories Function
Welcome to this week's edition of the Social Media Marketing Talk Show, a news show for marketers who want to stay on the leading edge of social media. Join us live for the Social Media Marketing Talk Show with Michael Stelzner as we explore the Facebook Creator app with Mari Smith, Instagram changes with Sue B. Zimmerman, YouTube Stories function with Amy Schmittauer, and more breaking social media marketing news of the week!
Helpful Strategies, Tips & Tricks:
SEO: Designing a Page's Content Flow to Maximize SEO Opportunity – Whiteboard Friday
Controlling and improving the flow of your on-site content can actually help your SEO. What's the best way to capitalize on the opportunity present in your page design? Rand covers the questions you need to ask (and answer) and the goals you should strive for in today's Whiteboard Friday.
SEO: Most Common Technical SEO Mistakes: How Severe Are They?
Think of technical SEO as your website's skeleton. Anything that grows on its bones will be affected by the way they are shaped. But when it comes to technical SEO, it's often hard to determine where you should start with and what SEO mistakes you should look at first. Thus, SEMrush (disclosure: I work for SEMrush) conducted some research on the most frequent and harmful SEO issues that negatively affect a website's performance.
SEO: Reverse Engineering Your Competitors' Backlinks with SEMrush
April 24th, 2012, was a black day for many webmasters. After over a decade of link building without consequences, Google pulled the trigger by rolling out the Penguin Update. The anti-spam filter punishes sites for aggressive link building in its meanwhile 7th iteration. It hit the SEO scene like a meteor. Fast forward 5 years, the hottest stuff is content, user experience, and technical SEO. Even as ranking factors, user behavior signals have passed backlinks.
SEO: Large-Scale Study: How to Rank for Featured Snippets in 2018
In a study conducted by SEMrush and Ghergich & Co., we analyzed 1.6 million featured snippets. Furthermore, we analyzed 80 million keywords. The goal was to break down featured snippet percentages by keyword group. Our focus was on questions, prepositions, and comparisons search phases. I have seen great success earning featured snippets in these three areas. But I wanted the data to back up what I saw on the ground. Now, thanks to SEMrush, I have it. TL;DR Raw Data Linked at the bottom of this article.
Content: 5 Reasons You Should Remove Outdated Content (And One Reason You Shouldn't)
Do you ever look at your site and think to yourself that the content might be getting a little, old? All of these are valid questions that site owners should be asking themselves on a regular basis, regardless of what industry or vertical they fall under. Sometimes we have pages on our sites that do well, so we never think to look back and update them, even if the content on them is outdated and doesn't speak to our offering that well anymore because we have achieved high rankings for them.
Content: 8 simple ways to utilize a blog to improve SEO results
Seemingly every company has a blog these days. Unfortunately, very few organizations fully capitalize on their blog content to maximize SEO results. Here are eight simple ways a blog can improve your website's organic visibility, traffic and results.
Branding: Top Tips Personal Branding On and Offline  #SEMrushchat
Personal branding can make or break you in a world filled with self-proclaimed "gurus" and "influencers." It can help you to stand out in your niche, making it easier to build your business and position yourself as an authority in your chosen expertise. But how exactly do you build your personal brand? Where do you start, and how do you keep the momentum going without falling into any of the common traps that can hold us back?
Social: How to Use the Facebook Creator App
Want to add more polish to your Facebook Live broadcasts? Wondering how Facebook Creator can help? Facebook Creator is a handy all-in-one app that lets you record branded video, chat with your community, and get valuable insights for your content. In this article, you'll discover how to use the Facebook Creator mobile app to get the most out of your Facebook Live videos.
Read Our Blog Post On Why Infographics Are Effective & How To Optimise Them For SEO
Video: English Google Webmaster Central office-hours hangout – 4 December 2017
Enjoy reading the Weekly Wrap?
Let us bring it to your inbox, every week.
Subscribe here!