Information architecture (IA) may sound like a nerdy IT term but it has plenty of impact on human factors like user satisfaction and business success.
Business owners and marketers alike can benefit from knowing these five things about IA:
What is IA?
Who creates it?
Benefits of good IA
Pitfalls of poor IA
Marketing best practices related to IA
#1 – What is IA?
The IA of a website is a planning document that visually captures desired user flows as they consume its content. Content includes static text, images, audio clips, and videos; and interactive online forms, calculators, maps, infographics, live streams or webinars with audience participation, sliders, quizzes, polls, and games.
The IA is pivotal for building websites and mobile apps, as it helps users access complex information easily by:
Organising what information goes where (classification, hierarchy),
Referencing where each piece of information belongs (labelling and tagging),
Enabling users to find the content they want (to achieve findability whether users search in search engines or within the website).
Facilitating content browsing and moving across pages (navigation and wayfinding), and
Indicating what users can do on each page (functionality, tasks, user intent and behaviour).
The IA also has an impact on the success of the website as a business tool in terms of:
Search Engine Optimisation (SEO),
User Interface (UI) & User Experience (UX)
Web design
Web development
And lots more.
An IA can take many forms. Here is an example for Duke University's library website: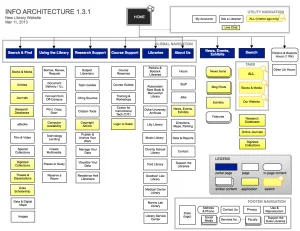 #2 – Who creates the information architecture?
After getting a keen understanding of the scope and purpose of the website (from the client and project manager), the UX designer creates the IA map to communicate clearly to the web developer and content writer what they need to do to create the site. The web developer uses the IA as a reference for creating the wireframe and prototype.
Robust IA considers three interdependent components:
Context – Business objective and resources, and any constraints based on socio-political realities.
Content – The purpose and types of content, and how they are organised and managed.
Users – A clear understanding of targeted user intentions and behaviours, to design user journeys that help them fulfil their goals.
#3 – Benefits of good IA
Good IA helps users succeed. It helps the right users use a website quickly and easily to find what they want. This translates to an effective and efficient User Experience (UX).
Good IA produces good SEO and UI/UX. IA and search engine optimisation (SEO) share many of the same goals.
In the past, marketers had to do different things to optimise content for users (UI/UX) and for search engines (SEO). UI/UX used to focus on user behaviours whilst SEO focused on search engine crawlers. As Google's search algorithm evolves, this distinction is blurred.
What is best practice? Google suggests optimising your website for human users first, search engines second. Place more emphasis on content quality and relevancy. Now more than ever, usability and accessibility are important too.
Good IA increases conversions. Good IA is constructed from a deep understanding of user personas, intentions, perspectives, preferences, wants and needs, and how your business meets and exceeds these demands.
Good conversion rates come from attracting the right users with a great fit for the services and products your business provides. These users are then more likely to complete desired website conversions like:
Visit your website from search results
Click on Call-to-Action buttons or content link
Share content on social media
Subscribe to your newsletter
Download valuable information
Post a query through a form
Engage with interactive content
Ask for a quote
Buy goods and services
And so on.
How search algorithms work
Search Engines such as Google, have ranking systems that are designed to sort through hundreds of billions of webpages in our Search index to find the most relevant, useful results in a fraction of a second, and present them in a way that helps you find what you're looking for.
Google's John Mueller once said that a small difference can make a big impact on user perception and search results,
'If, for example, you have something that is on a financial topic and people come to you and say "Well, your information is okay but it's presented in a way that looks very amateurish," – then that could reflect on how your website is perceived. And in the long run, (this) could reflect something that is visible in search as well.'
#4 – Pitfalls of poor IA
Poor IA results from a lack of understanding and skills in ferreting out the true value of the business to clearly-defined prospects, and a lack of valuable content and persuasion that turn strangers into buyers. It also results from a poor understanding of SEO, UI/UX and other factors affecting the success of a business website.
How to identify poor IA? Here are some of the undesirable outcomes:
Ineffective SEO and low web traffic
Duplicated content
Crawl budget wastage
Undesired page ranking for specific keywords
Poorly distributed topical authority
And other indicators.
#5 – Marketing best practices related to IA
Your website should be a living entity that evolves as your business grows.
To help your target users find the right content that meets their needs, take some of these ideas into consideration when you next review your website performance. See if you can link any issues to weaknesses in the IA.
The objective is to create an IA that works best for your website. Consider the following best practice:
Map your keywords and search phases. Ensure your most important pages (usually the broader pages with the highest search volume) are structured to emphasise relevancy.
Get to know user needs. Make sure that you understand your users and cater to their needs and wants on your website. Take the time to research their likes and dislikes, and how they would typically navigate through your site. One way to gain insights into the behaviour of your audience is through click tracking.
Link information logically. Create a logical information structure that makes sense to users and is easy to follow. This enhances UX. A well-designed internal linking structure helps users navigate the website, understand its structure, and improve SEO by supporting the journey from one page to another. For all efforts, make sure anchor text for the internal linking structure aligns with keyword goals and you'll be fine. In addition, a robust internal linking structure is vital as it helps to distribute link authority.
Focus on conversions. Don't lose sight of your conversion process and goals. Keep this in mind when you organise your website and put yourself in the shoes of your ideal target audience.
What next?
Good IA goes a long way to give your business a competitive advantage. Users want to pick the path of least resistance in their online search journeys. A pleasant UX starts with good design. With good IA and SEO, users can find what they are looking for online and in the real world. Here is where SEO plays a pivotal role in IA.
If you want to find out if your website's IA integrates smoothly with your SEO, we can help! Ignite Search is a Digital Marketing Agency with a strong SEO crew based in Perth, Western Australia. Our digital team can run a thorough audit to analyse your website performance from an SEO standpoint.