Ignite Search Weekly Wrap – 31st January 2018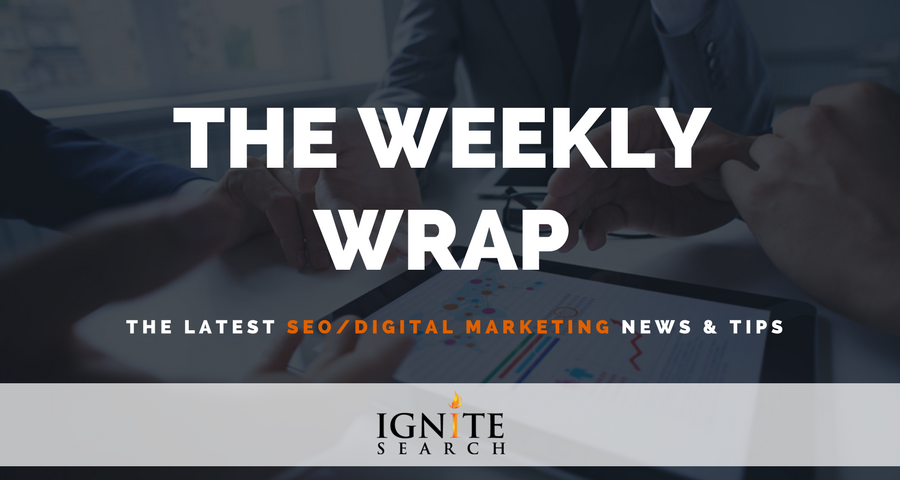 100% Curated SEO/Online Marketing Goodness
Key Industry Updates: 
SEO: Google dropping Merchant Center feed integrations with BigCommerce, Magento, PrestaShop
A little over a year ago, ahead of the 2016 holiday shopping season, Google enabled integrations between Google Merchant Center and three e-commerce platforms. Those integrations are soon coming to an end.
SEO: Tell Google which report you are really missing in new Google Search Console
If you log into the new Google Search console and click on any of your verified profiles at the top right, you may see a new button in the interface named "coming soon." That button takes you to this help document that first describes why some of the reports in the old Search Console are not yet available in the new Search Console, which rolled out to users last week. It then asks you to vote on which reports you are missing that you really want Google to migrate over to the new version.
SEO: Google publishes comprehensive guide to featured snippets
Google has published one of the most comprehensive explanations yet of their featured snippets in a post on the search blog. Featured snippets, in short, are the quick direct answers you see at the top of the Google search results page that appear in response to some search queries.
SEO: Google Search Console's remove URL report might not work for a short period of time
Google has posted on its Google Search Console data anomalies page that the remove URL tool report might not function fully for the upcoming "short time" period. Google said it is making "some improvements" to the report, so it might not be available for awhile.
Paid Search: Pummeling users with Google remarketing ads they don't want to see? Now they can mute those, too
On Thursday, Google announced more ways for users to control the Google-served ads they see. The changes will have implications for advertisers, particularly those who are running remarketing campaigns.
Social: Facebook updates branded content policy to clarify what qualifies as content
Facebook will bar publishers and creators from using its branded content tagging tool to promote content that they were not involved in creating.
Social: Crafting the Experience: The Journey, Episode 14
The Journey, a Social Media Examiner production, is an episodic video documentary that shows you what really happens inside a growing business. Episode 14 of The Journey follows Michael Stelzner, founder of Social Media Examiner, as he continues to pursue what many will see as an impossible goal: to grow his company's customer base by more than 62% year over year.
In this episode, Mike works with his team to visualize how to best use the massive space where the event is taking place.
Helpful Strategies, Tips & Tricks:
SEO: How to Target and Win Answer Boxes
For any marketer focused on driving organic traffic, getting content to the very top of Google search results is the single most important task they have.  But as the SERP has evolved, we've seen new elements added to the top of page one. Now, to get to the top of Google search results you'd be a fool to ignore the only target more elusive than ranking #1: the answer box. This article discusses how to target and win answer boxes.
SEO: Do Nofollow Links Impact SEO? Are They Still Worth Having?
If you have a high nofollow link ratio, will it impact your overall SEO? And if yes, will it be in a negative or positive way? Everything you need to know about the impact nofollow links have on your website, backed up by case studies and Google's position in this matter, can be found in the following lines.
SEO: Are you getting credit for all of your organic visits from GMB?
Getting credit for all of your Google My Business clicks can be a challenge. In this article contributor Greg Gifford shares a solution to this GMB attribution problem.
SEO: How to use brand mentions for SEO, or the linkless future of link building
Links have long been the major ranking factor to optimize, but search engines may have just found a more accurate signal to rely on. In this post, we'll take a look at how unlinked mentions may be used by search engines for ranking and how you can track and amplify these mentions to boost your SERP presence with a web monitoring tool like Awario.
Local Search: Customer loyalty: A key ingredient for successful local search results
Customer loyalty is often overlooked in local search. The thinking is that people are searching for new places to shop or for things they don't know about already. If they were a regular or loyal customer, they wouldn't need to search. But that's not entirely true. In this article contributor Wesley Young shares six ways to boost local search results using customer loyalty.
Paid Search: How to Visualize Last Year's PPC Data – and Learn from it
As a PPC professional, you hold yourself accountable for developing smart strategies and delivering optimized results. It's critical to know how your Google AdWords campaigns performed last year and what you can do differently this year to improve. With all the reports available, it should be easy, right? Sadly, it's not. This article will run through how to visualize last year's PPC data and learn from it.
Content: How to Audit Your Content: 5 Essential Steps
Look up "audit" in any dictionary. The first definition should be: "Ugh." Who on earth would choose to spend time auditing content? While it doesn't sound appealing, it is necessary. Check out this article for the five easy steps for auditing your content.
Content: How to Build a Content Calendar That Goes Way Beyond the Basics
Is there anything left to say about how to put together a content calendar? Basic content calendar tips (including templates and examples) have been covered thoroughly over the years. But as your organization's content marketing maturity increases, you may outgrow your existing approach. This article discusses how you will know you have outgrown your existing approach and what to do about it.
Social: How to Use Live Video to Generate Leads and Sell
Wondering how live video can help you make money? Looking for ways to increase the return on your investment in live video? In this article, you'll discover six ways to develop leads and boost sales using live video.
Social: How to Use Facebook Lead Ads for More Prospects
Need more qualified leads from Facebook? Have you used Facebook lead ads? With the arrival of Facebook Zero, pages will effectively see little or no organic reach without some form of ad budget. The money you spend needs to show a return. In this article, you'll discover how to use Facebook lead ads to collect and download email and mailing contact details from Facebook users.
Read Our Blog Post on: Google Analytics Individual Qualification: What You Need to Know
Enjoy reading the Weekly Wrap?
Let us bring it to your inbox, every week.
Subscribe here!