Ignite Search Weekly Wrap – 21st February 2018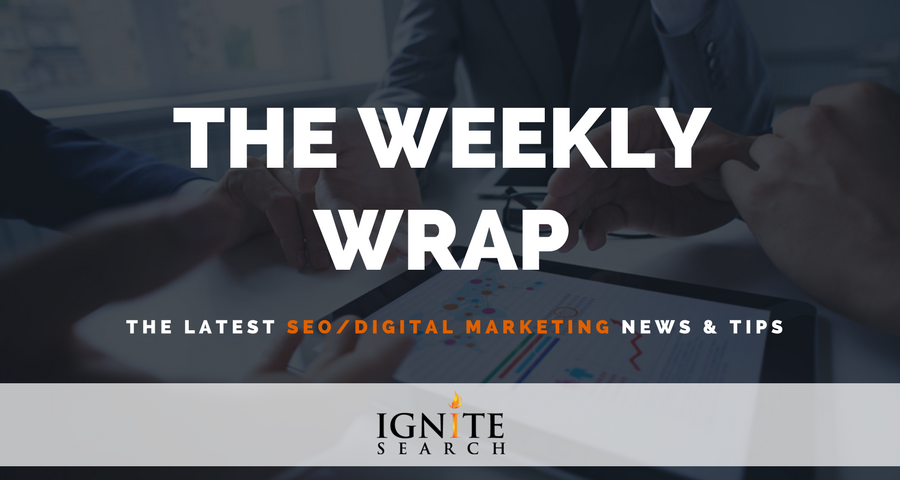 100% Curated SEO/Online Marketing Goodness
Key Industry Updates: 
SEO: Google drops support for meta news keywords tag
Google has dropped its support for the news meta keywords tag. Google introduced the new meta keywords tag specifically for news publishers back in 2012 and quietly stopped supporting it months ago.
SEO: Google Image Search removes View Image button and Search by Image feature
After making a deal with Getty Images, Google has revamped some of their image search features and user experience.
SEO: Google changes request recrawl limits, noting daily limits versus monthly quotas
Google has finally disclosed the new recrawl limits by revising the help document over the weekend.
SEO: Google Chrome extensions bringing back 'View Image' & 'Search by Image' buttons in Google Image Search
Google removed the "View Image" button and "Search by Image" feature from Google image search last week in a concession to Getty Images' copyright infringement concerns. Making Getty happy, however, has made the rest of the internet angry, and searchers haven't been shy about expressing their outrage about the change.
Now, tech-savvy searchers have taken the matter into their own hands, developing several Google Chrome extensions to bring some of those features back.
SEO: Labels now available in Bing Ads Editor for Dynamic Search Ads
Bing Ads has announced the ability to use Labels in Editor for Dynamic Search Ads, following the recent rollout of DSAs in October.
SEO: Google announces AMP for Email – delivering Accelerated Mobile Pages experiences to your inbox
Along with the new AMP Story format, Google announced, Tuesday at its Conference in Amsterdam, a new way for developers to leverage the fast-loading, mobile-friendly AMP framework.
Effective immediately, developers can sign up for preview access to the AMP for Email spec and begin developing rich, interactive, engaging email experiences within Gmail.
Local: Google Maps adds mall directory search & browse in local panel
Google adds a new tab to the local panel in the search results named 'directory.'
Local: Google Maps for iOS catches up with Android version, adds driving directions, transit info & explore nearby
Google announced that they are bringing the same style of "one-tap access" they introduced a year ago on Android to iOS users today. With the updated Google Maps app for iOS, you will now have quicker access to explore nearby venues and information, driving directions and transit and commuter information — all in real time.
Social: Snapchat Rolls Out New Analytics
Watch this week's edition of the Social Media Marketing Talk Show, a news show for marketers who want to stay on the leading edge of social media.
In this episode, they discuss the new analytics for creators that have been introduced by Snapchat.
Social: Turning Point: The Journey, Episode 16
The Journey, a Social Media Examiner production, is an episodic video documentary that shows you what really happens inside a growing business. Episode 16 of The Journey follows Michael Stelzner, founder of Social Media Examiner, as he continues to pursue what many will see as an impossible goal: to grow his company's customer base by more than 62% year over year.
In this episode, Mike is at the front of a media firestorm as Facebook changes the News Feed. He mobilizes his team to capitalize on the news.
Helpful Strategies, Tips & Tricks:
SEO: Making website speed and performance part of your SEO routine
Monitoring webpage performance is key to avoiding setbacks when algorithms change. In this article contributor Bobby Lyons points out ways to adapt everyday SEO activities so a website will thrive regardless of algorithm updates.
SEO: International SEO and search trends: How does it all work?
In this article contributor Marcus Miller provides an overview of how to implement an international SEO strategy and suggests what is right for your company will depend on your objectives, budgets and marketplace.
SEO: Tracking the ROI of organic search for B2B
 In this article contributor Janet Driscoll Miller explains how to calculate the revenue contribution of organic search and why it can be a more powerful metric than rankings alone.
SEO: What people get wrong about keyword cannibalization
In this article columnist Patrick Stox suggests SEOs should reconsider how they think about keyword cannibalization and look at it as an opportunity, not an issue.
 Paid Search: Invest in a killer PPC campaign by using these smart budget strategies
 In this article contributor Jeff Baum discusses how allocating funds and developing smart budgets brings focus to your PPC campaigns and helps make them a success.
Content: Road Map to Success: Content Marketing Strategy Essentials
Serving the needs of your audience with valuable, high-quality content in this way is an admirable goal for any company. But of course, all your efforts will amount to little if your hopes go unfulfilled – if your content doesn't trigger the audience behaviors that help your company reach its business goals. And that, my friends, is where the complications start to set in. In this article we will provide you with a road map to success, as we discuss content marketing strategy essentials.
Content: How to Do a Content Audit in a Few Hours
You likely dread the tedious, time-consuming annual content audit, and reliably and predictably put it off (and sometimes never get it done.) What if you could do a content audit in only a few hours? Impossible, you say. Well, it's not. Read more to find out how to do a content audit in a few hours.
Social: Webinars: How to Market and Sell Using Webinars
Looking for a proven way to sell courses and consulting? Interested in boosting webinar attendance and conversions? To learn about selling products and services via webinars read more.
Social: How to Drive Meaningful Interactions in Facebook Groups
Are you struggling to get visibility on Facebook? Wondering how a Facebook group could help? In this article, you'll learn how to use a Facebook group to foster engagement and drive the meaningful interactions favored by Facebook's news feed algorithm.
Social: How to Follow Instagram Hashtags for Business
Do you use hashtags on Instagram? Wondering how to see posts with specific hashtags in your regular Instagram feed and stories? In this article, you'll discover how to use Instagram's Follow Hashtag feature to monitor relevant topics and campaigns.
Read Our Blog Post on:  Structured data: What it is and Why You Should Implement It