Ignite Search Weekly Wrap – 15th November 2017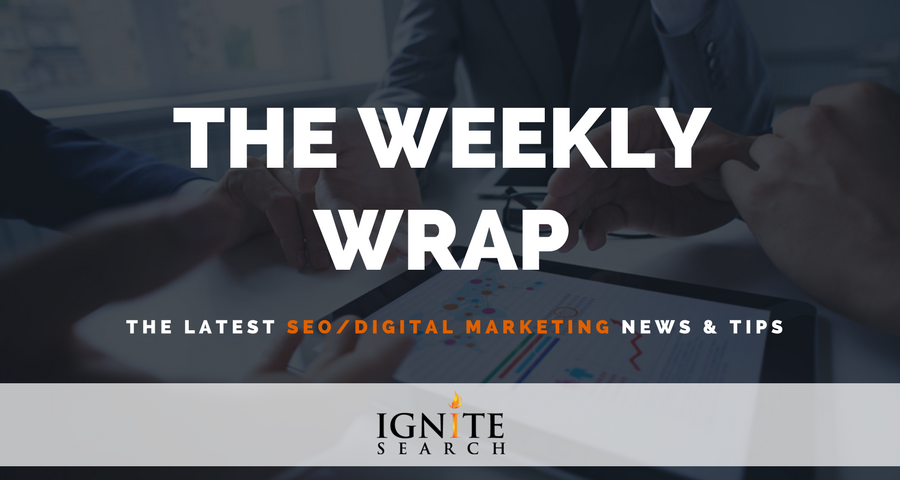 100% Curated SEO/Online Marketing Goodness
Key Industry Updates: 
SEO: Google Changes Info Command Search Operator, Dropping Useful Links
Google has confirmed with Search Engine Land that they have changed the way the info command, a search operator that gives you more details about a site, is displayed in search. Previously, the info operator would give searchers the snippet plus additional links to find more operators that show links to the site, the Google cache link, similar sites to that site and more. But that whole section has been removed, and now Google is showing just the snippet.
SEO: Mozilla Drops Yahoo Search For Google With New Firefox Quantum Browser Release
Mozilla announced that they have terminated their search deal with Yahoo and that their new version of the Firefox browser, named Firefox Quantum, will feature Google as the default search provider. "As part of our focus on user experience and performance in Firefox Quantum, Google will also become our new default search provider in the United States, Canada, Hong Kong and Taiwan," Mozilla said in a statement.
SEO: Bing Launches 2017 Black Friday Ads, Expands List Of Delivery Services For Package-Tracking Search Feature
To gear up for the holidays, Bing announced today an expanded list of delivery services it supports for package-tracking searches. It's also bringing back its Black Friday flyer ads. Now, in addition to USPS, UPS and Fedex in the US, Bing says it supports several markets outside the US, including myHermes in Great Britain and Purolator in Canada. "Simply put your tracking ID in the search box, and Bing will present the latest tracking status right in the search result," says Bing on its Search Blog.
SEO: Google Now Lets You Compare Stocks In Web Search
You can now compare your favorite stocks directly in Google's web search interface. Just search for the stock symbol and then click on the new "compare" tab. It will bring up similar stocks and you can click the + sign to add them to the comparison chart.
SEO: Google News Publisher Knowledge Graph Cards Launches
Google announced a new knowledge graph card named news publishers knowledge graph. At least that is what Danny Sullivan at Google called them on Twitter. Danny said they are "new Knowledge Graph panels" and the blog post shares that they give searchers more information on what a specific news publisher or publication is about. Google wrote "publisher Knowledge Panels on Google will now show the topics the publisher commonly covers, major awards the publisher has won, and claims the publisher has made that have been reviewed by third parties."
Paid Search: Google AdSense Ad Balance Tool Officially Back For Good
Earlier this year, Google AdSense launched the Ad Balance tool which let publishers use controls, a slider, to help you reduce the number of ads you show to users, specifically the ads that earn you the least revenue, and see how it affects your earnings. Well, since its launch, it was plagued with bugs. It was taken down for maintenance several times, came back up and then went back down shortly later several times as well.
Mobile: Google Updates Mobile Product Knowledge Panels To Show Even More Info In One Spot
Google is updating the look of of its product-oriented knowledge panels on mobile to show even more details about specific products in the search results. In an example spotted by Vlad Rappoport, the shopping knowledge panel has a blue header and a new carousel featuring third-party editorial reviews and separate tabs for stores in addition to reviews along with several other features, like videos, to provide a one-stop resource for product information.
Social: Twitter Expands Character Count to 280, Snapchat Upcoming Redesign and Algorithm
Welcome to this week's edition of the Social Media Marketing Talk Show, a news show for marketers who want to stay on the leading edge of social media. On this week's Social Media Marketing Talk Show with Erik Fisher and Kim Reynolds, we explore Twitter expanding their character count to 280 with Madalyn Sklar, Snapchat's upcoming redesign and algorithm with Carlos Gil, Facebook Messenger updates and other breaking social media marketing news of the week!
Helpful Strategies, Tips & Tricks:
SEO: How Google Gives Us Insight into Searcher Intent Through the Results – Whiteboard Friday
When Google isn't quite sure what a searcher means just by their search query, the results (appropriately) cater to multiple possible meanings. Those SERPs, if we examine them carefully, are full of useful information. In this episode of Whiteboard Friday, Rand offers some real-world examples of what we can glean just by skimming the kinds of things Google decides are relevant.
SEO: Rewriting the Beginner's Guide to SEO
Many of you reading likely cut your teeth on Moz's Beginner's Guide to SEO. Since it was launched, it's easily been our top-performing piece of content. While Moz's Beginner's Guide to SEO still gets well over 100k views a month, the current guide itself is fairly outdated. This big update has been on my personal to-do list since I started at Moz, and we need to get it right because — let's get real — you all deserve a bad-ass SEO 101 resource!
SEO: How to Pick the Best SEO Software
In the last few years, the number of SEO tools and platforms has grown to the extent that SEO professionals, as well as business owners, find it really hard to pick the best SEO software for their needs. There are plenty of questions that need to be answered in order to make the best purchasing decision possible.
SEO: 7 Things I Wish Someone Told Me When I Was New to SEO
Google doesn't provide us with an instructional manual on how to master and understand their ranking algorithm. Sure, we have Google's webmaster guidelines and blogs, but most of what we learn along the way is through experience, experimentation and our own learning. One of my first experiences in SEO was to diagnose a penalty that was impacting one of the agency's largest clients.
SEO: Image Optimization 101: How To Rank Higher In Image Search
The increasing dominance of visual content online has brought with it new opportunities for increasing a site's search traffic by optimizing videos and images. Optimizing your images gives your website an additional chance to be found via image search, and a good logo or some eye-catching graphics can be just as effective at attracting visitors to your website as your written content.
Paid Search: The Ultimate Guide To Choosing Keywords For ROI
Let me say this first – keyword research is hard! Every SEO has done it, but few will ever master it completely. This is not supposed to be just another keyword research post. This post is about going beyond raw search volume data, using metrics which will help you choose keywords which deliver the best ROI for you right now. To start with I am going to assume you have carried out your keyword research already, and are starting off with a comprehensive list (if not, our complete guide to keyword research for SEO will help you do this).
Content: How to Boost Your Success When Promoting an Infographic
Incorporating visual content in your marketing strategy is a great way to cut through the content noise. While marketers on a modest budget can make room for videos, interactive data visualizations, and full-fledged online courses, cash-strapped bloggers and startups turn to infographics to have a fighting chance. Not only are infographics affordable, they can also be easily reused across multiple distribution channels — be it through social media, blog posts, and newsletters.
Social: How to Sell With Instagram Shoppable Posts: Shopping on Instagram
Do you want to sell physical products via the Shopping on Instagram program? Have you seen Instagram shoppable posts? In this article, you'll discover how shoppable posts on Instagram work and the steps you can take to use them for your business.
Read Our Blog Post On Sharing & Repurposing Blog Content: Helpful Tips To Know
Video: English Google Webmaster Central office-hours hangout – 14th November 2017
Enjoy reading the Weekly Wrap?
Let us bring it to your inbox, every week.
Subscribe here!