Ignite Search Weekly Wrap – 14th February 2018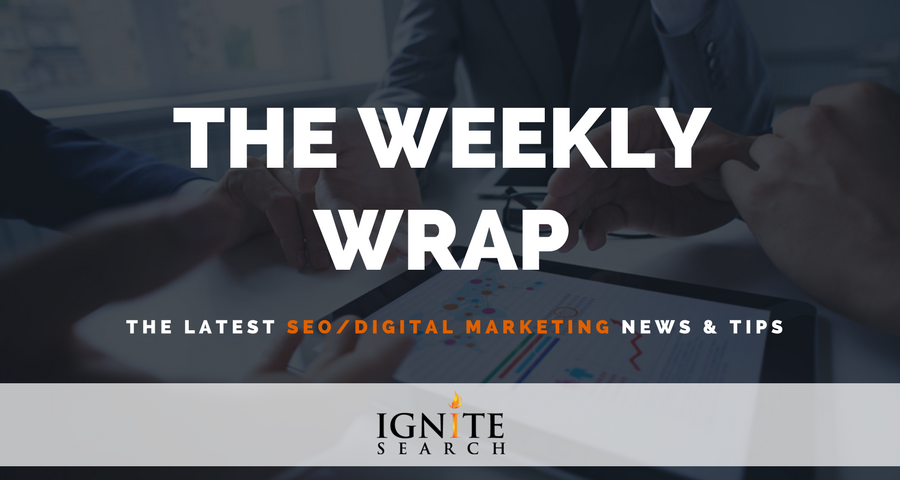 100% Curated SEO/Online Marketing Goodness
Key Industry Updates: 
SEO: Google launches new look for 'people also search for' search refinements
Google has launched a new look and feel for the "people also search for" query refinement box. Google has been testing numerous designs of this feature over the years, including dynamic loading versions.
SEO: Google gets in on mobile 'story craze' with new AMP Stories format
This morning Google is releasing "AMP Stories," a visually rich content format designed to provide publishers with new storytelling options for the mobile web (it also works on desktop).
SEO: Effective July 2018, Google's Chrome browser will mark non-HTTPS sites as 'not secure'
After years of pushing for 'secure by default' web sites, Google will identify insecure sites in the Chrome browser beginning mid-Summer.
SEO: Google Search Console request indexing limit removed from interface
Within the Google Search Console, there is the ability to Fetch as Google and then submit the URL you fetched to the Google index for possible inclusion. In that submit feature, Google used to show how many URL submissions remained from a monthly quota. That limit notification no longer appears in the Search Console interface, but it remains in the help documentation on Google's own site.
SEO: Google now wants larger images for AMP articles
Google has updated its article schema document for AMP articles to require larger images in your markup. Previously, the minimum requirement for your image sizes was 696 pixels wide and 300,000 pixels in total, but now it is 1,200 pixels wide and 800,000 pixels in total.
SEO: GoDaddy site builder now integrated with Google My Business
Website hosting and small business marketing firm GoDaddy has done an integration with Google that largely automates the process of setting up and verifying a Google My Business (GMB) profile.
SEO: Bing Webmaster Tools adds social sign-in feature
Bing Webmaster Tools now lets you log in using your Google account, Facebook account or your Microsoft login. This is to help make it easier for webmasters to log into their toolset.
Paid Search: Google begins enforcing certification process for event ticket resellers on AdWords
In an effort to ensure users don't get misled or scammed in buying event tickets through third-party resellers advertising through AdWords, Google is instituting a certification process before these businesses can advertise through AdWords.
Paid Search: AdWords Express launches notifications for calls from search ads
After launching goal tracking in the platform last year, AdWords Express, the simplified ad platform designed for small business, is adding support around calls to a business with two types of call notifications.
Local: Google adds new features & improves navigation for mobile hotel & flight searches
Google is stepping up its hotel and flight search features on mobile, aiming to make it easier to plan travel no matter the size of the screen being used.
Starting today, a number of new features will begin rolling out across Google's mobile travel search experience. According to the announcement, the updates include better price-filtering options, easy-to-find amenity information and the ability to book a hotel stay directly on Google.
Social: Turning Point: The Journey, Episode 16
The Journey, a Social Media Examiner production, is an episodic video documentary that shows you what really happens inside a growing business. Episode 16 of The Journey follows Michael Stelzner, founder of Social Media Examiner, as he continues to pursue what many will see as an impossible goal: to grow his company's customer base by more than 62% year over year.
In this episode, Mike starts to see everything come together. His team is aligned and the results are strong.
Helpful Strategies, Tips & Tricks:
SEO: How to deliver a data-driven search marketing strategy using customer intent trends
Having reams of data available to you is all well and good, but as any marketer knows, the tricky part is in knowing exactly how to sort through that data, find trends, and apply it to your marketing strategy. This article discusses how to deliver a data-driven search marketing strategy using customer intent trends.
SEO: How to set up ecommerce tracking in Google Analytics
If you have an ecommerce website, you can harness Google Analytics to track your transactions, see online traffic sources, and provide detailed analytical data to help establish the path to maximum ROI. All it takes is a few simple steps to get started. This guide will help you to get set up with tracking your ecommerce site in Google Analytics.
SEO: How to check your Domain Authority: 4 tools to use
Domain Authority (DA) is a metric that serves as a handy heuristic in the SEO industry. Put simply, it provides insight into how likely a site is to rank for specific keywords, based on the SEO authority it holds. There are numerous tools that can help us arrive at these useful scores. In this article, we round up some of the most accurate and intuitive ways to see a site's SEO equity.
SEO: Does "search satisfaction" matter more than click-through rate in SEO?
Click-through rate (CTR) has historically been an important factor in gauging the quality of results in information retrieval tasks. But does "search satisfaction" matter more than click-through rate in SEO? Find out in this article.
Paid Search: How I increased non-brand PPC profits by 650%
The ultimate goal of most companies is to grow. How do we grow our brands? We increase the profitability of the company and strategically reinvest those profits into the company. That means our #1 question as digital marketers should be, "How do I increase the profitability of our PPC campaigns?". In this article Alaina Thompson discusses how she increased non-brand PPC profits by 650%.
Content: How Storytelling Turned Dollar Shave Club Into a Billion Dollar-Brand
In July 2016, Unilever shocked the business world. They were purchasing Dollar Shave Club—a startup dreamed up just five years earlier by an improv comedian named Michael Dubin— for $1 billion. Why did Unilever pay such an unprecedented price tag? It was about the company's relationships—with customers, and consumers at large. Relationships that began with possibly the greatest startup launch video of all time. This article discusses how storytelling turned Dollar Shave Club into a billion dollar-brand.
Social: How to Use Instagram Hashtags for More Exposure
Do you need to up your hashtag game on Instagram? Looking for tips to use Instagram hashtags more effectively? In this article, you'll learn three ways to use hashtags on Instagram to achieve your marketing goals.
Social: What B2B Brands Need to Know to Succeed on LinkedIn
"But I'm from a B2B company. How does all of this apply to us?" I must get a version of this question in almost every content marketing workshop I run. My answer is always the same: "B2B customers are people too." This article will discuss what B2B brands need to know to succeed on LinkedIn.
Social: How to Lower Your Facebook Ad Costs and Get Better Results
Need to lower the cost of your ads on Facebook? Wondering if increasing your post engagement can help? Building engagement on your posts sends positive signals to the Facebook algorithm, which can boost your reach, increase the size of your warm audience, and ultimately lower your advertising costs. In this article, you'll discover three tips for building engagement that delivers better ad results.
Read Our Blog Post on:  Social Proof: The Ultimate Tool to Increasing Conversion Rates
Enjoy reading the Weekly Wrap?
Let us bring it to your inbox, every week.
Subscribe here!