Ignite Search Weekly Wrap – 19th November 2014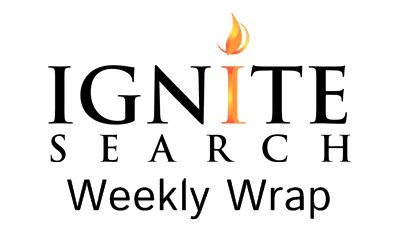 100% Curated SEO/Online Marketing Goodness.



Helpful Strategies, Tips & Tricks:
SEO: Be Intentional about Your Content & SEO Goals or Face Certain Failure – Whiteboard Friday
We're seeing more and more companies investing in content marketing, and that's a great thing. Many of them, however, are putting less thought than they should into the specific goals behind the content they produce. In today's Whiteboard Friday, Rand covers examples of goals for targeting different kinds of people, from those who merely stumbled upon your site to those who are strongly considering becoming customers.
SEO: Illustrated Guide to Advanced On-Page Topic Targeting for SEO
The purpose of this post is to provide a simple framework for on-page topic targeting in a way that makes optimizing easy and scalable while producing richer content for your audience.
Here are the following upcoming Google Hangouts that focus on challenges facing webmasters around SEO. We find the Hangouts selectively insightful and we encourage to pick and choose topic that are of interest to you:
Office Hours Hangout with John – 21st November 2014
By Ryan Campbell – Given the massive amounts of money spent on search, I repeatedly encounter the same costly mistakes when I audit paid search campaigns. I've put together a list of the top 5 mistakes (FAILS) that I frequently encounter in paid search campaigns, along with possible solutions.
Social: 20 Social Media Marketing Tips From the Pros
Would you like to improve your social media marketing? Are you up to date with the best social media tips and tools? We asked 20 social media experts to share how they're getting results with social media marketing today.
Key Industry Updates: 
​Paid Search: AdWords Glitches? Google Says Shopping Campaigns Access Issues Have Been Fixed
It's not clear how widespread these problems are, but Google is addressing the complaints on an individual basis and has not acknowledged any specific issue affecting a large number of users as it did with Shopping Campaigns. Meanwhile, some are continuing to see the red bar today.
Paid Search: More Bulk Editing Capabilities In Bing Ads Web UI Are Now Live
Bing Ads has been rolling out bulk editing capabilities within the web interface over the past few months. Today, more options became available.
Paid Search: In A Big Shift, Google's Latest Ad Test Drives Users To Google Shopping, Not Advertisers' Sites
Google is experimenting with a new format for Google Shopping ads, this time on brand searches. The example shown in the article showcases products from jeweler David Yurman by category — rings, bracelets, necklaces and earrings — on a search for the brand.
Local Search: Google Debuts New Look For Hotel Booking Ads As The Carousel Disappears
The grand, awkward Carousel experiment appears to be coming to an end — for local listings at least. Google is abandoning the Carousel of horizontal listings that appeared at the top of local search results for hotels, restaurants and a few other verticals.
Local Search: Google Drops Local Carousel For Hotels, Restaurants & Other Local Listings
Google is dropping its horizontal Carousel display of local search results in several categories: restaurants, nightlife, entertainment and hotels. It's being replaced by a 3-pack of organic listings and some new secondary pages.
Mobile: Google Rolls Out Search App Redesign For Android Lollipop Devices
Google announced today it is rolling out a redesign of its Search App for Android devices running on the Lollipop OS.
Social: Facebook Video Cards: This Week in Social Media
Among the top trending social media news, as reported by Social Media Examiner, Facebook Introduces Say Thanks: "
Question of the week: How do you optimise images for SEO?
Images are an important makeup of a website and getting them right can be a boost for SEO efforts. This is especially true if your website is highly centered on your images (e.g. photography, tour operators, hotels, etc.), you want to make sure that your images can be found easily on the internet.
I'll provide you with two easy steps that you can take to optimise your images for search.
The first step is to make sure that the filename and the ALT text of the image is optimised. They both should reflect the true nature of the image content.
For example, the picture of myself speaking to an audience at a charity event last week (go to http://www.ignitesearch.com.au/training-services/ignite-search-presents-seo-convicts-cause-event/ ) has the following:
It has the filename: 'cheech-seo-speech-convicts-for-a-cause-nov-2014.jpg'.
It has the Alt text: 'Cheech Presents SEO At A Convicts For Cause Event November 2014'
With the filename, it's important to use hyphens as separators (do not include spaces). In both the filename and ALT text, I've managed to include the keyword 'seo' in it, as the speech was on SEO.
If it's possible, do the same for your images and try to include keywords in the filename and ALT text.
For more information on ALT text and more, please visit https://support.google.com/webmasters/answer/114016?hl=en
Secondly, you want to make sure you have an Image XML Sitemap that contains all your key images. This should be submitted to Google Webmaster Tools, and will help the Google search engine to discover and index the images.
Please visit https://support.google.com/webmasters/answer/178636?hl=en&ref_topic=4581190 for more information on Image XML Sitemaps.
​Written by Cheech Foo, Director of Ignite Search
If you would like any further advice on this topic or if you would like to know how we can help with your online projects, feel free to email us on info@ignitesearch.com.au or call us on 04 2338 3543.
Until next time, thanks for reading!
Got any burning questions about SEO/Online Marketing?
If so, we encourage you to send them in to info@ignitesearch.com.au and one will be chosen and answered in next week's edition.
Enjoy reading the Weekly Wrap?
Let us bring it to your inbox, every week.
Subscribe at http://www.ignitesearch.com.au/blog/subscribe-weekly-wrap/