Ignite Search Weekly Wrap – 23rd July 2014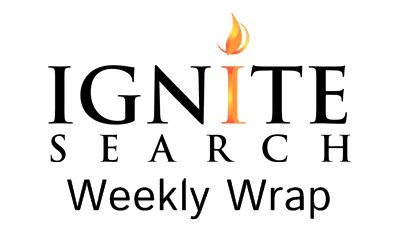 100% Curated SEO/Online Marketing Goodness.



Key Industry Updates: 
SEO: Google Webmaster Tools Updates Robots.txt Testing Tool
Keeping your Robots.txt clean is akin to keeping your home porch leaf-free. It's not the pleasant job but it needs to be done, as first impressions matter. This is true for Google as well. That's why they have updated their GWT and added new features. Find out more.
SEO: Google Launches A New Google Alerts Interface
Google Alerts is a neat little tool that helps you to keep track of content that Google discovers. The new interface includes a search box and other features. Click on the link to read more.
PPC:  Google Launches Free AdWords Express App For iOS And Android Devices In The US
This one's for the US subscribers. Today, Google launched a free app for Android and iOS devices for AdWords Express, the simplified version of Google's search advertising platform designed for small business.
Helpful Strategies, Tips & Tricks:
SEO: The New Link Building Survey 2014 – Results
This is more so a survey of the landscape of link building. The guys at Sky Rocket SEO have created a pretty cool infographic which helps put into perspective what the modern day SEO thinks of link building, how much they spend on link building efforts and the reasons for the decrease/increase.
SEO: How to Prove ROI Potential of Content Campaigns – Whiteboard Friday
All clients love seeing how marketing efforts are contributing to the bottom line. Mike King from iPullRank goes through different things you can do to show that your content campaign is driving real value for the business.
(For those who don't know, Whiteboard Friday posts are released on Moz.com on, you guessed it, every Friday and tend of be of a high quality.)
PPC: Mobile PPC Tips & Tricks – What Works & Doesn't
Mona Elesseily has put together a cracker of a post detailing all you need to know to kick start and optimise your mobile PPC campaign. The article is broken down to the four main topics:
1.Mobile Ad Copy
2.Mobile Ad Extensions
3.Mobile Landing Pages
4.Mobile Scheduling Strategies
Analytics: Demystifying Data Visualization for Marketers
For those into their analytics, Annie Cushing has published a comprehensive look into how you can use GA combined with Excel to visualize data that helps convey a message effectively.
Question of the week: I've just written a new article and I want to post this content on my site as well as different sites. How do I make sure that the content on my site doesn't become duplicate content?
First of all, thanks for asking this question, as this is a situation that many of you will probably encounter sometime throughout your online web experience.
The first thing remember is that Google will attribute value to whichever URL of the duplicate page is indexed first and that there are no penalties, it's just that the duplicated page will be discounted from the search results.
Following from that line of thought, you would want to look at ways to get the content up on your website first, and to get it indexed on your site before others. This is to ensure that your site get credited the value from the search engine's eyes.
To check that the page has been indexed. You can do this by typing into Google Search 'cache:[URL]'. For example, if you wanted to determine when the homepage of RAC was indexed, you would type into Google.com.au 'cache:www.rac.com.au'.
Only once your website URL with the article content has been indexed should you proceed to disseminate it to other sites.
Hope that helps!
P.S. Mr Smith has duplicated his way into this email…wait are we all in the Matrix or the real world?
Enjoy reading the Weekly Wrap?
Let us bring it to your inbox, every week.
Subscribe at http://www.ignitesearch.com.au/blog/subscribe-weekly-wrap/