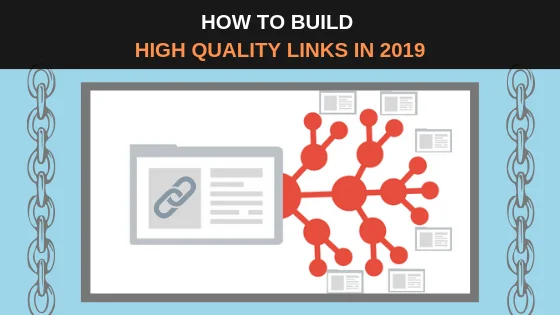 Links serve as one of the most important ranking factors when it comes to SEO, alongside content. However, the quantity of links is not enough; search engines also take into account the quality of each link. Unfortunately, it's common for SEOs to 'rush' into populating their websites with low quality links, which search engines certainly do not appreciate. These are often considered blackhat techniques, which could potentially lead to penalties by search engines and negative impacts on rankings. That means that investing in high quality link building is the only true way of attaining better link building results. Link building has come a long way since its beginning, in this blog; we discuss the best approach to sourcing high quality links in 2019.
How are High Quality Links determined?
There are 3 primary factors that search engines use to determine the quality of a link, these are:
Linking Website Authority
This is the overall authority of the website that has been linked,  which helps search engines understand the authoritative state of your website as well. Domain authority (DA) is the measurement used for this and can be tracked by using tools such as Moz and Ahrefs.
Search engines also separately analyse the authority of the page that is linking to you. Like website authority, if an authoritative page has referenced your content, it must be relevant and impactful. This kind of authority is known as 'PageRank', which signals to search engines how authoritative your own page is based on the page linking back to you.
Your domain authority and page rank may prove to be solid in theory, but these are of no use if the content itself is irrelevant. For example, the idea of attracting a link from a '.edu' website sounds very beneficial, but the link may prove useless if the subject matter of the two pages don't align. Essentially, the relevance of the linked information is the base of all link-building.
How to source High Quality Links in 2019?
To attract a link that covers all three of the primary factors discussed above can sometimes prove to be a difficult process, requiring a sizable amount of time. The following are some ways to improve your link-building efforts in 2019:
Strategic Content Marketing
Content marketing is at the very center of any high quality link-building campaign. So before you can expect any decent backlinks, you have to publish useful and relevant content. You will need a strategy that involves determining what content performs best among the community and where to specifically publish it.
For example; in-depth guides, list posts, research data and a variety of visuals have proven to be the most successful forms of content for 2019, according to Backlinko. So distribution various types of content, including those mentioned above, across a wide range of high ranking sites should be your primary objective. At the end of the day, having a good content marketing strategy will help you publish content that not only supports user experience, but also earns you high quality links.
Online Community
Establishing a strong presence across a range of online platforms that allow you to setup a profile with links to your website and content can create wonders when it comes to link building. Take the website Product Hunt for example, this lets users discuss the latest within the technology market, it also happens to have a domain authority of 75.
Creating a profile on here allows you to insert a link to your website. You can further enhance this by being active within its community, by up-voting, commenting and reviewing products related to your content.
Using Email for Outreach
A common saying in link building is "you only get what you ask for". Whether it's guest posts, reverse image search, blog submissions or link reclamation, the majority of techniques involve reaching out to people via email. It might sound challenging, but if you put together the right email, something just might come of it.
First of all, you'll want to find likely linkers. As the name suggests, Likely Linkers are people that are likely to link to you. This can be done simply by inputting your target keyword in Google, sourcing the top results and researching these using tools such as Ahrefs for an in-depth backlink analysis.
Once you have located an email address, here are some steps to follow when creating an outreach email:
Email at the right time, this will give you a higher response rate
Personalise the email for the recipient
Set the objective to solve a problem for them, rather than directly asking for your request
Mention Opportunities
Sometimes other websites may mention your business without providing a link to you, which can be quite common depending on your online presence and company size. This is perhaps one of the best ways to achieve a backlink, as the website has already mentioned you and now all it needs is a link attached to the text. This gives you a perfect reason to reach out to the author and convince them to convert that mention into a clickable link.
However, the question remains, how do you find these non-linked mentions in the first place? The Ahrefs' Content Explorer allows you to search for specific mentions of any word or phrase, which can be used to discover mentioned links of your company or brand.

The next thing to do is find out whether these mentions are linked or not.
First, select the 'one article per domain' filter to limit the results to only one specific page instead of complete websites.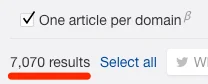 Next, click on the 'highlight unlinked domains' feature to identify all websites that have never linked to you.

The last step is to export the highlighted web pages by selecting 'export' and clicking the 'only highlight unlinked domains' box.

This will provide you with the complete list of web pages containing unlinked mentions to your website.
Optimised User Experience
Search engines are becoming more aware of website designs by the year and therefore poor design can have a negative impact on SEO. If a visitor struggles with your design, it's likely they will leave your site quicker and not want to provide a link back to it.
One of the most important factors to take into account is website speed; research has shown that roughly 47% of users will not wait more than two seconds for a website to load. So if you're having incoming traffic from backlinks, your design should be optimised for speed. When designing a site for backlink landing pages, you also need to consider the diversity of devices used to access your content.
Staying On Top of Broken links
Links are difficult to build and it takes time to gather a solid amount of high quality links. However, backlinks can be lost and this happens more than you think, especially if you already have a large amount. This process can be counteracted by attaining new links, but reclaiming the lost links is often easier than sourcing new ones. Essentially, losing a link comes down to two primary reasons:
The link was simply removed from the page
The page with the link no longer exists
To find lost backlinks, head back over to Ahrefs and select the 'Lost Backlinks Report'. This will let you see pages that have a 'link removed' tag.

If the page is still active, see if there's still an appropriate place for your link in the new content that you could push for. If the page no longer exists, you can contact the author to ensure it wasn't deleted by mistake.
Conclusion
Link building has been an absolute priority since the beginning of SEO and this is unlikely to change anytime soon. However, the link environment is constantly evolving and in order to succeed, you must learn to recognise a high quality link and how to attain one.