By Airon Rodrigues
Consistently generating unique content ideas can be challenging. There are many important factors associated with SEO such as on-site optimization, link building, and content distribution. But without quality unique content, a marketing strategy can indeed, fall flat.
But why is unique content so important and valued so highly?
The answer is simple; search engines value high-quality, unique content because it provides valuable answers to search queries.
According to Andrey Lipattsev, a Search Quality Senior Strategist at Google, content is one of the most important Google ranking factors.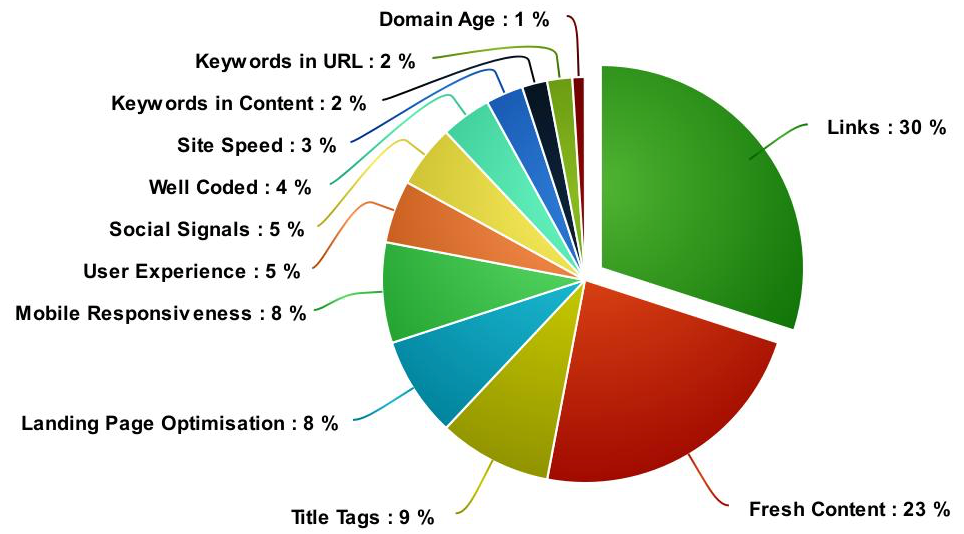 So how are original, unique content ideas achieved?
General Forums
General forums such as Quora and Yahoo provide insights into what questions people are asking. These are open forums to really knit-pick exactly what topic the content ideas can be focussed on. The goal here is to type in the topic readers are interested in, and then start finding questions that can be used for content ideas.
To do this, search a general topic based on the type of ideas that are needed. Then, use the filtering options on the left to view only topics and select the most relevant topic page from the results. Once on the Topic page, the Topic FAQ ideas will then become visible and useful for new, unique content.
The benefit of this method it that with general forums, come themed forums. For example, if new home design ideas are to be generated, Houzz would be the ideal forum in search of ideas. Vogue is another example of a themed forum which can provide helpful information within the fashion industry. The key here is to identify which themed forum is most relevant to the topic at hand, and use that forum as a platform to generate the latest ideas within that industry.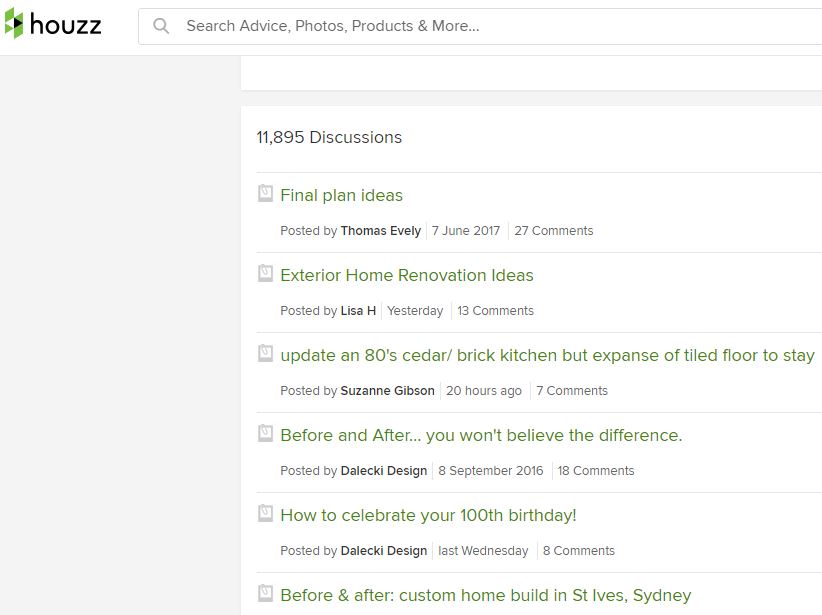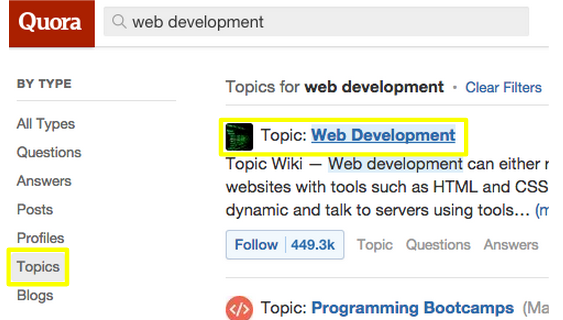 Twitter
There's more to Twitter than tweeting. Performing keyword searches can help in generating content ideas. Hashtags are a quick way to qualify a topic and to discover trending topics.
Trending topics help in revealing what's currently relevant, as well as providing various ideas to generate content ideas from. Twitter provides a list of hashtags and keywords that are generating a high level of interest in each location. These 'trends' provide a great opportunity to draw inspiration from and can help by remaining a step ahead of competitors with the latest content ideas. If a relevant topic is currently trending, creating content around it is likely to be worthwhile from an SEO and user perspective.

BuzzSumo
BuzzSumo is a great tool for generating content ideas and topics. Once a keyword has been inserted and searched, BuzzSumo will present the most popularly shared articles within the last year.
To get started, type in a keyword, which for this example is "Social Media Tips", and then track down popular content that is being created by industry leaders and/or competitors. BuzzSumo reveals how many times a piece of content has been shared and who the top people sharing it on Twitter were. This makes it easy in deciding where to draw content ideas from because if a particular type of content is popular, it's currently relevant and trending.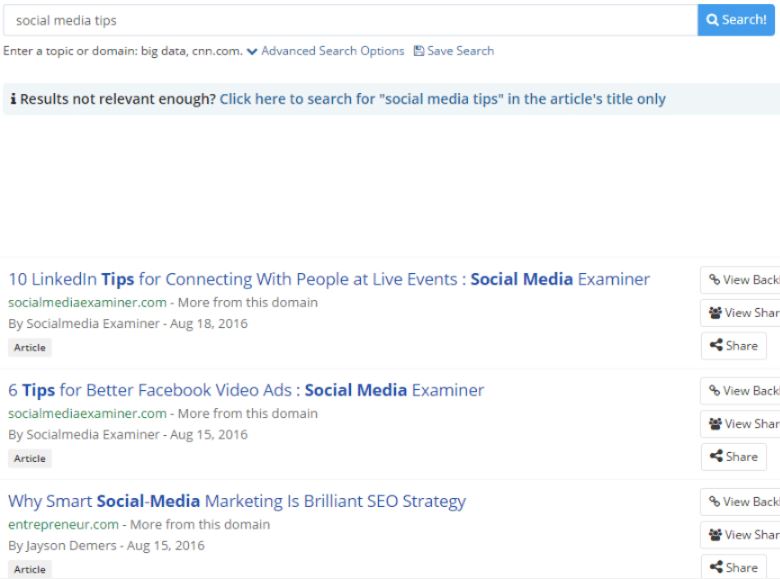 Google Suggested Search
Google's Suggested Search are the results that appear at the bottom of a Google search page. These suggestions are based on the initial search query. In this example, searching for trucker hats provides the following results, which can then be collected and used as content ideas. From one search, we can already see 8 different directions in where to start generating content ideas.

FAQ Pages
FAQ pages are helpful because they provide answers to common questions. But how does it help in generating content ideas? Knowing what people are asking, and more importantly, what common questions are out there, can assist in creating content ideas.  Answering these questions on a web page can, in turn, create valuable, unique content.
To do this, pick a target keyword, then Google the query below:
inurl:faq [target keyword]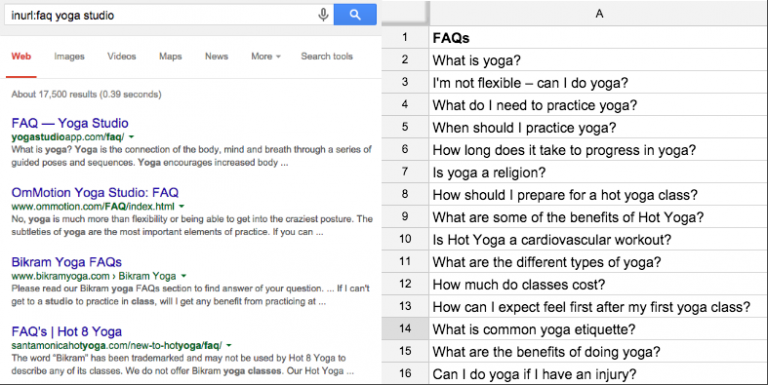 Google Keyword Planner Tool
Google's Keyword Planner is primarily used for keyword research and gathering keyword ideas. However, this tool can also be used for generating content ideas. In the example below, we can see various types of keyword ideas that can easily be developed into a blog post, such as 'best dark chocolate' and 'healthy chocolate brands'.
Another feature here it to submit a URL to Keyword Planner and let the tool crawl a web page to draw different keywords. Submitting a URL which is relevant to what content ideas need to be generated can help.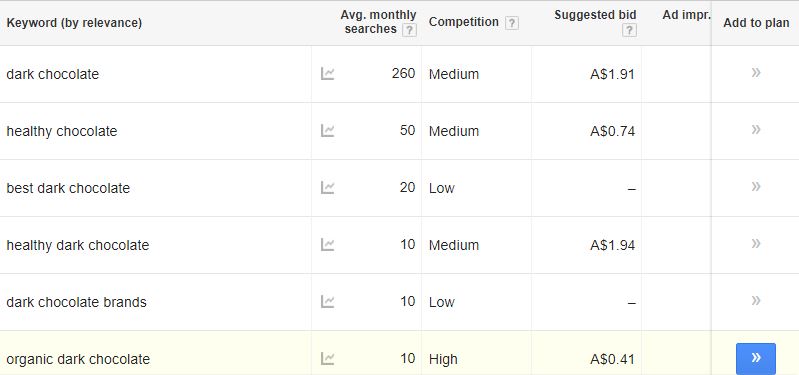 Blog post title generators
Like name generators, blog title generators can provide catchy topics from which ideas can be generated from. There are different tools which can deliver numerous titles (ideas). Simply search for a keyword, and the tool will generate blog post ideas based on popular blog post types.
Blog post title generators are a quick an easy way to generate content ideas. Portent Idea Generator and Content Row are some of the free, popular online tools.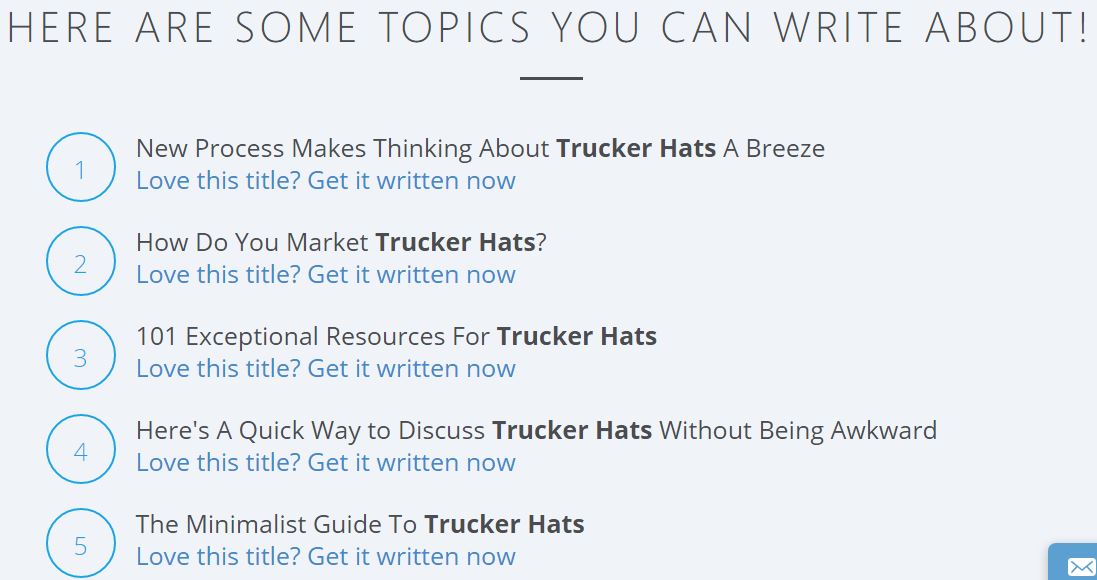 Brainstorming
Brainstorming is probably the most common way in generating new ideas because it works. Sitting down with a team, if possible, and throwing ideas together can always get the juices flowing, it's idea generation in its purest form.
GroupMap is an online tool that can form groups of 2 to 2000 users in the same room or around the world. This tool helps reveal what everyone thinks in an organized and insightful way. Essentially, GroupMap is real-time, online collaborative brainstorming and decision making.
Ideas can come from anywhere. Brilliant ideas have been formed in odd places, meaning there's no set tool which will provide that golden idea. However, these tools will help you get there. Whether it's a blog post, article or a new page, the content idea tools mentioned will have a positive impact on the idea generation process.
Now, let's get brainstorming!