Ignite Search Weekly Wrap – 29th November 2017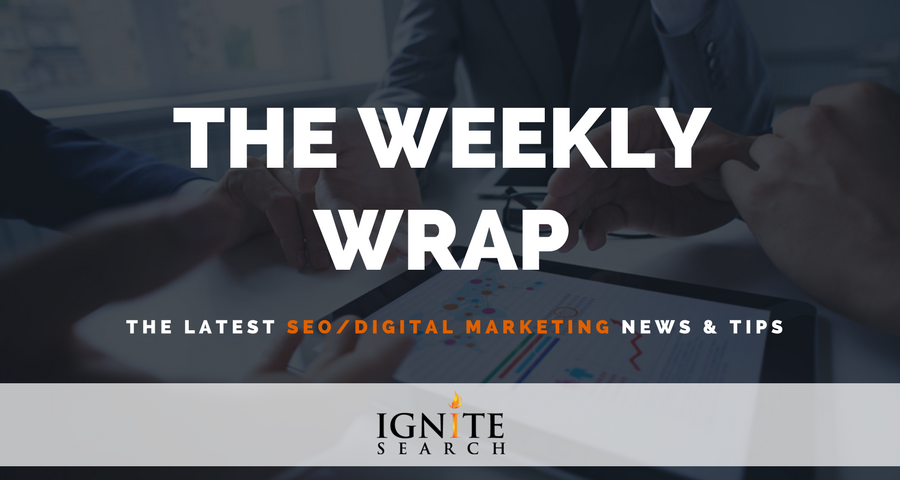 100% Curated SEO/Online Marketing Goodness
Key Industry Updates: 
SEO: Google Launches New Google Finance Features In Search And Drops The Portfolio Feature
Google announced it is launching a new Google Finance experience today that brings many of the finance features directly into Google Search on desktop and mobile. With this launch, Google has dropped the portfolio, the ability to download your portfolio, and historical tables — which we saw coming a couple of months ago. In search, there will be a new tab at the top named "Finance." When you click on that tab, you will be taken into the new Google Finance. This shows you "performance information about stocks you've chosen to follow, recommendations on other stocks to follow based on your interests, related news, market indices, and currencies," Google said.
SEO: Google Trends Now Shows Data For Youtube Search, Google Shopping, News Search & Image Search
Google is adding new filters to its trends data, making it possible to see search trends beyond web search. Now, you can find real-time search trends on specific search terms within YouTube, News and Image searches, along with Google Shopping. "We're opening up more data to show what people in the world are looking for, as they're looking for it," writes Google on its The Keyword blog.
SEO: Google Updates Search Results With New Labels for PDFs and PPTs
Google has implemented a subtle, new change to search results across mobile and desktop. When PowerPoint presentations (PPTs) and PDFs are uploaded to a website, the raw files can be indexed in search results. Now, when Google's search results return PDFs or PPTs, they will be indicated with new label. Google's new labels for PDFs and PPTs are clean and easy to identify when skimming through search results.
Local: Google My Business Web Search Dashboard Now Ask You To Create Ads
Sergey Alakov spotted that the Google My Business web search dashboard that launched a couple months ago, now is asking businesses to create ads using AdWords Express. When you click on it, it takes you into the Google AdWords Express local ad system. This change should come as no surprise to most of you. Forum discussion at Twitter.
Local: Google Local Pack Tests Showing Knowledge Panel Tabs
Google seems to be testing merging the local pack with knowledge panel data into tabs across the top of the local pack. Sergey Alakov caught this test, although I cannot current replicate it, here is what he shared. When some local panels come up that are company specific enough, Google might show additional tabs at the top to let searchers toggle between the local listings with locations, Google Posts and about the business.
Local: Google Bug Removes Answers From The Local Q&A Feature
Brodie Clark has been tracking the local Q&A feature in depth and noticed the other day that many of his answers have gone missing. He was upset because he spent a lot of time and energy answering questions for Google and those businesses and now they were gone.
Local: Google showing knowledge graph data in local panels
Google has started showing more information about local businesses in some local knowledge panel results. It is implementing this by showing additional tabs of information above the local panel for (a) locations (b) about, and sometimes (c) Google Posts. Sergey Alakov, who first spotted this, said it "looks like Google started combining knowledge panels and local packs in mobile search results for businesses that have a knowledge panel displayed for their brand name search and local presence in the user's area."
Social: Facebook tests tool to make it easier for businesses to send message blasts on Messenger
Facebook is internally testing a tool that businesses would be able to use to send message blasts to people who had conversed with their accounts on Messenger, a Messenger spokesperson confirmed on Tuesday after TechCrunch first reported the news. Based on screen shots published to Twitter by The Next Web's Matt Navarra, Facebook's tool, called Messenger Broadcast, appears to be a self-serve interface for Messenger's weeks-old Broadcast API. Last year, Messenger introduced a subscription feature for certain businesses, such as news publishers, to be able to send messages to multiple people simultaneously.
Helpful Strategies, Tips & Tricks:
SEO: Which of My Competitor's Keywords Should (& Shouldn't ) I Target? – Whiteboard Friday
You don't want to try to rank for every one of your competitors' keywords. Like most things with SEO, it's important to be strategic and intentional with your decisions. In today's Whiteboard Friday, Rand shares his recommended process for understanding your funnel, identifying the right competitors to track, and prioritizing which of their keywords you ought to target.
SEO: SEO & Content: How to Build More Than Just Links [Webinar]
Links are among the most powerful ranking factors according to SEO industry studies. Because of this, many SEO professionals get fixated on implementing various techniques to be able to earn a lot of backlinks. They spend plenty of time and resources on link building in the hopes of ranking well in the SERPs. But are all these efforts worth it? While link building is important, it is not the be-all, end-all of SEO. You might be missing out on other valuable opportunities if you're only focusing on creating content for the sole purpose of earning links.
Paid Search: How to Get Google AdWords Certification: A Step-by-Step Guide
Google AdWords certification is an important credential for individuals as it is one of the few standardized ways to prove a certain level of knowledge or topical relevance. While it isn't an exclusive badge, it requires a certain level of work learning the concepts or experience in day-to-day AdWords use to attain. Google AdWords certification is a process by which Google recognizes marketers as experts in online advertising. After passing two AdWords certification exams, individuals get a personalized certificate and appear on a Google Partners public profile page.  
Paid Search: 24 Essential Apps to Manage Your PPC Campaigns from Anywhere
A solid pay-per-click (PPC) marketing strategy is no longer optional for businesses that want to succeed. Once upon a time, as a small to medium-sized business, you could count on organic search results to get you noticed. This is no longer the case. PPC visitors are 50 percent more likely to commit to a purchase than someone who has reached you through organic search. The key to a successful PPC strategy is management. How you manage, analyze and tweak your strategy along the way will determine your results. To effectively manage your PPC campaign, you need the right tools. You also need access to these tools when you need them, no matter where you are.
Content: How To Write High-Quality Blog Posts For Search Engines and Readers
The idea of writing your first blog post can be quite exciting. Once you begin working on a post, though, you realize it is just as daunting too.That is because there are quite a few things that you need to do to write a killer post that your target audience and the search engines will fall in love with. And, that is the kind of blog post I will show you how to write in this piece, with an example from when I was a novice blogger myself.
Content: How to optimize your videos for YouTube: Best-practice tips
Online users love videos. In fact, 4x as many customers would rather watch a video about a product than read about it. What's more, YouTube is the king of video with more than one billion users. That means a lot of eyeballs. Except, there's a problem. Making videos is one thing, and getting people to find and watch them is another thing. If you've tried your hand at YouTube marketing, you'd quickly realize that it's not that simple. Like any other type of content, YouTube videos need to be optimized so that users can find them through search and within YouTube itself.
Content: How to align your content strategy with your sales funnel
Nine times out of ten, a person will journey down a sales funnel prior to becoming a customer. Whereas in the past you could count on single-touchpoint, bottom-of-the-funnel marketing strategies, it's now increasingly necessary to push consumers down the buying funnel by creating omni-channel strategies. Mapping content to buying stages can help you maximize the benefit of your omni-channel strategies. From awareness of your brand or business via social media, to influencer recommendations, all customers generally need incentives to purchase. This makes aligning your content strategy with your sales funnel essential.
Social: How to get started with Twitter advertising
Twitter can be an effective platform to advertise your business. Here's how to create the perfect ad for your campaign objectives. Twitter counts a total number of 328 million monthly active users, with more than 500 million tweets sent each day. This brings out a great opportunity for brands to take advantage of the platform to promote their presence. Twitter may not be the first option for many brands when setting up a paid social strategy, but it can still be a highly effective addition.
Read Our Infographic On The 6 Biggest SEO Updates Of 2017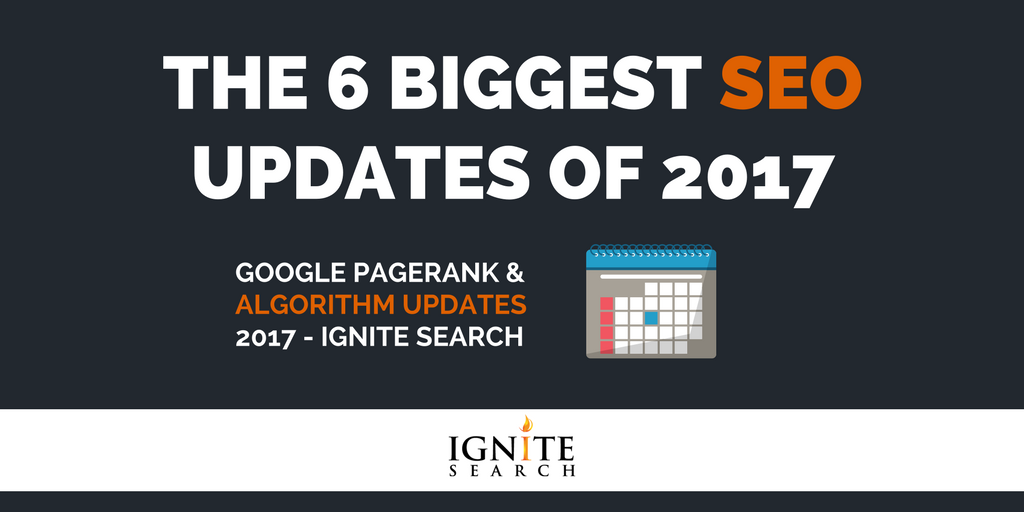 Video: English Google Webmaster Central office-hours hangout
Enjoy reading the Weekly Wrap?
Let us bring it to your inbox, every week.
Subscribe here!