Ignite Search Weekly Wrap – 24th January 2018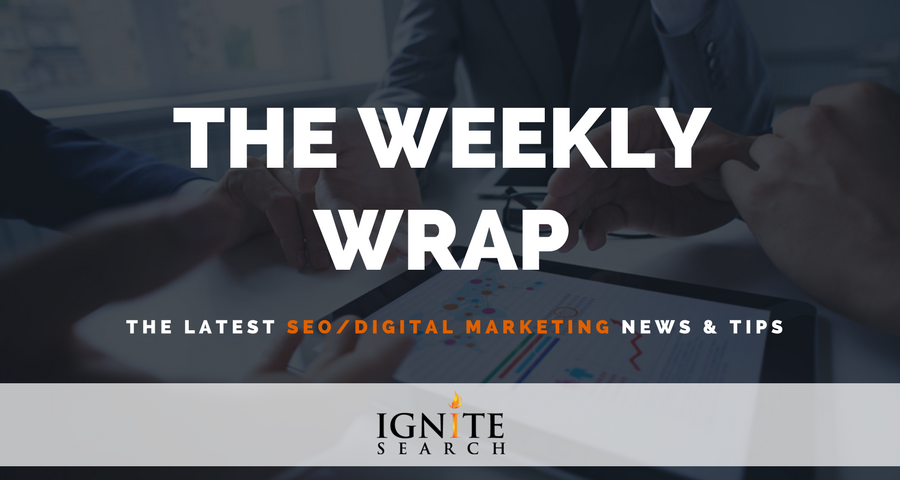 100% Curated SEO/Online Marketing Goodness
Key Industry Updates: 
SEO: The Google Speed Update: Page speed will become a ranking factor in mobile search
Google today announced a new ranking algorithm designed for mobile search. The company is calling it the "Speed Update," and it will only impact a small percentage of queries, Google reiterated to us. Only pages that "deliver the slowest experience to users" will be impacted by this update, the company says.
SEO: Google Tests Light Blue Links Again To Match Mobile Link Color
Google is once again testing the light blue link color for the snippet links in the search results. They tested it last year on and off and more times in the past. This time, they are testing it again.
SEO: New Google Search Console may be rolling out for everyone now
Google seems to have just fully released the new beta version of the Google Search Console to everyone who has verified access to the normal Google Search Console. We expected it to roll out shortly, and now it has.
Paid Search: Google adds keyword functionality to the AdWords app
We haven't heard much about development on the AdWords app lately, but there's a new update out today that makes the app more useful. Advertisers can now add, edit and remove keywords from their campaigns using the AdWords app.
Local Search: Google My Business videos not showing up on your local listing? It's a Google bug
Last Friday, Google launched a feature to upload videos to Google My Business local listings. Google said that videos would be processed and live within 24 hours of being uploaded. That, however, is not the case; there is a bug that is preventing the videos from showing up on the local listings in Google Maps or Google web search.
Social: YouTube sets stricter rules on videos that can carry ads
Google has announced several significant changes to how it will be monetizing content on YouTube. The changes come after a series of updates the company has implemented in response to repeated advertiser backlash over the past year.
Social: Getting Things Done: The Journey, Episode 13
The Journey, a Social Media Examiner production, is an episodic video documentary that shows you what really happens inside a growing business. Episode 13 of The Journey follows Michael Stelzner, founder of Social Media Examiner, as he continues to pursue what many will see as an impossible goal: to grow his company's customer base by more than 62% year over year.
In this episode, Mike works with his team to get ahead before the holiday break. He also brings in an expert to help with local buzz.
Helpful Strategies, Tips & Tricks:
SEO: 3 AdWords features you're probably underutilizing
In this article columnist Brett Middleton explores three commonly underused AdWords features that can have a big impact on performance: ad variations, Gmail ads and campaign experiments.
SEO: The unique selling proposition: A key element for SEO success
Columnist Fili Wiese explains what a unique selling proposition (USP) is and why every indexable page on your site needs one.
SEO: Website redesigns: How to retain and improve your SEO
Columnist Marcus Miller explains how to make the most of your website redesign so that you not only preserve your SEO efforts but embrace the new opportunities that come with relaunching a site. In this article, he takes a look at everything you need to consider during a website redesign to ensure you retain and improve your existing search engine rankings and traffic.
SEO: Will AMP improve your rankings? How to set up an AMP test
Though Google has repeatedly stated that Accelerated Mobile Pages (AMP) are not a ranking factor, many have speculated that they may soon become one. AMP pages are built for speed — so when you consider Google's recent announcement that page speed will become a mobile ranking factor later this year, right around the same time the full rollout of the mobile-first index is expected, it certainly seems possible that mobile sites with AMP implemented could soon see a boost in rankings and traffic.
In this article Columnist Stephanie LeVonne walks through how to set up a test to determine what kind of boost, if any, you can expect from implementing AMP across your mobile site.
SEO: 28 Free Tools to Help You Find What People Search For
In this article Anna Crowe shares her top tool picks for those looking to improve their SEO repertoire. She discusses 28 different tools that will help you wrap your head around keyword research.
Paid Search: 15 PPC pro tips for writing text ads
Want to know how to write great paid search ads? Columnist Pauline Jakober shares 15 tips from her years of experience writing PPC ad copy.
Content: How to Stop Acting Like a Marketer and Start Acting Like a Publisher
How can traditional marketers make the switch? How do we evolve from seeing content as sales collateral to acting like publishers? Read this article by Marcia Riefer Johnston for tips on how to stop acting like a marketer and start acting like a publisher.
Content: The No-Fail Formula for Creating Killer Webinar Content
Webinars are an important yet underrated content marketing tactic. They provide you the opportunity to create a more interactive content format for your audience. They also are one of the top five types of content that can naturally attract links to your site.
This article includes a list of the tips and tools that will help even novice marketers create highly effective webinar content.
Content: Three tips for a content marketing plan that makes your customers the central focus
With content marketing you need to focus on your customer! This allows what you produce to immediately connect with your audience and provides something of value to them. Not only does this give you benefits in the moment by offering the information they want/need, it also gives you long-term benefits by establishing the authority of your brand.
This article discusses three tips and tools to help you create a customer-focused content marketing strategy.
Social: How to Use Facebook Analytics for Your Website
Want to learn more about your website visitors? Have you heard of Facebook Analytics? In this article, you'll discover how to install and use Facebook Analytics to reveal data about the Facebook users who visit your website.
Read Our Blog Post on: An Introduction to the New Google Search Console
Video: English Google Webmaster Central office-hours hangout – 23 January 2018
Enjoy reading the Weekly Wrap?
Let us bring it to your inbox, every week.
Subscribe here!