Ignite Search Weekly Wrap – 17th January 2018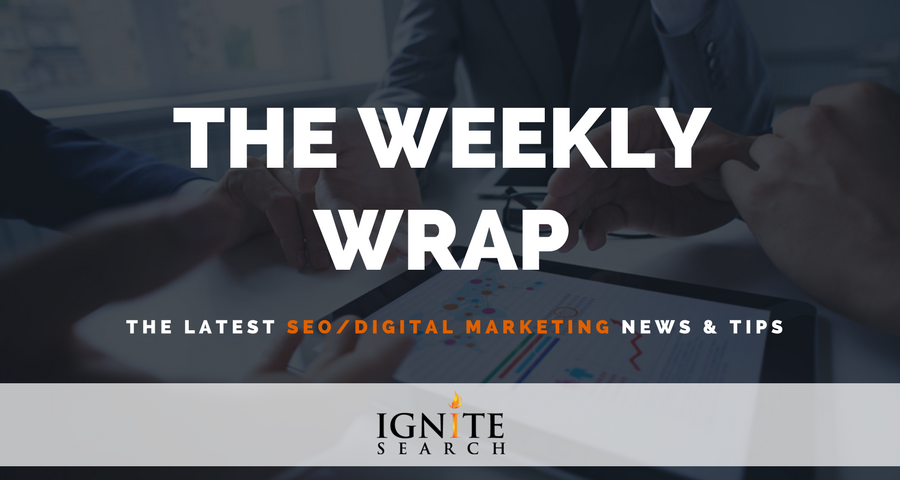 100% Curated SEO/Online Marketing Goodness
Key Industry Updates: 
SEO: Google Page Speed Insights now uses real data from Chrome browser users
Google announced that the PageSpeed Insights tool has been updated to use data from the Chrome user experience report, which means the tool is using metrics from "real-world Chrome users who experience popular destinations on the web."
SEO: Google is sunsetting AdWords Review extensions
Google has announced that Review extensions will stop showing this month and will be deleted entirely in AdWords accounts in February.
SEO: Google to fix reverse image search bug
Google has confirmed it is working on a fix for a bug that is affecting reverse image search, which can be used to find related images, sites using an image and other sizes of an image.
SEO:  Google Search Console Search Analytics API To Get 16 Months Of Data
So now that we have 16 months of data in the new Google Search Console for the Search Performance report people want it in the Search Analytics API. Well, that will happen within the next few weeks. Google's John Mueller said in a webmaster hangout yesterday at the 23:42 mark that they are adding the extended data to the API.
SEO: Google Search Console Performance Report Adds More Comparison Filters
If you have access to the new Google Search Console features yet, you may notice that Google added more comparison filter options to the Search Performance report.
Local Search: Google My Business video uploads now available to business owners
Allyson Wright from the Google My Business team announced today that the video upload feature we saw being tested is now available for business owners in the Google My Business dashboard.
Social: Leading from the Front: The Journey, Episode 12
The Journey, a Social Media Examiner production, is an episodic video documentary that shows you what really happens inside a growing business.
In this episode, Mike rolls up his sleeves to help his marketing department. He also works with his sponsor team to help them tap into their network of speakers.
Social: Facebook moves to 'fix' the News Feed by de-emphasizing commercial content
The company said it's trying to prevent posts from 'businesses, brands and media' from crowding out 'the personal moments that lead us to connect more with each other.'
Helpful Strategies, Tips & Tricks:
SEO: What to Do When a New Potential SEO Client Contacts You
If you're an agency owner or solo consultant, you're probably constantly thinking about getting new clients. But something we don't talk about enough is what you do when you actually convert that person into a real contact on your site. This blog will discuss different strategies to close a lead into a client.
SEO: 4 reports you can pull from Ahrefs that you didn't know existed
Ahrefs is a robust SEO toolset that is popular among search professionals — yet many are not using it to its fullest potential. There are so many nooks and crannies in Ahrefs that it can take a while to learn everything it has to offer. This article will discuss the  lesser-known Ahrefs reports can provide useful data which can help you with your link building and content strategy.
SEO: How to Get Started With the New AdWords Conversion Tag
Google AdWords recently released an update to their conversion tracking tag. The new tag consists of two pieces – a global site tag and an event snippet. At this time, the updated tags are only available in the new AdWords UI. This article will discuss how to get started with the new adwords conversion tag.
Content: 6 Mistakes Ruining Your Charts and Infographics
Want some tips guaranteed to result in bad charts? Of course you don't. Yet sometimes we learn best from things gone wrong. That's why, in this article, I offer some of Content Marketing World speaker Scott Berinato's advice flipped on its head. I'm pointing out how, if you're not following his advice, you're surely confusing, boring, and bothering your audiences.
Paid Search: How To Audit a Low Performing Adwords Account
There are going to be times when one of your accounts is underperforming and will need some extra TLC. In this article, I am going to discuss how you keep plugging away when your account is not up to snuff and how to help your contact understand you are working on the right steps to get the account healthy again.
Content: 27 Reasons Why Your Content Sucks
Nobody thinks their content sucks – or, in other words, is weak and not deserving to be believed. After all, why would someone intentionally create something that's utterly useless for their organization or their audience? And yet, a lot of content sucks. We've all seen (and sometimes created) it. Consider this article the proverbial splash of cold water to help you wake up (or more importantly, wake your content up).
Content: How Content Marketing Can Save Your Digital Marketing Strategy
In a television series, this would be the beginning of the episode where we bring you up to speed on early character development moments you may have missed. This article will how content marketing can save your digital marketing strategy.
Social: How to Use Instagram Story Highlights for Business
Do you want more value from your Instagram stories? Interested in repurposing stories content on your Instagram profile? Instagram's Highlights feature lets you combine multiple Instagram stories into long-term content your audience can discover at their convenience. In this article, you'll discover how to create Instagram stories highlight albums for your business.
Read Our Blog Post on The Benefits of Social Media Scheduling and Why You Should Start Scheduling Today
Video: English Google Webmaster Central office-hours hangout – 12 January 2018
Enjoy reading the Weekly Wrap?
Let us bring it to your inbox, every week.
Subscribe here!