Ignite Search Weekly Wrap – 10th January 2018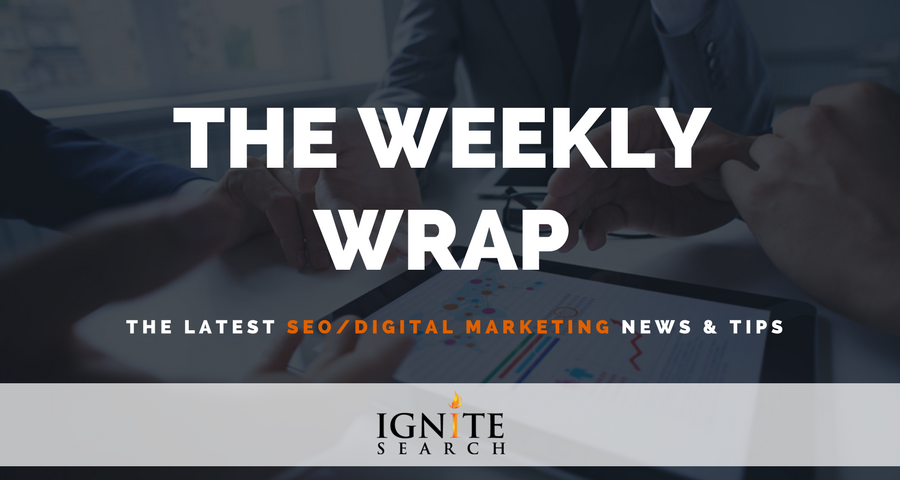 100% Curated SEO/Online Marketing Goodness
Key Industry Updates: 
SEO: Google announces solution to longstanding AMP cache URL display problem
Google announced today that it is well on its way to solving one of the most annoying (to publishers) "features" of AMP (Accelerated Mobile Pages) — Google URLs, not the publisher URLs, displaying in search results served from the AMP cache.
SEO: Google to roll out new Search Console features in coming weeks
Google announced today that it will be making the new Google Search Console available to everyone in the coming weeks. Specifically, verified users in Google Search Console will be able to access the new Search Performance, Index Coverage, AMP status and Job posting reports.
SEO: Google removes addiction treatment ads from UK search results
Google has removed search ads related to addiction treatment in the UK, following an investigation by The Sunday Times. The move follows the September crackdown in the US on referral agents using AdWords.
SEO: Google to roll out new Search Console features in coming weeks
Google announced today that it will be making the new Google Search Console available to everyone in the coming weeks. Specifically, verified users in Google Search Console will be able to access the new Search Performance, Index Coverage, AMP status and Job posting reports.
SEO: Google accidentally removes news publishers from Google News
Google has accidentally removed a number of news publishers from Google News over the past few days. Many news publishers were found complaining in the Google News forums. Google has confirmed with Search Engine Land that this was accidental.
SEO: Google Search Algorithm Update Tweaks Continue Into January
As you know, the Google updates towards the end of December were pretty aggressive and Google even somewhat confirmed some of them. But it seems that while it may have kind of quieted down a bit over the first few days of the new year – starting around January 5th and 6th throughout the past couple days, some webmasters and SEOs are noticing algorithm shifts again.
Local Search: Google My Business dashboard showing video upload section for some business owners
Google seems to be testing the ability of business owners to upload videos to their local listings within the Google My Business dashboard. Some business owners can now upload videos to their local listings in their Google My Business photos section.
Social: Reforming the Pitch: The Journey, Episode 11
The Journey, a Social Media Examiner production, is an episodic video documentary that shows you what really happens inside a growing business. Episode 11 of The Journey follows Michael Stelzner, founder of Social Media Examiner, as he continues to pursue what many will see as an impossible goal: to grow his company's customer base by more than 62% year over year.
In this episode, Mike acts on feedback from people who choose not to purchase his event. He rapidly acts to help turn lurkers into customers.
Helpful Strategies, Tips & Tricks:
SEO: Selling SEO to the C-Suite: How to Convince Company Executives to Support SEO
The implementation of a solid SEO strategy often gets put on the back burner — behind website redesigns, behind client work, behind almost everything — and even when it is taken seriously, you have to fight for every resource for implementation. SEO must be a priority. However, convincing the company executives to prioritize it and allocate budget to SEO initiatives can feel like scaling a mountain.
How can you set and achieve aggressive yet realistic SEO goals in 2018? Columnist Marcus Miller explains what SMART goals are and how to apply them to your SEO campaigns.
SEO: 6 AdWords metrics you should optimize for better ROI
Google AdWords plays an important role in the success of businesses, and companies should optimize their AdWords campaign to the greatest possible extent.
This is often easier said than done, however, because running such a campaign can be a time-consuming and expensive process.
But there is a way to achieve this despite a limited budget and resources, and it involves focusing on the right metrics instead of all of them, and making the right tweaks to optimize AdWords campaigns.
SEO: Preparing your SEO strategy for the year ahead: 5 key checks
The New Year is upon us, full of personal plans made with the best intentions. It also represents a time for businesses and teams to take stock and plan for the coming year; the difference being that unlike personal plans, business plans cannot remain unfulfilled.
Many of you will be looking to 2018 with a renewed vigor for your SEO strategy. Strategies will vary depending on a number of factors including the complexity of the campaign, the length that your team has been working on it and the work completed thus far.
However, there is a fundamental checklist that we have here at Yellowball that is applicable to all campaigns.
SEO: SEO Ranking Factors & Correlation: What Does It Mean When a Metric Is Correlated with Google Rankings? – Whiteboard Friday
In an industry where knowing exactly how to get ranked on Google is murky at best, SEO ranking factors studies can be incredibly alluring. But there's danger in believing every correlation you read, and wisdom in looking at it with a critical eye. In this Whiteboard Friday, Rand covers the myths and realities of correlations, then shares a few smart ways to use and understand the data at hand.
Paid Search: Using Google Demographic Data to Optimize Your PPC Account
Recently, when Search Engine Journal asked me to predict what will happen in paid search in 2018, I pointed to audience targeting. Later, I was gratified to see I wasn't the only one predicting a move in this direction. Many other PPC experts also picked up the theme of audience targeting and how it may develop in the coming year.
A couple weeks ago, I was discussing this point with a client. And the client wanted to know exactly what data Google collects — and how it collects it. These are good questions! Let's review how Google collects its data. Then I'll give some examples of how you can better optimize your PPC accounts.
Content: The 2018 content focus challenge
It's a new year — with a new outlook. Columnist Rachel Lindteigen discusses how to choose a focus term that will help guide your content marketing strategy in 2018 and beyond.
Content: The One Thing Killing Your Most Creative Content Ideas (and How to Stop It)
Creativity. We all want it. Unfortunately, we tend to give up on it over time. It's not that content marketers lack ideas. We've got a million of them! And it's not that our ideas are bad. It's just that we've been beaten into believing that we're not creative because we've heard "NO!" for so many years. This article will discuss the art of the content project pitch, a framework for successful pitches, the content pitch framework in action and how to regain your creative confidence.
Content: 10 Ways to Make Videos Your Customers Can't Resist
Maybe you know someone who has lost whole afternoons to YouTube. What is it about those videos that's so hard to resist?
Matthew Pierce has some ideas. He's a learning and video ambassador for TechSmith Corp., a company that makes visual-communication software. In his Content Marketing World talk, How to Make Your Videos as Engaging as Possible, Matthew covers ways to make irresistible videos. I touch on 10 of them here.
Social: How to Set Up Facebook Groups for Pages
Want to create a Facebook group for your business? Wondering how to connect your Facebook page and Facebook group? In this article, you'll discover how to create Facebook groups for pages.
Read Our Blog Post on 5 WordPress Plugins to Speed up your Website
Video: English Google Webmaster Central office-hours hangout – 9 January 2018
Enjoy reading the Weekly Wrap?
Let us bring it to your inbox, every week.
Subscribe here!