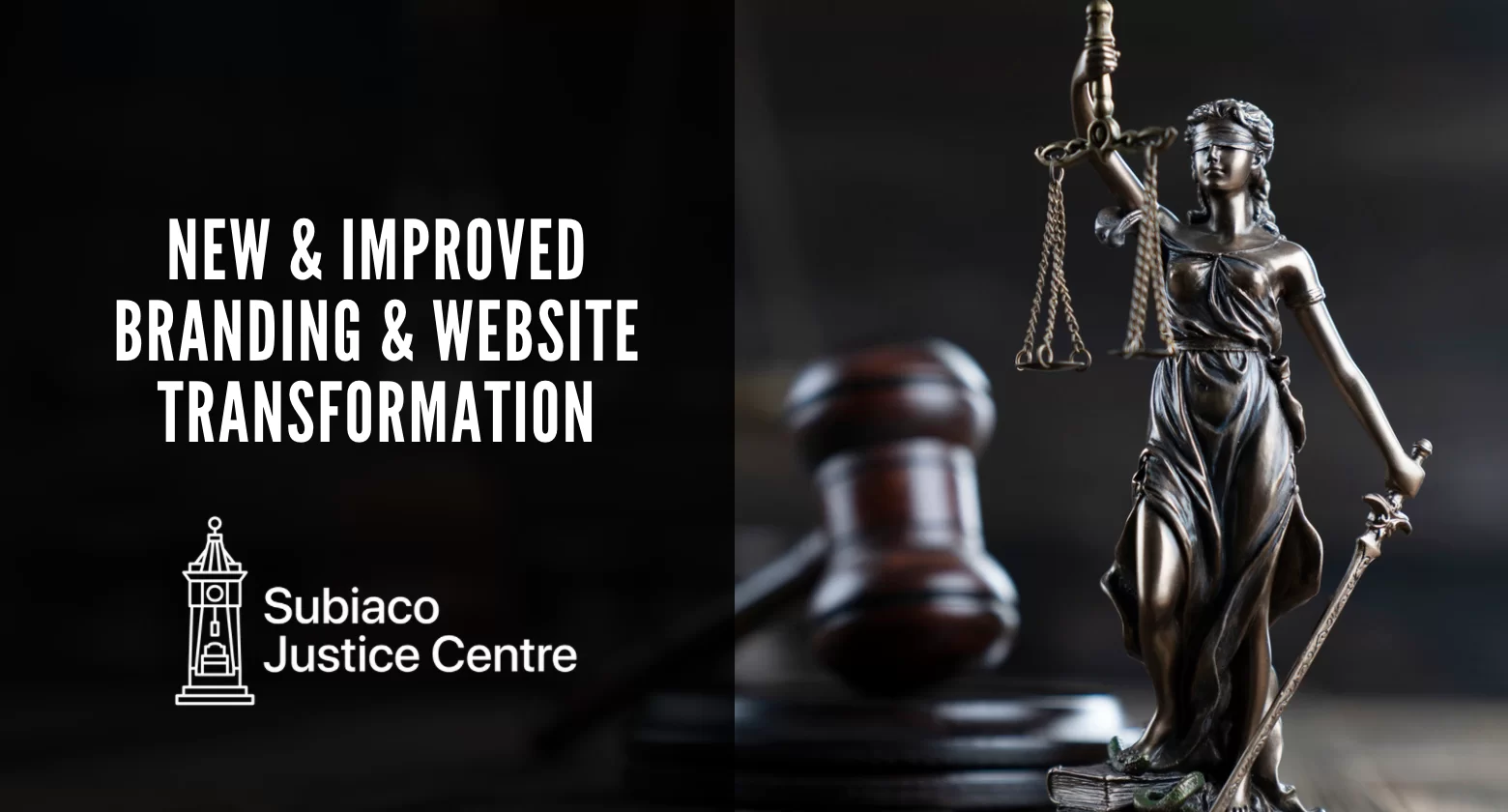 Subiaco Justice Centre Case Study
About Subiaco Justice Centre (SJC)
The Subiaco Justice Centre Inc. provides legal advice for disadvantaged persons who otherwise could not afford it.
The Subiaco Justice Centre is a not-for-profit community legal centre providing access to legal services to those in our community that need it most.
We help the most disadvantaged people in our community including those:
On low income (earning under $60,000 per year)
Unemployed (not retired)
Receiving Centrelink payments
Receiving the Aged or Disability Pension
Who are homeless or at risk of homelessness
Who are Aboriginal or Torres Strait Islander
Experiencing or overcoming family violence
Client
Subiaco Justice Centre

Location
Subiaco,
Western Australia, Australia

Services
Brand Strategy
Brand Guideline
Website UI/UX Redesign
Website Development
Website Migration
What was the challenge?
In 2020, SJC was provided with a WA Government Grant to revamp SJC's branding and website. While this not-for-profit organisation has established a reputation in providing legal advice for disadvantaged persons who otherwise could not afford, this was not reflected in their brand and website. With a strong focus to redesign the website, this could not have been effectively implemented without first developing a brand guideline. Without this, SJC branding can develop and distort over time, potentially damaging their brand value and reputation.
How did we solve it?
Through a series of planned discussions, we were able to identify various key elements for SJC's brand. This included:
Vision
Mission
Values
Logo
Colour Palette
Typography
These elements played an essential role in developing the mock-ups for the website redesign stage. Setting a series of rules, set out to demonstrate how SJC's brand must be perceived and furthermore protecting the brand.
The website design and development stage is a major part of the website transformation. It requires implementing approved design elements from the brand guidelines and discussions we had with Annie Belcastro, General Manager at SJC. It involves UI/UX redesign that includes specific features that are relevant to users, such as a 'QUICK EXIT' button for users discretion and accessibility elements for visually impaired users.
What did we achieve?
We collaborated with Annie to discover the essence of SJC, then distilled it into essential branding guidelines including a new logo, brand trinity statements, corporate fonts and colours. Then, we applied the guidelines to provide clear direction for developing the look and feel of their new website with clear, confident branding.
SJC's General Manager, Annie Belcastro generously shares why she loved working with our Igniters:
"Ignite Search created brand guidelines and developed a new website for the Subiaco Justice Centre, a NFP community legal centre. They were super professional, kept our project on target and did an overall excellent job. Highly recommend!"
Outcomes
Receiving positive feedback from SJC's board of directors, we were able to work alongside Annie to consider various website needs that will best service their visitors in an efficient and effective manner. Today, Ignite Search continues to help SJC maintain the website, providing training and attending to new and custom changes where necessary.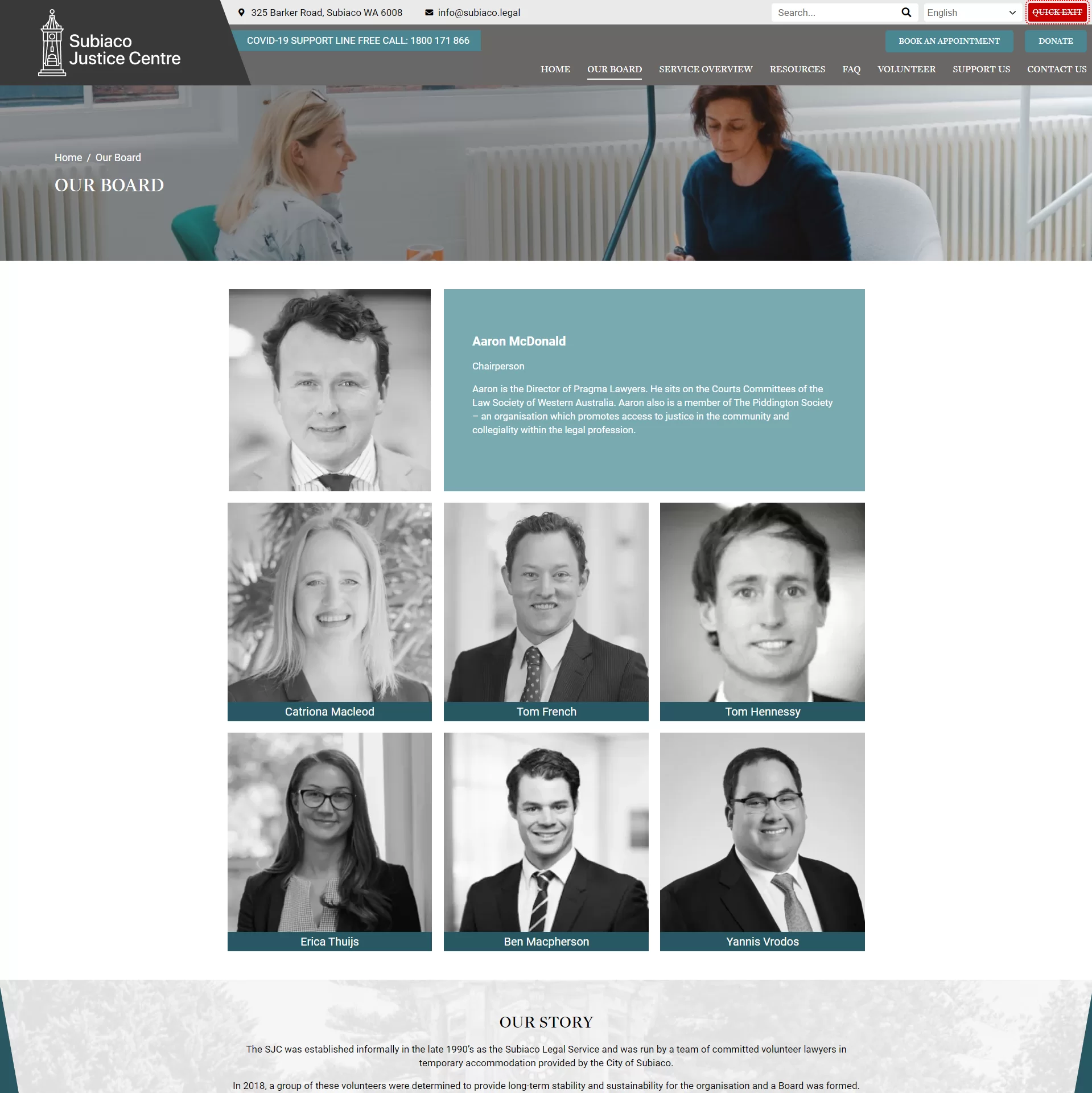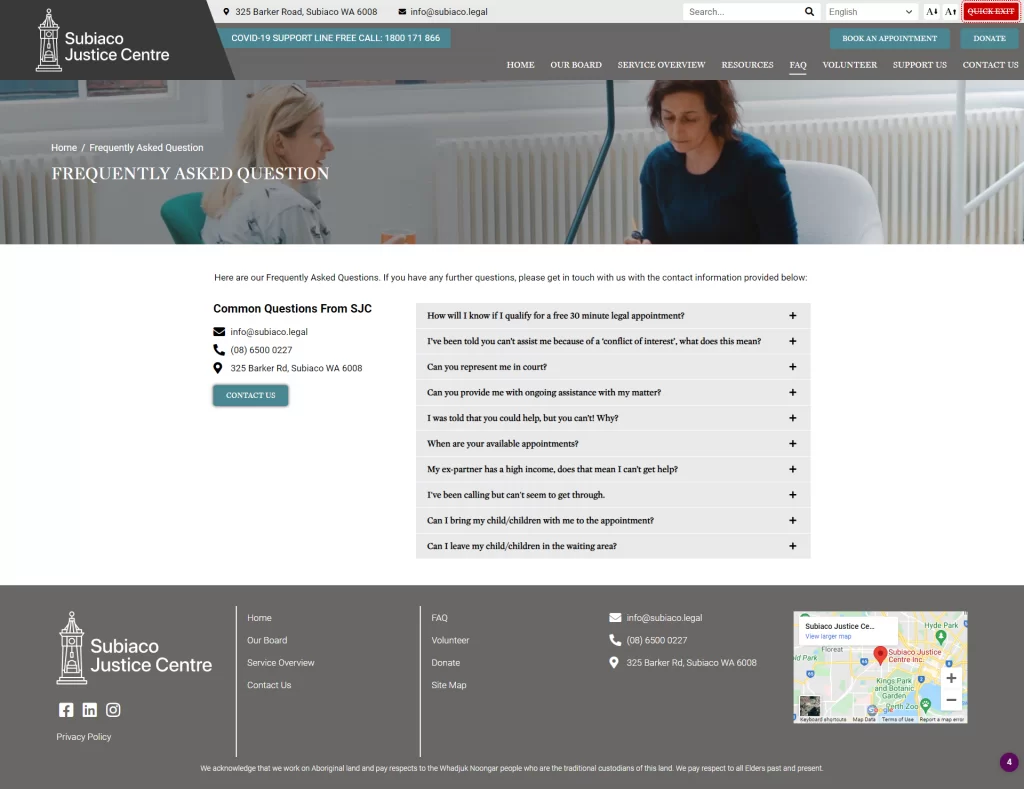 Let's chat
We're here to listen. Tell us your vision. Share the challenges you face. Together, let's discover ideas and explore actionable plans to achieve your business goals. Let us be your ally—to open up new avenues of impact and success!
Get a free quote
Ask us how we can help your business succeed.