One of the powerful advantages of online marketing is the ability to track the performance of your website down to every single visit and page view. Analytics can get pretty complex, especially for large sites or sites with a particular nature.
Here at Ignite Search, we have professionals certified in Google Analytics and other analytics software that are able to assist you with the setup, optimisation and monitoring of your site analytics program to ensure that you are able to extract actionable insights to improve the bottom line.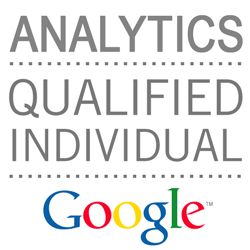 What is Analytics Optimisation?
Analytics is defined by the Web Analytics Association as "the objective tracking, collection, measurement, reporting and analysis of quantitative Internet data to optimize websites and marketing initiatives."
 In short, it's how you determine the effectiveness of your marketing efforts, gather the data you need to fine-tune your site and ultimately maximize your return on investment (ROI). Every single discipline of Internet marketing relies heavily on analytics.
Why is Analytics Optimisation important?
"Half the money I spend on advertising is wasted; the trouble is I don't know which half." This popular saying is as true today as when it was coined by marketing pioneer John Wanamaker a century ago. That is, it's almost as true, because today online marketers have a powerful solution to this problem in Analytics.
 Having a solid understanding of analytics can ensure that you are making informed decisions quicker and more effectively. An analytics tool is designed to help marketers and webmasters alike draw upon the traffic behavior to create actionable results. Given Ignite Search's expertise, we can provide analytics support to all projects, large and small. 
---
5 Reasons to Partner with Ignite Search for Analytics Optimisation
---
Use of Proven, Successful Methodologies
Extensive Experience Across All Industries
Accountable & Measurable Results
100% Customised Marketing Strategies
Strong Focus on Improving Bottom Line
---


---
What analytics software do we  work with?
Although we can work with any analytics platform to help you track your online markets more effectively, we specialize in Google Analytics & Adobe Analytics as part of our analytics optimisation services.
---
Developing an Analytics Optimisation strategy
An analytics optimisation strategy can either be a one off setup/optimisation or an ongoing optimisation, monitoring and reporting process. We provide consulting assistance on certain tasks like:
---
Setting up a new account
Migration of a website/domain
Conversion tracking on particular elements
Optimising website reporting processes
And more.
---
Our analytics optimisation services work best when combined with our popular SEO services, so that they work hand in hand to create massive value for your organization.
Contact Ignite Search today to find out how we can utilize local search to help your customers locate you easier, faster and more conveniently.
---
Cheech and his team are fantastic, they really took the time to learn about our company and showed real passion in delivering real results in a relatively short time. If you are looking for an SEO partner than look no further these guys will deliver.

Cheech and the team at Ignite Search have managed our SEO for over 12 months now for Interia Systems and Direct Office Furniture. If you not only want to achieve great results but also learn about digital marketing then I highly recommend Cheech from Ignite Search.

Cheech consistently delivered great results when facilitating our SEO Campaign. I would recommend Cheech to anyone looking for strategic SEO and SEM advice and digital marketing services.